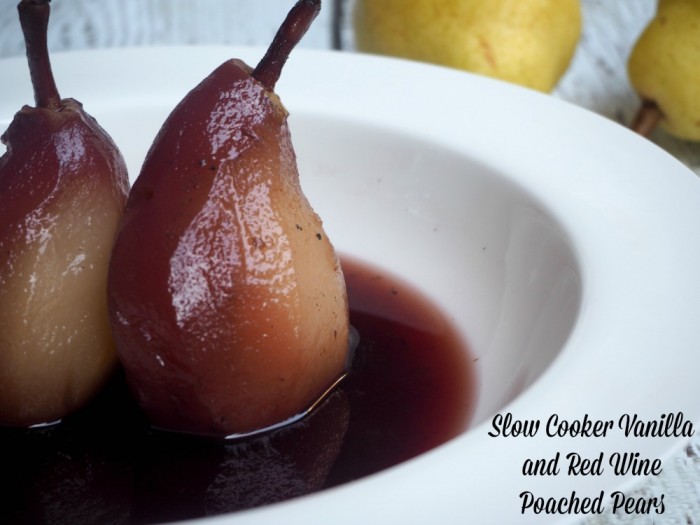 Serves 6 (low iodine)
This dessert is both sophisticated and scrumptious. It's simple to make, delicious to eat and looks peary nice! 
Ingredients
6 medium firm pears (1.4kg)
2 cups (500ml) red wine
1 ½ cups (375ml) water
5cm (2 inch) piece orange rind
½ cup (125ml) orange juice
200g caster sugar
1 vanilla bean
1 cinnamon stick
How to
Peel pears but leave the stems intact.
Mix the wine,  water, orange juice and rind and sugar in  slow cooker.
Halve the vanilla bean lengthways, scrape seeds into slow cooker, add the vanilla bean and cinnamon stick.
Lay  the pears down in slow cooker so that they are covered in the wine mixture. Cook, covered on high, for about 4 ½ hours or until pears are tender.
Place 1 cup of the poaching liquid in a small saucepan and bring to the boil. Boil, uncovered, for about 7 minutes or until the syrup is reduced by about half and then cool.
Meanwhile, place the pears in a large, deep bowl, add the remaining poaching liquid and cool.
Serve the pears drizzled with syrup. If you're not on a low iodine diet tuck in with some whipped cream or vanilla ice-cream on the side.
 Other info
Prep time and Cooking time:  4 hours 50 minutes (+ cooling)
TIP! You can keep the  leftover poaching liquid in the fridge for up to 1 month. Why not use it for poaching more pears or stone fruit?