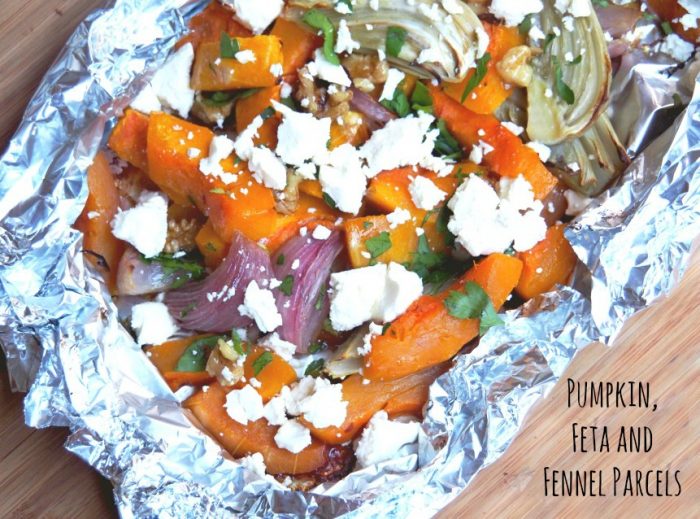 Serves 1
I may have Australian citizenship now but I can't help but feel I won't be a real Aussie until I learn to use the barbecue. Truth is, I'm a little scared of it. I have visions of blowing up my apartment complex or at least setting my balcony on fire. David on the other hand, can use the barby, but doesn't. These days are barbecue has cobwebs, but that's tame, in our last house, it had a possum nest, for realz! They weren't regular possums either, they were totally badass, even went David went out on to the balcony dressed in Batman pyjamas and armed with a broom, they just stared him down! For realz!
Now if you're more au fait with your barbecue (and let's face it, it's hard not to be,) you can chuck this delicious parcel of goodness on to the barbecue. Just  cook the parcel on the hottest part of the barby for about 35-45 minutes, and serve right from the foil! However, I'm going to stick with indoors and in the oven. This warm winter salad is just delicious and the quantities can easily be increased to feed a crowd.
Parcel cooking is my favourite, because the parcel retains all the flavour and makes no mess. What's not to love?!
Do you prefer cooking indoors or out?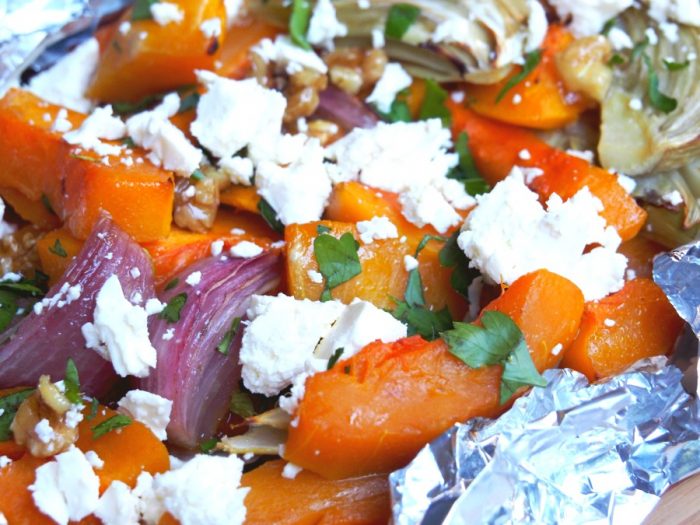 Ingredients
300g pumpkin,  cut into wedges
1 small red onion, cut into wedges
½ small fennel bulb , sliced
1 tablespoon olive oil
2 teaspoons red wine vinegar
1 teaspoon runny honey
1/4 teaspoon chilli flakes (optional)
1 tablespoon chopped flat-leaf parsley
1 tablespoon walnuts, roughly chopped
50g fetta cheese, crumbled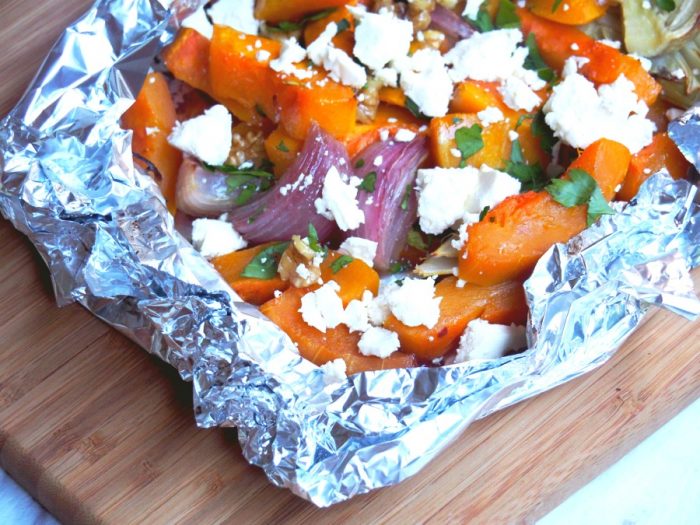 How to
Preheat oven to 180C/160C fan-forced. Make a rough 30cm square double layer of foil on a baking tray. Tip the pumpkin and onion wedges and fennel into the middle and toss to mix together with 1 teaspoon of the oil.
Bring the foil up around the veg to make a bowl shape, then scrunch the top to seal. Put the foil parcel on the baking tray  in the hottest part of the oven and cook for 45 minutes to 1 hour, until the pumpkin is soft. Unwrap and test with the point of a knife to check if they're ready.
If you want to crisp/char up the vegetables, increase the temperature by about 20C for a further 10 minutes.
Meanwhile, whisk together the remaining oil with the vinegar, honey, parsley and walnuts. Season. When the pumpkin is cooked, carefully open the top of the parcel and pour in the dressing with most of the feta – the heat will bring out the flavours of the dressing and warm the feta. Gently mix in the parcel, then scatter with the remaining feta. If you're lazy like me, eat it straight out of the parcel, otherwise, serve in bowls.
Other info
Preparation time: 10minutes   Cooking time: 1 hour