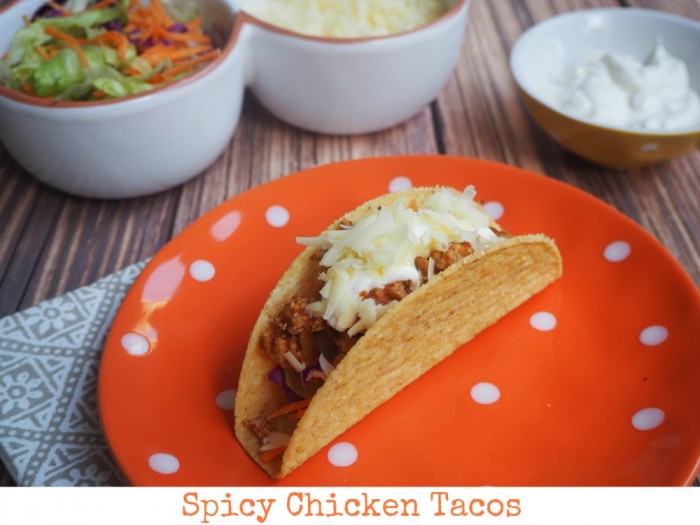 Makes 10
Ingredients
1 tablespoon olive oil
1 medium brown onion , chopped finely
500g chicken mince
3-4 teaspoons Mexican seasoning
375 ml taco sauce (or 1 store bought bottle taco sauce)
1/2 cup (125ml) water
10 stand 'n' stuff taco shells
1 cup finely shredded iceberg lettuce
1 medium carrot, coarsely grated
125g (4 ounces) cherry tomatoes, quartered
1/2 cup  coarsely grated cheddar cheese
1/3 cup (80g) sour cream
How to
Heat oil in a large frying pan, add onion and cook, stirring, until softened.
Add  the chicken and cook, stirring until browned.
Add Mexican spices and cook, stirring, until fragrant. Add half the taco sauce and the water; cook, stirring occasionally, for about 7 minutes or until mixture thickens. Remove from heat.
Meanwhile, heat taco shells in oven following packet instructions.
Divide mixture into shells; top with lettuce, carrot, cheese and remaining sauce. Serve topped with sour cream.
Other info
Prep and cooking time:  25 minutes
TIP! If like me, you like it hot, then serve some pickled jalapenos with the tacos!