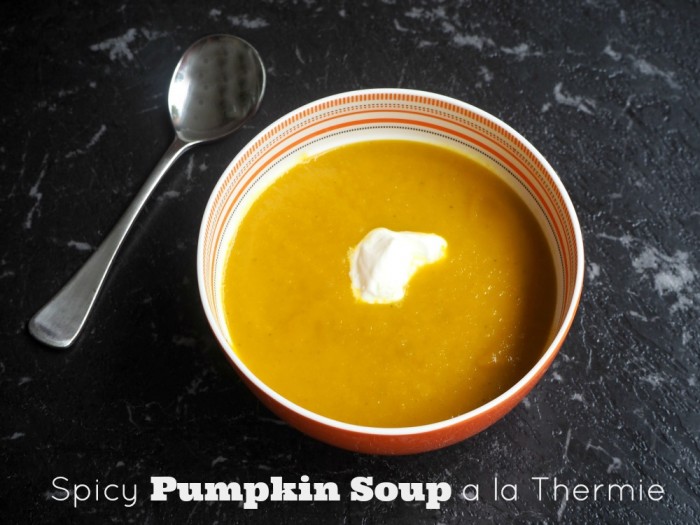 Serves 4
Pumpkin soup is my all time favourite and this Thermomix version is one of my favourites. It's slightly spicy with a really creamy consistency even though it's low fat and dairy free! 
Ingredients
1 onion, peeled and quartered
1 tablespoon olive oil
500g pumpkin, peeled and roughly cubed (if using soft skin pumpkin, there is no need to peel)
2 carrots, peeled and roughly chopped
500g water
1 tablespoon Thermomix Vegetable Stock Concentrate)
1 large green chilli, chopped in half
2cm square fresh ginger, roughly chopped
2 tablespoons fresh coriander
Pinch of salt
Sour cream, optional
How to
Place onion, chilli, ginger and corinader into TM bowl and chop for 5 seconds on speed 7.
Add butter or oil and sauté for 3 minutes  at 100C on speed 1.
Add pumpkin and carrot. Chop for 15 seconds  on speed 7.
Add stock and water and cook for 20 minutes at 100C on speed 1.
Blend for 15-20 seconds by slowly going from speed 1  to speed 9.
Serve the soup solo, or garnished with a dollop of sour cream.
Other info
Prep time: 5 minutes   Cooking time: 24 minutes
TIP! Adjust the amount of water to acquire your preferred consistency. This recipe makes a really thick and creamy soup.