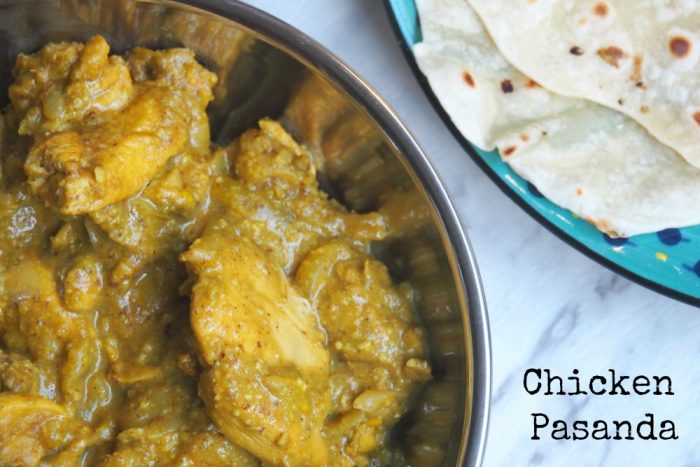 Serves 4
Pasanda was the first curry I ever tried and just the name of it brings back many happy memories! I  haven't seen it on a restaurant menu for ages, so when I found this recipe, I couldn't wait to try. I wasn't disappointed! This is utterly delicious – we've healthy swapped the cream for natural yoghurt but the flavours are totally on point. It's a bit spicy but very nicey!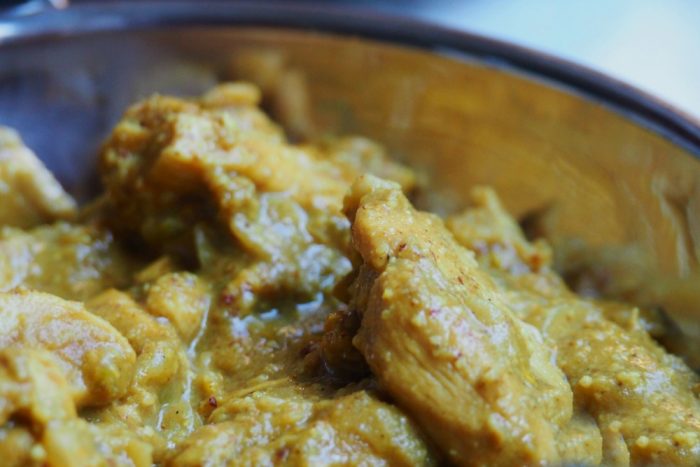 Ingredients
2/3 cup (200g)natural yoghurt, plus extra to serve (optional)
2 teaspoons ground cumin
3 teaspoons ground corinander
6 cardamom pods , split and seeds crushed
1 teaspoon ground turmeric
8 chicken thigh fillets, trimmed, quartered
1 tablespoon vegetable oil
2 onions, finely sliced
4cm piece fresh ginger, peeled, finely grated
2 long green chillies, sliced, plus extra to serve
2 garlic cloves, crushed
200ml chicken stock
¼ cup (30g) ground almonds
1 teaspoon garam masala
Steamed basmati rice or rotis, to serve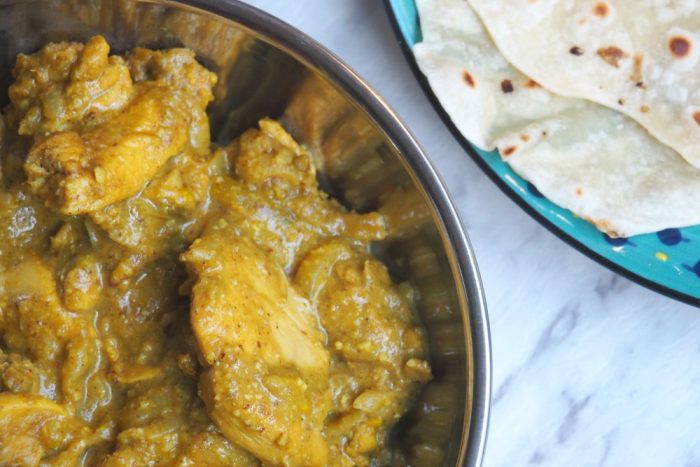 How to
Put the chicken, yoghurt and spices in a bowl, mix and marinate for at least 1-2 hours.
Heat the  oil in a large frying pan on medium-high. Cook the onion, stirring occasionally for 4-5 minutes, until softened and lightly browned.
Add the ginger, chilli and garlic and cook, stirring for 1-2 minutes until fragrant. Add the chicken with the marinade and cook, stirring occasionally, for 3-4 minutes until the chicken starts to colour. Add stock. Cover with a tight-fitting lid and bring to a simmer. Simmer for 15-20 minutes until chicken is cooked through.
Spoon 1/3 cup of cooking liquid into a bowl. Stir in almond meal until combined. Stir almond mixture through chicken mixture. Add garam masala and simmer, uncovered, stirring occasionally, for 5 minutes, until mixture thickens slightly.
Serve with yoghurt and extra green chilli if you like.
Other info
Preparation time: 10 minutes Cooking time: 30 minutes
TIP! This recipe doesn't freeze well but you can make it up to two days in advance, for a fuller flavour., just cool and store in the fridge in an airtight container. To reheat, place in large lightly greased frying pan and stir over low heat until heated through.