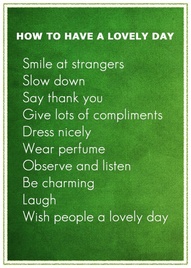 It's the morning after the night before and I'm feeling a tad fragile. I can't stomach gourment gorging and imbibing fine wines on school nights like I used to. Getting older sucks!
I'm also feeling a bit porky – in every sense of the word. I am full of suckling pig and as if by magic (and clearly, no fault of my own,) my waistline has widened during the night! Quelle horreur!
Inexplicably, I'm ravenously hungry all day and eat like it's going out of fashion. At least, I get to go out for lunch to meet Leda and baby Chloe which is a great opportunity to catch up and share out the last bit of birthday cake!
There's good news from the Endo, it seems that my thyroid function and TH levels are all good, so my drugs don't need adjusting. That's another thing to cross off my list!  I give my body a virtual pat on the back for performing so perfectly and thank my thyroxin for keeping my body working like a well oiled machine!
We just want something light and simple after last night's pig-fest, so we settle for the Pea, Feta and Mint Frittata. It's so simple because we have all the ingredients in either the fridge or the freezer, and I just grab a handful of mint from the herb garden. You have to love grow-your-own! This frittata is low fat, lovely and light. The feta adds a creaminess to the texture, while the mint really freshens things up! Another simple but scrumptious supper.
Inbetween all that, I'm making a mess with David's Birthday Cake number 2. We're having a bit of beer and cheer down the pub on Friday to celebrate David's big birthday. A special man and a special birthday warrant a special cake and so, phase 1 begins! This is going to be a celebrity bake as I've chosen a cake by Nigella. I've had good results before, so fingers crossed I'll have good results again, and  make a double batch of Nigella's Buttermilk Cake.  The mountain of ingredients soon becomes one giant bowl of cake mixture which fills 2 x 20cm shallow square cake pans nicely. The cake has to be square for reasons that will be revealed later! The cakes are cooked to perfection and all that is left for me to do is to level them off with my nifty little cake leveller so that they can be jammily sandwiched together in the not too distant future! Bring on the buttercream!