It's my birthday and it's the perfect excuse to try out Jamie's Italian. We've both been wanting and waiting to go for ages but the restaurant has one of those insane no-book policies and there's always a queue around the block. The restaurant is literally across the road from work, so it's not like I have far to go, just a long time to wait.
To get in, you either go ridiculously early and instantly score a table, or go later, queue up to register for a table and then hang out in the bar or go off some place else until you are called.  We pop along after work to see how the land lies, as it stands, there are free tables but it's way too early to eat. We hedge our bets and follow the hostess' advice to return in an hour. I don't think she'll have any trouble remembering us as I'm carrying a beautiful bouquet of flowers that are almost as big as me! They were sent by one of my lovely ex-students and they are far too fabulous to be left alone in the office overnight. So tonight, the flowers are the third wheel!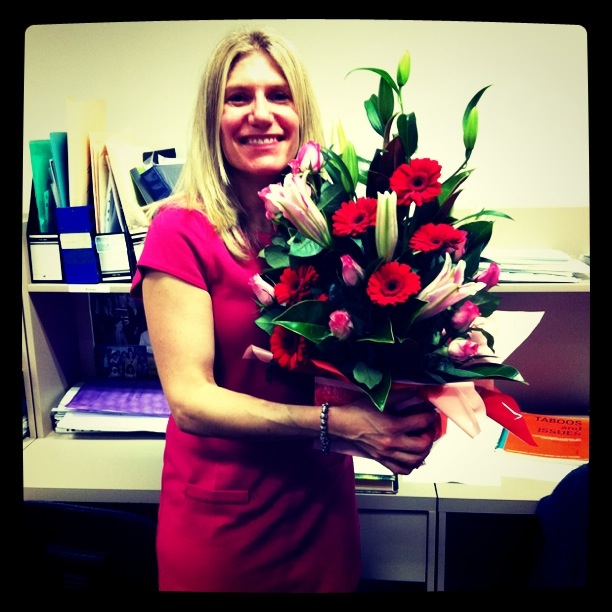 We kill time in the Bavarian Beer Cafe  and nurse a half litre of beer while we wait. There's nothing like a drop of liquid refreshment at the end of a hard day's work! We go back to Jamie's an hour later, only to be told that there's up to an hour wait. I'm devestated. And ravenous. A lethal combination I'm sure you'd agree. Anyway, nice hostess lady remembers us, or more to the point, remembers the flowers  from before and says she will move us to the top of the list. Yippee! No sooner have we ordered a glass of bubbles, than we are called to our table. That's when the feast really begins. However the fun ends for the flowers. They retire to the office for the evening. Out of sight but not out of mind!
We have the antipasto planks to start which are rustically balanced on two tins of tomatoes! David goes for the meat…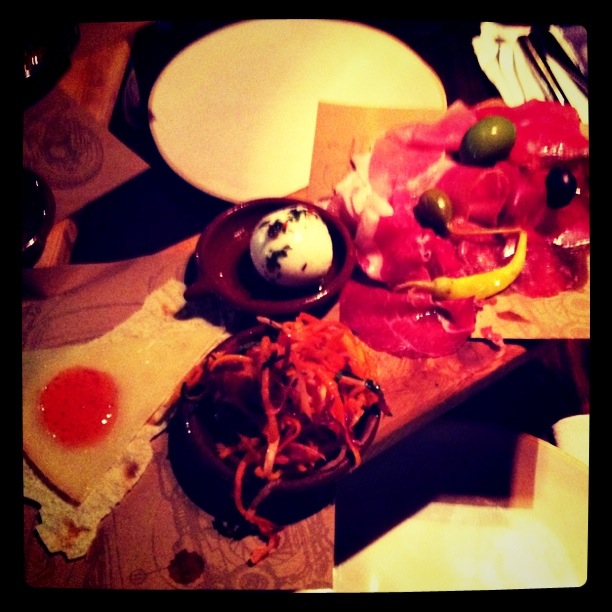 …and I try out the veggies.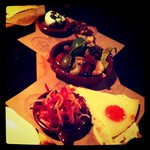 I've walked past the restaruant many a time and salivated when I've seen the chefs making bucketloads of delicious looking fresh pasta, so I know what I'm having for mains… Black Angel Spaghetti; squid ink pasta with scallops, garlic, chilli, anchovies, wine & capers. The pasta is cooked to perfection and everything tastes fresh and full of flavour.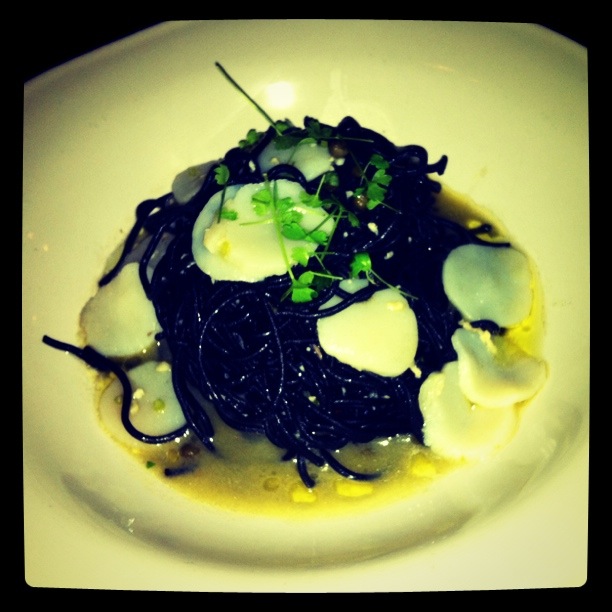 David plumps for the Tuscan Wild Boar Sausages with a warm minty lentil salad and salsa piccante. He's loving it!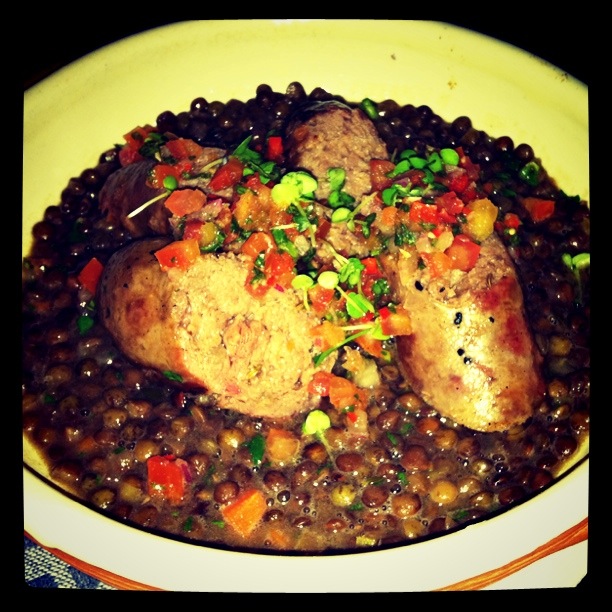 There's bubbles, bonhomie and big bellies but we somehow we still have some space for dessert. David is always a sucker for Tiramisu, and Jamie's one is wonderful. I love the sound of the Italian Bakewell Tart and love the look of it too when it comes out with a chocolate birthday message!
An excellent end to a brilliant birthday!