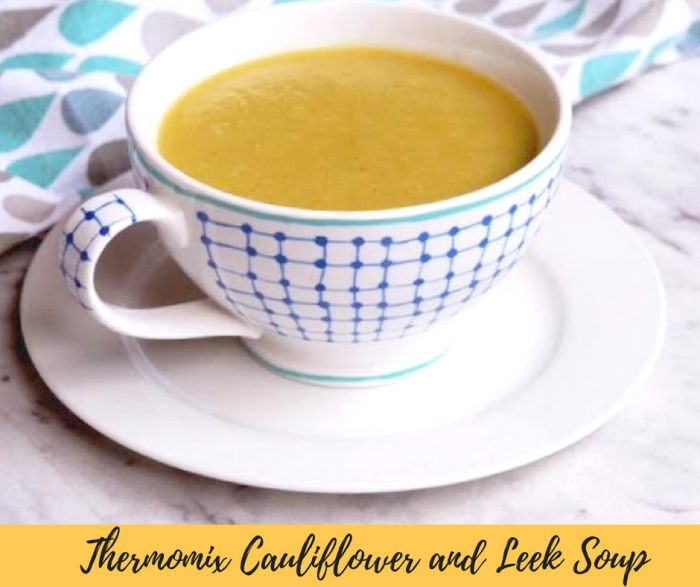 Serves 4
This is one of the first recipes I ever tried from the Thermomix Recipe Community and it definitely wasn't the last! Although I make this soup in the Thermomix, it would be super simple to make it on the stove too because believe me, this is one bowl of goodness you won't want to miss! The soup will vary in colour depending on the light you catch and the stock you use, but although I can't make any promises about the colour, I can totally give you a taste guarantee!
This soup is veggie packed and healthy but tastes so rich and so delicious. The turnip is the secret hero in this soup, giving the dish a beautiful, creamy consistency. It's hard to believe it's dairy free! It's a souper bowl I tell you!
Ingredients
1 leek, white section only, roughly chopped
1 tablespoon butter or oil
400g cauliflower, roughly chopped
1 turnip, peeled and quartered
2  tablespoons Thermomix Vegetable Stock Concentrate
500g water
Dash of paprika (optional)
Grated parmesan cheese, to serve (if not vegetarian or dairy free)
How to
Place leek into TM bowl and chop for 4 seconds on speed 5.
Add butter or oil and sauté for 2 minutes  at 100C on speed 1. While that's cooking prepare the turnip and cauliflower.
Add turnip and cauliflower. Chop for 5 seconds  on speed 5-6.
Add stock and water  and cook for 20 minutes at 100C on speed 1.
Add paprika, salt and pepper to taste and blend for  1 minute by slowly going from speed 1  to speed 10.
 Other info
Prep time: 3 minutes   Cooking time: 25 minutes
TIP! If you're following the Slimming World plan, sautee the leek in a couple of tablespoons of water for a syn free soup.