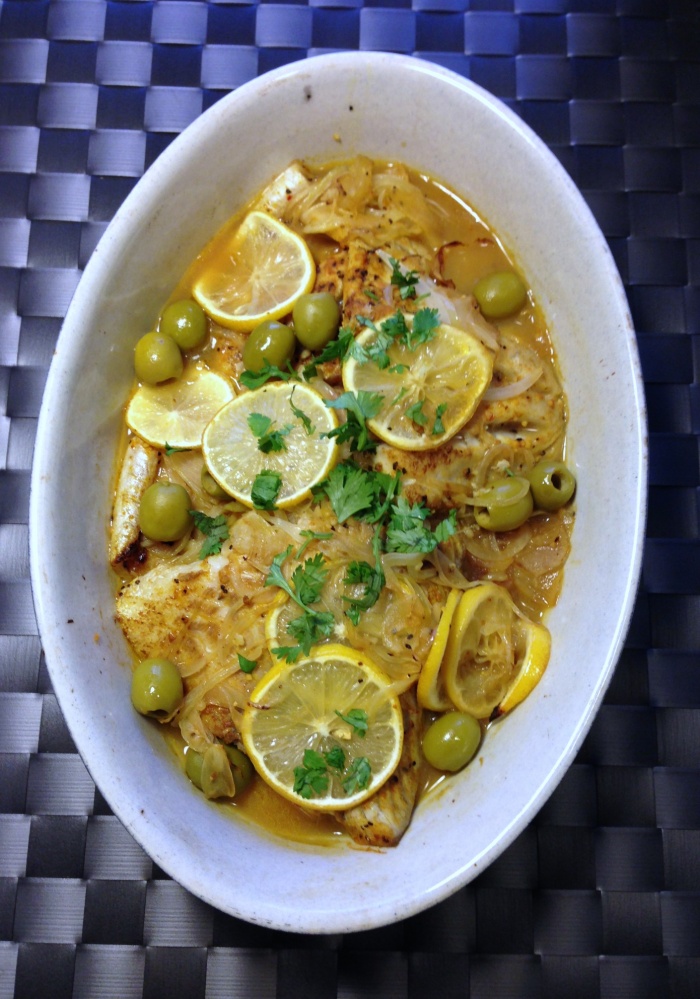 Serves 4
Impress in just 30 minutes! Another fast, fresh and fabulous fish dish – this one's full of Middle Eastern promise!
Ingredients
4 x 200g fish fillets, skin on, halved crossways
2 tablespoons chermoula or Moroccan spice mix
2 tablespoons olive oil
1 large (200g) brown onion, sliced thinly
3 cloves garlic, crushed
1 medium (140g)  lemon, sliced thinly
12 (95g) pitted green olives
1 cup (250ml) salt-reduced chicken stock
1 teaspoon sugar
2 tablespoons coarsely chopped fresh coriander leaves
FOR THE CUMIN COUS COUS
1 cup (200g) couscous
1 cup (250ml) boiling water
1 tablespoon olive oil
1 teaspoon ground cumin
How to
Preheat oven to 200 C/180 C fan forced.
Place fish and spice mixture in a large bowl; toss to coat fish in spice mixture.
Heat half the oil in a large flameproof baking dish over medium heat. Cook onion and garlic, stirring until softened. Remove the mixture from the  pan and set aside. Heat the remaining oil in the same pan; cook fish in batches, until browned all over. Return the onion mixture to the pan with lemon slices, olives, stock and sugar and bring to the boil.
Bake uncovered, for 10 minutes or until fish is just cooked through. Remove from oven; sprinkle with chopped coriander.
CUMIN COUSCOUS. Combine the couscous and water in a large heatproof bowl, cover; stand about 5 minutes or until the liquid is absorbed, fluffing with fork occasionally. Add oil and cumin; toss gently to combine.
Other info
Prep time and Cooking time: 30 minutes
Tip!  If  like me, you don't have a  flameproof baking dish, don't worry! Just use a frying pan for steps 1-3  and then carefully transfer the mixture to a regular baking dish and continue from step 4.
Reference: The Australian Women's Weekly Magazine April 2009