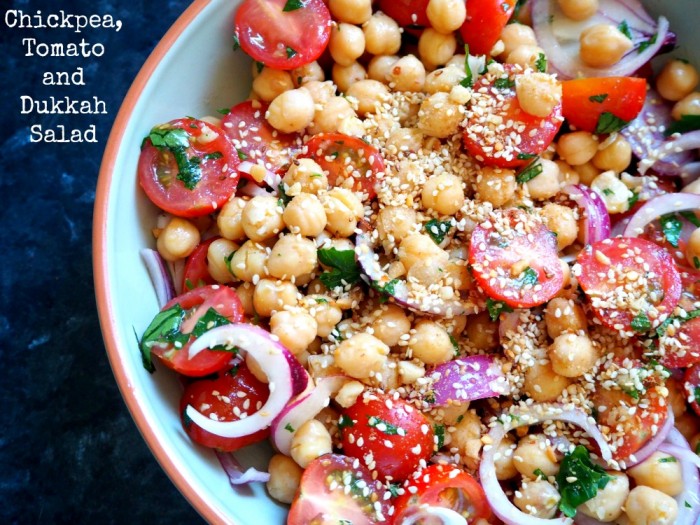 Serves 8
This salad is a total box ticker. It's super quick, super healthy, super tasty and super easy. You can literally make it in minutes.
It's wholesome, colourful and makes an excellent side to any main attraction. The salad dressing is the hero here, with the garlic punch, the acidity of the vinegar and the sweetness of the brown sugar. Oh and let's not forget the value added crunch from our friend, dukkah!
This is one surefire way to fall in love with salad! Just remember, don't dress the salad until just before you serve because soggy salad is so not cool!
Ingredients
2 cups tins chickpeas
¼ cup (60ml) extra virgin olive oil
2 tablespoons red wine vinegar
1 garlic clove, crushed
2 teaspoons brown sugar
2  tablespoons dukkah
1 small red onion, thinly sliced
400g cherry tomatoes, halved
1 cup chopped flat-leaf parsely, plus extra leaves to serve
How to
Combine oil, vinegar and sugar in a small bowl.  Add onion and toss well to coat.
Rinse and drain chickpeas.
Place chickpeas, tomato and chopped parsley in a large bowl, and toss to combine.
Stir through dressing and scatter with extra parsley leaves and dukkah, then serve!
Other info
Prep Time: 15 minutes