Serves 4
When I first met David, he had this thing about mushrooms. And it wasn't a good thing. This broke my heart because I love mushrooms almost as much as I love David. There then followed a few barren years of mushroomless meals.
But it turns out David's heart was for turning and over the years, with my love and support (and dripping sarcasm) David has learned to love mushrooms too. Never mind about making up for lost time, I'm now trying to make up for lost mushrooms too and these days, I'll put them in anything and everything, just because I can!
So naturally, when I updated this recipe, I cut back on some spinach and popped in some value added mushrooms because mushrooms make everything better, even a pie as delicious as this!
Ingredients
250g English spinach, trimmed
50g unsalted butter
1 onion, finely chopped
2 garlic cloves, finely chopped
200g mushrooms, sliced
200g feta, crumbled
1/3 cup (50g) toasted pine nuts
3 eggs, beaten
1/2 teaspoon sesame seeds
6 sheets filo pastry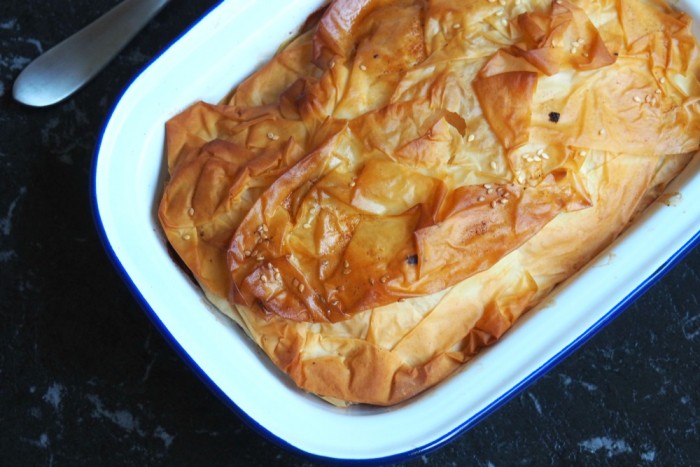 How to
Preheat oven 10 180C /160C fan-forced.
Wash the spinach but don't dry it, and place in a large pan over low heat for 2-3 minutes until wilted. Cool, then drain and squeeze out the excess liquid.
Melt 20g of the butter in a frying pan over medium-low heat. Add the onion and cook stirring, for 5-6 minutes until soft. Stir in garlic and mushrooms and cook for 1 minute.
Remove from the heat and place the onion mixture in a bowl with spinach, feta, pine nuts and eggs. Mix together and season and place into a pie dish.
Melt the remaining 30g butter and brush 1 pastry sheet with butter, lightly scrunch and place over the spinach mixture. Repeat with remaining pastry sheets. Brush the top with the remaining butter.
Sprinkle with sesame seeds and bake for 25-30 minutes until the pastry is crisp and golden. Serve warm.
Other info
Preparation time:  20 minutes  Cooking time:  25-30  minutes
TIP! Allow some time to rest the pastry at room temperature. If  there is any chill left in the pastry, it will crack and crumble and be difficult to work with. Check the directions on the box! It pays to be prepared!