On Tuesday,  Eve and I head off to the local community centre for an "Evening of Health". We're going to find out ways to eat ourselves healthy, see and taste some "healthy" chocolate made in the thermomix and raise funds for a local Cancer charity CanSupport. This local charity  is a cancer support and information service for people with cancer, their families and carers. Their office is located in the hospital where I was treated, so this is close to home, in every sense of the word.
First off, we're introduced to a nutritionist, Cindy Williams who has a wealth of experience in all things nutrition. Check out her blog Nutritionchic. She gives us a 7 point plan on how to eat healthy, eat right and how to look after our bodies in the very best way. Her presentation is packed full of information – there's just too much to tell you now! But I'll reveal all seven secrets over the next seven days! Watch this space!
If all that wasn't exciting enough, Lindy the event organiser shows us how to make our own chocolate in the Thermomix using a handful of raw, organic ingredients. Check this out…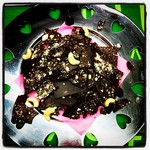 …and believe me it tastes as good as it looks! Actually, I lie! It tastes better! Keep an eye out for the recipe coming your way, sometime soon!
It's an evening of food for thought!