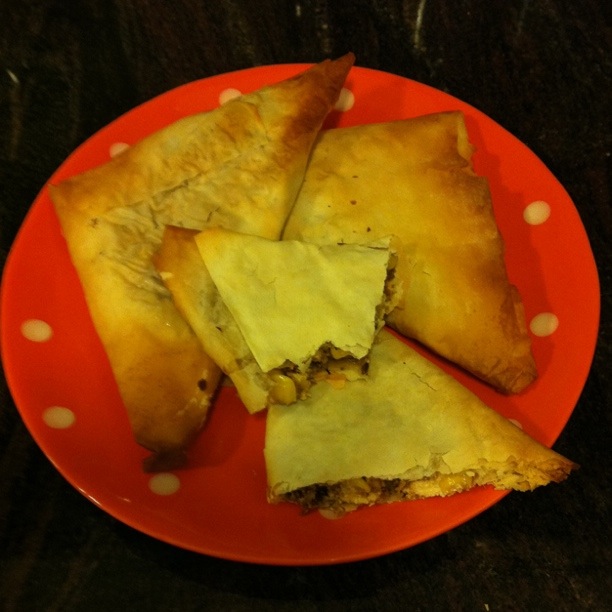 Makes 8 large samosas
These tasty little pockets will go down a treat – make some and freeze some!
Ingredients
2 cups (320g) frozen sweetcorn
½ cup (125ml) vegetable oil
2 teaspoons cumin seeds
1 large red onion, finely diced
2 teaspoons garam masala
juice of 1 lime
200g feta cheese
8 sheets filo pastry
2 teaspoons cornflour
How to
Heat 2 tablespoons of the oil in a wok or large pan on medium. Cook cumin seeds, shaking, for about 30 seconds until fragrant. Add the onion and cook for about 5 minutes until softened. Stir in the corn, garam masala, lime juice and feta, and cook for 1 minute until any liquid evaporates. Leave to cool.
Preheat oven to 200C/180C fan/gas 6. Lay out a sheet of filo and fold in half longways. Fold one corner in   and brush the outside edge with some of the remaining oil. Fold the triangle over again, and brush the outside edge with oil. Gently spoon 2 tablespoons of sweetcorn mixture into the pouch and then fold the pastry over the triangle to seal.
Repeat with the remaining filo sheets, oil (reserving about 1 tablespoon) and mixture. Put the cornflour in a small bowl and add enough water to make a thin paste. Brush the paste over the triangle edges so the seals are secure. The samosas can be frozen at this point. Put them on a tray lined with plastic wrap and freeze until firm before bagging and sealing.
Put the samosas on a baking tray. To cook straight away, brush tops with reserved oil. Bake for 15 minutes until golden and crisp.
 Other info
Prep time: 30 minutes plus cooling  Cooking Time: 25 minutes
TIP!  Brush the frozen samosas with oil and bake at 200C/180C fan/gas 6 for 20-25 minutes – check that they are piping hot in the centre.
Reference: Australian BBC Good Food Magazine June 2012