Hurrah! This weekend we're giving up on the city and going out to the country, but before we make our great escape, I squeeze in a sneaky 8km to set me up for the fun filled days ahead!
We've both been looking forward to this 2 day sojourn for some time – it's a hat trick of celebrations – my birthday, David's birthday and the good news from the doctors. Today we're going West to the town of Orange; famous for it's good food and fine wine.
We leave the city behind and take the scenic route through the Blue Mountains along the famous Bells Line of Road. I'm not a big lover of long car journeys but today I'm super excited as this trip is going to be full of big things! Literally! Australia has many Big Things, and I am a big lover of them all. It's my life's  dream  to travel up, down and all around down under until I see each and every one! I'm well on my way, having seen the Big Shell, the Big Pineapple, the Big Rocking Horse, the Big Prawn, the Big Potato, the Big Miners Lamp and the Big Merino. And today, I'm going to add a few more to my lengthening list!
First stop is at the Bilpin Fruit Bowl, where you've guessed it, we  check out the Big Fruit Bowl. At 2 metres high it's big, it's bright and it's beautiful. I'm loving it. There's a big farm shop where I splash out on a coffee for now and a pumpkin for later. I spend the next part of the journey boggling my brain  thinking of all the things I can produce from my outsize pumpkin!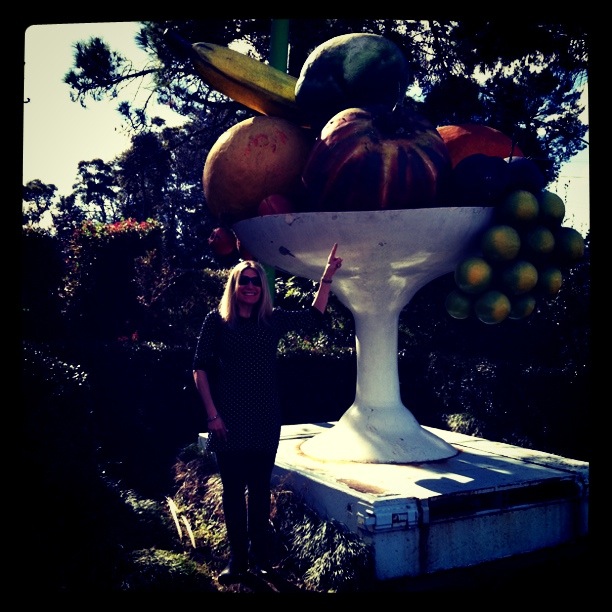 As we pass through the town of Lithgow, we swing by the Big Miners Lamp for a return visit! It lights up my day!
We continue our journey west into Bathurst, famous for being a) Australia's oldest inland settlement and b) being the bastion ofAustralian motor sport, hosting a whole heap of car racing related events, , and c) it's home to the Big Gold Panner Man.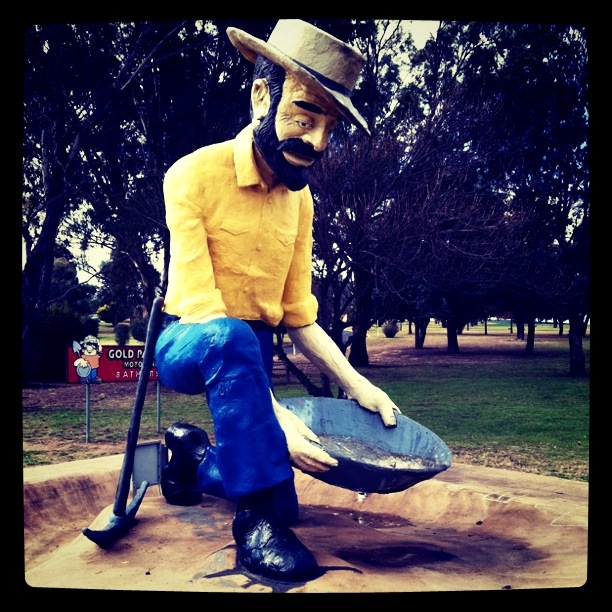 The area around the town is steeped in gold-mining history and here he is complete with pick, gold pan and sluice outside the Gold Panner Motor Inn. At 5 1/2 metres high, he's hard to miss and I can't miss an opportunity for a photo stop! The day just keeps on getting bigger and better.
Checking out all the big things has worked up  a big appetite so we refuel at The Hub which serves fantastic food and cracking coffee. Refueled and recharged, we head off for the last leg of the journey, wee, wee, wee, all the way to Orange.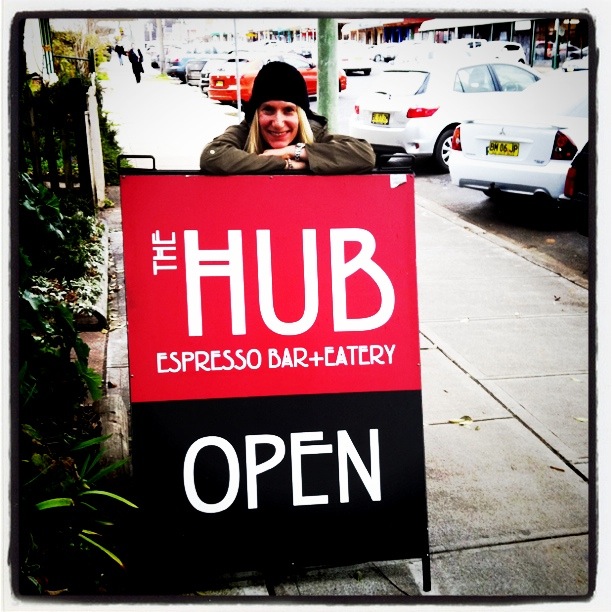 Our studio at De Russie Suitesis more city slick than country comfort, and we love it! Still, the day is yet young, it must be wine time!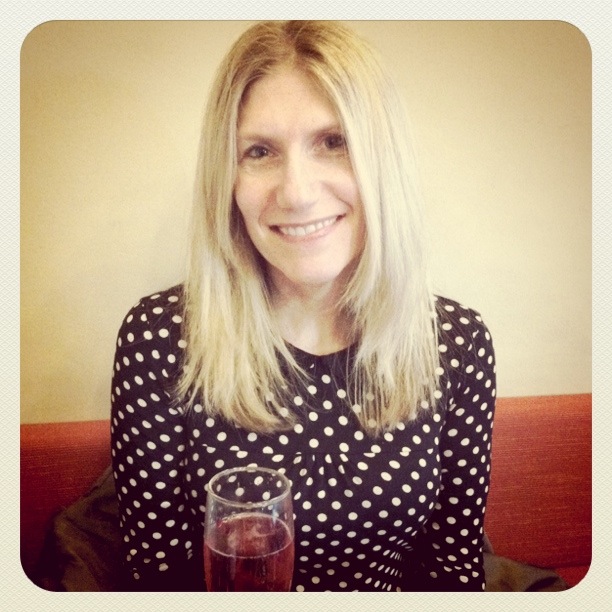 We taste heck out some of the local vino at the super cool Union Bank Bar and get the weekend off to a great start! The weather gets wet and wild, just as we're about to head out for our evening excursion! On our way to dinner, we pass Kate, the winner of Australian Masterchef 2011, probably Orange's most famous face! If it wasn't so wet, I would happily humiliate myself and ask her for an autograph but I'll have to take a rain check this time!