After a sneaky glass of wine at Union Bank Bar, we head down the road (literally,) to Lolli Redini. The Lonely Planet describes this as the "apple of Orange's eye," and while we're on the topic of fruit, let me tell you, that dinner here is the cherry on the top of our weekend cake! We've been looking forward to this for weeks and have secretly been salivating over the menu at home!
The restaurant itself is another one of those big federation-style houses on the outside, but inside in the dining room, it's like being transported to Paris, in red. I love the white walls, the crisp white linen and the big, beautiful banquettes with a plethora of cool cushions, random and red. There's some choice pieces of modern art on the wall and you can see the chefs creating their kitchen magic. Even the dining room is delicious!
David has the rabbit, pork and veal terrine with toasted truffle buttered sourdough, rocket salad and quince paste. All the components work wonderfully together, but it is the terrine that has my husband waxing lyrical.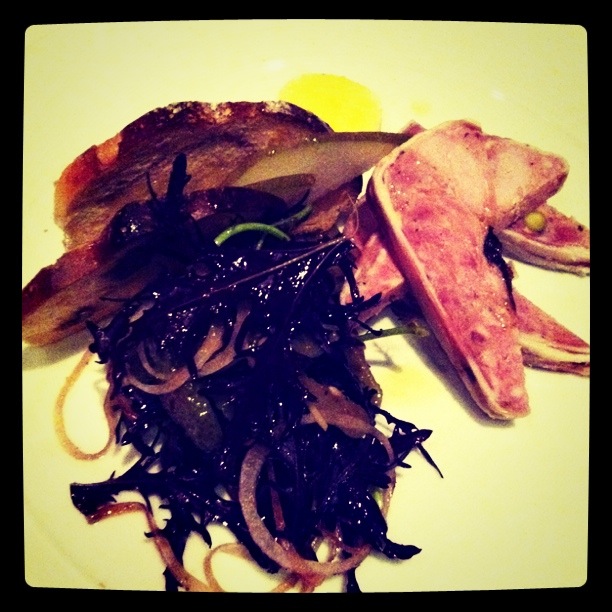 I can't go past the squid ink tagliarini with chilli, tomato passata, fennel and baby mussels. It is sublime. I especially love the pasta; the colour, the texture and the taste. And if you're wondering, tagliarini is like tagliatelle but narrower.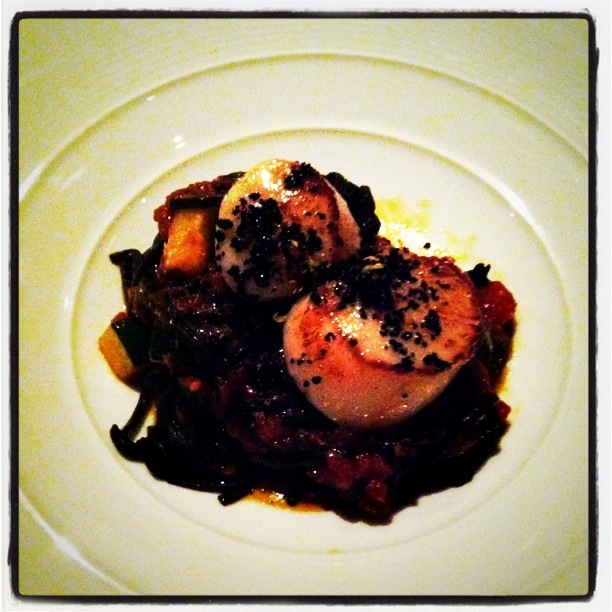 For mains, David has the brisket, with jerusalem artichoke puree, glazed heirloom carrots and swedes, rosemary crumbs and brisket sauce. It's a melting moment.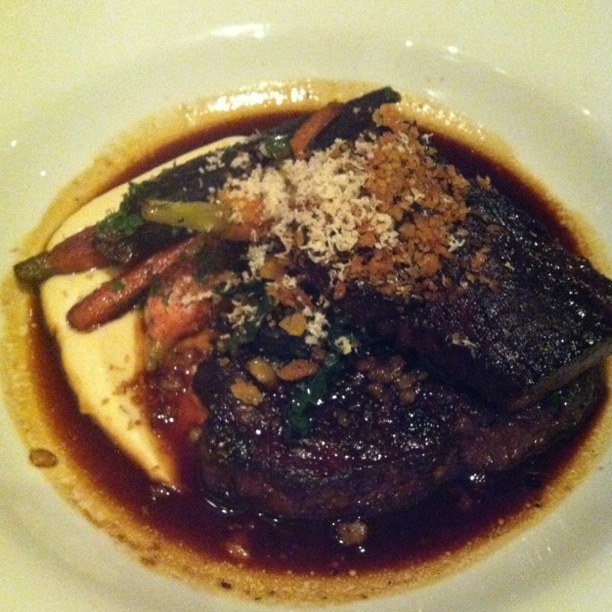 I stick with  seafood and devour the pan seared Palmers Island Mulloway with saffron aioli, kipfler potato, peperonata & baked stuffed globe artichoke. Sea-licious!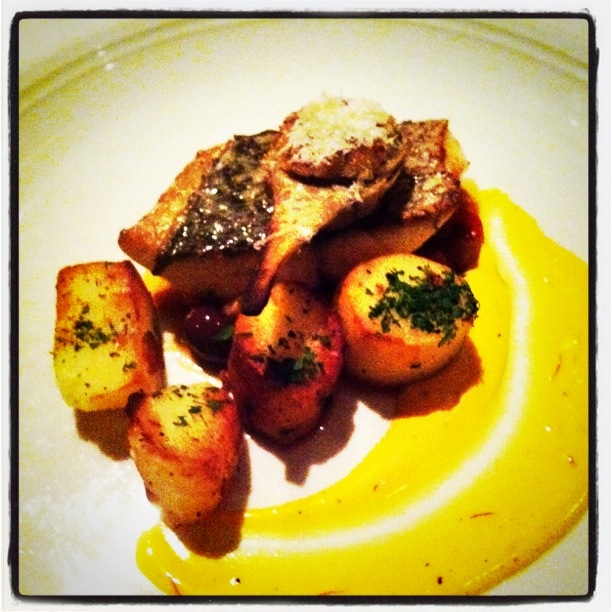 We're feeling a bit full but quite frankly, the desserts look too delicious to pass up. David's a sucker for creme brulee. The Lolli Redini take on this classic dessert is a caramel & medjool date brulee tart with cardamom cream & citrus salad. It's completely delicious.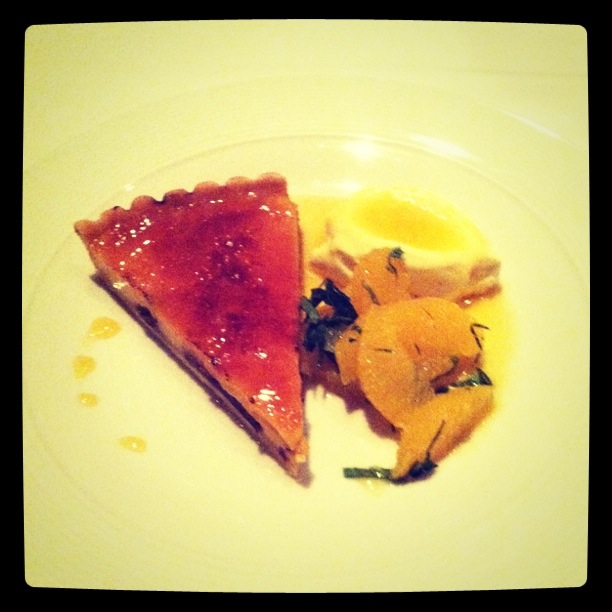 But when he sees my raspberry, pistachio, nougat and turkish delight vacharin with strawberries and strawberry sorbet, he's green with plate envy (and that is not something he experiences very often.)  I rarely eat desserts, and rarely do I enjoy them as much as this. I particularly love the vacherin, which is like a meringue shell, filled with nougat, raspberries and pistachio. There's a different taste and texture with every bite. It's super special.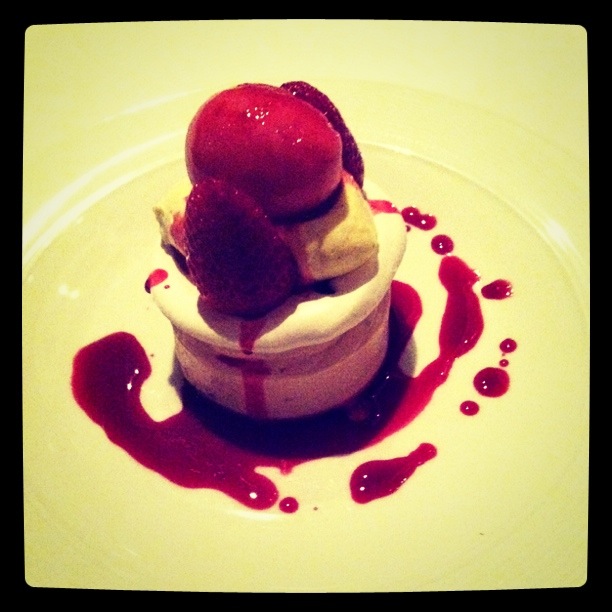 Just when we think it can't get any better, there comes a coffee with mini madelines! All this time, I've been banging on about my madeline tin, and how much I love it, and all the different ways you can make madelines. These little beauties take madeline making to a whole new level! They look luscious and they taste terrific. Butterscotch heaven! I must have a mini madeline tin like that!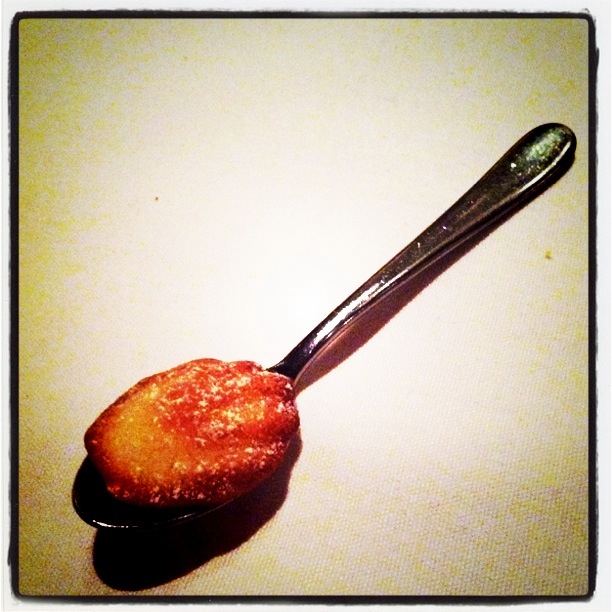 Fabulous food, stunning surrounds and first rate service! Oh, didn't we have a lovely time at Lolli Redini's?