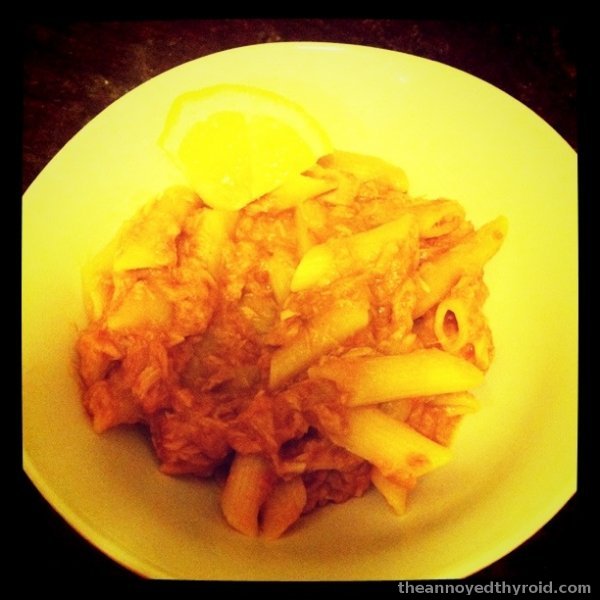 Serves 4
We've tried a lot of tuna pasta variations in our time, but this one is the best by far! The wine and lemon add some real subtlety to the velvety smooth sauce. What a marvellous midweek supper!
Ingredients
Zest of 1 lemon
50g parmesan cheese
2 cloves garlic
50g oil
400g can diced tomatoes
50-100g white wine
500g water
2  tablespoon Thermomix Vegetable Stock Concentrate
250-300g Penne pasta or similar short pasta
400g can tuna
30g pitted black olives
How to
Place lemon zest and parmesan cheese into TM bowl and chop for 10-15 seconds on speed 8. Set aside.
Place garlic in bowl and chop for  5 seconds  on speed 7.  Scrape down sides of bowl, add oil and sauté for 2 minutes  at 100C on speed 1.
Add tomatoes, wine, water and stock  and cook for 10 minutes at 100C on speed 1.
Add pasta and tuna  and cook for 10-12 minutes at 100C on Reverse + speed soft.
Add olives at the very end of cooking time and incorporate for 5-10 seconds  on Reverse + speed soft.
Serve with parmesan  mix and lemon wedges.
Other info
Prep time: 5 minutes   Cooking time: 22 minutes
Adapted from: Everyday Cooking… For Every Family Thermomix