I just want to stay in bed. It's cold outside and I'm tired but no one ever found their greatness sleeping in! So it's for this reason that I get out of bed and go out for a run. I don't run nearly as fast or far as I would like, but better to run  for a bit, than not at all!
Back at the ranch, it's action stations! We're going on a road trip! David goes to get the hire car, Beverley and Joan prepare our car-picnic and after I've  chucked some of Donna Hay's Too Easy Blueberry Muffins in the oven, I rush off to pack my new bag! I'm particularly pleased with my new luggage – last night our visitors lavished us with belated birthday gifts and I got this wonderful weekend bag. It's Radley, my favourite! I'm enjoying the instant gratification of it's immediate use!
Our first stop is Featherdale Wildlife Park, west of Sydney where we take a walk on the wild side and get up close and personal with heaps of Australian furry friends, cute critters and everything else inbetween! Highlights include hand feeding the roos, cuddling the koalas and seeing the dingo puppies! We have a wild and wonderful time!
We continue our road trip along the Bells Line of Road into the Blue Mountains. David and I are experiencing a bit of deja vu as we're driving an action replay of last week's road trip! Forget the road less travelled, this is the road more travelled! We can't resist a pit stop at the Bilpin Fruit Bowl where Beverley and Joan see their first Big Thing! It's a big moment!
We stop for and stretch our legs at the Blue  Mountains Botanic Gardens, Mount Tomah, which are a cool climate annexe of Sydney's Royal Botanic Gardens. We walk and enjoy the environs and the stunning views. The gardens are immaculately laid out and pretty as a picture, full of native plants and some exotic cold-climate species.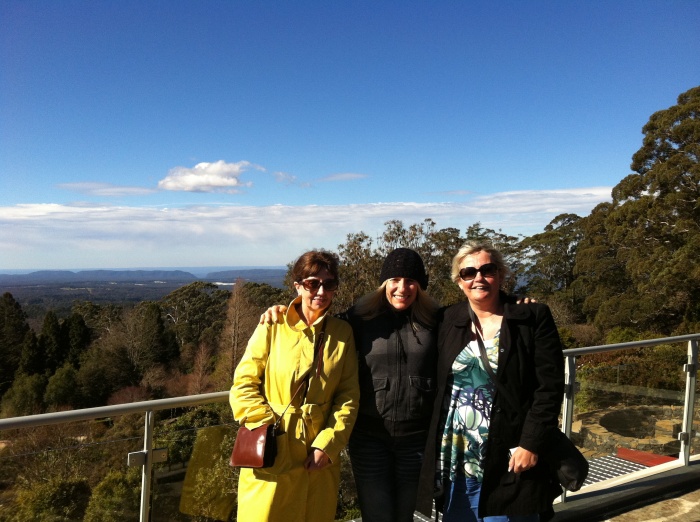 We take some time out to chill out and perk up with a coffee in the cafe with panoramic views over the valley. It's beautiful!
David our chauffeur, then drives us to Katoomba, the town I like to think of as the "capital" of the Blue Mountains. We take a little detour via Kmart for some more warm clothes and nana pyjamas – it looks sunny, but it feels freezing! I think Joan is going to turn into a snow lady if I don't put her in front of a heater to thaw out soon!
We arrive at our cute and cosy B and B Shelton Lea. This is the first place David and I ever stayed in Katoomba and it was love at first sight! We've stayed here so many times we've lost count! I hope the girls love it as much as we do! We receive a warm welcome from our hosts Jenny and Paul and settle in, with a cup of tea and a muffin in front of the fire.
Later the muffins make way for wine and then we brave the cold and head out into the night to forage for food. Despite our best efforts to be adventurous, we take the girls to eat at our old all time favourite the Savoy Cafe. Like us, it's vintage and a bit tired, but the menu is still massive and made to make your mouth water. This caff will never earn a Michelin star or a Chefs Hat but it will fill your belly and please your palate, without denting your wallet. The best thing about the Savoy is the mile long menu with something for everyone; salads, pizzas, bugers, steaks, Mexican and much, much more! Bev and I decide we like kangaroos so much, we'll eat some for dinner, and plump for the super-delicious roo burger. Kangaroo meat is super lean and really quite healthy but it's totally tricky to cook… Leave it too long and it will be tough as old boots! Our burgers are cooked to perfection but David and Joan are a tad more conservative, choosing the steak and the barramundi. All our dishes are delicious!
We're so full, we could roll home, but we don't, we walk instead, dropping in at the local  RSL  club (Returned and Services League) which I guess is the equivalent of the British Legion. The welcome is warm, the drinks are cheap and the rugby is on the telly. Our visitors get to have an awesome Aussie night out – fine wine, good times and some serious sporting action! Hooray for holidays!