I'm up with the birds to train with Kathy. We stick to strength exercises today which appear deceptively simple and seem relatively painless. These type of workouts are what I call "silent but deadly," they let you play now and pay later, and work on the premise of slow pain release. So, I may not be in pain today, but I am sure to hurt like hell tomorrow! Still, I'll be happy, if it's hurting, it's working!
It's a busy day at the office for work, and play. I'm flat out all day but after hours, I get to kick back and relax with my colleagues with some after work wine and good times. We're celebrating John's 20 year long service award, and if it's true what they say, that actions speak louder than words, then that says a lot about John's commitment to the company, and the company that we work for. It's all good.
I have to make an early escape from the party as I have another engagement! Beverley and Joan have spent the day hanging out with our old boss Barbara, who has come down from Brisbane, and I am going to meet them for some last minute liquid refreshment before Barbara jets back off into the sunset. That's what you call a day return! We hook up in Orbit Bar, Sydney's only 47th floor, revolving watering hole. It's fun to catch up, enjoy the view and see the sunset.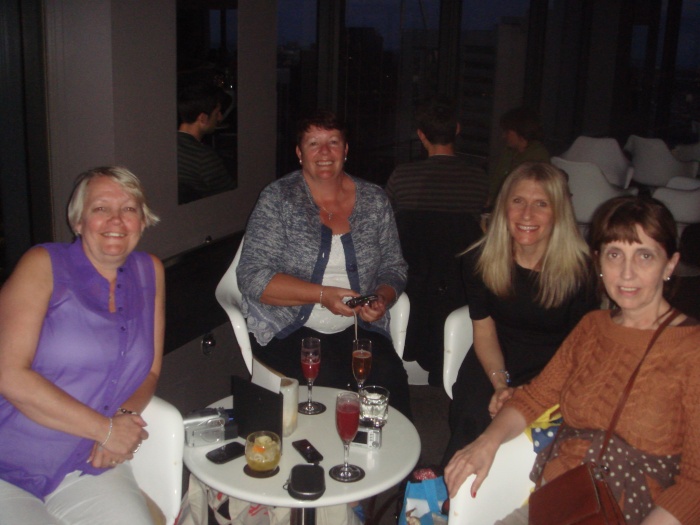 After Barbara is safely dispatched to the airport, we head for home to rest and relax. Dinner is delicious, we have those Aussie-style Meat Pies with some restaurant quality mashed potato from the thermie and Beverley and Joan get their first taste of pumpkin (baked to perfection!) I try my hand atNigella's Store Cupboard Chocolate Orange Cake  which is delicious but a little overly orange for our taste buds!
We're early to bed tonight because we're early to rise tomorrow. We're off on a wine odyssey to the Hunter Valley. Wine and good times ahoy!