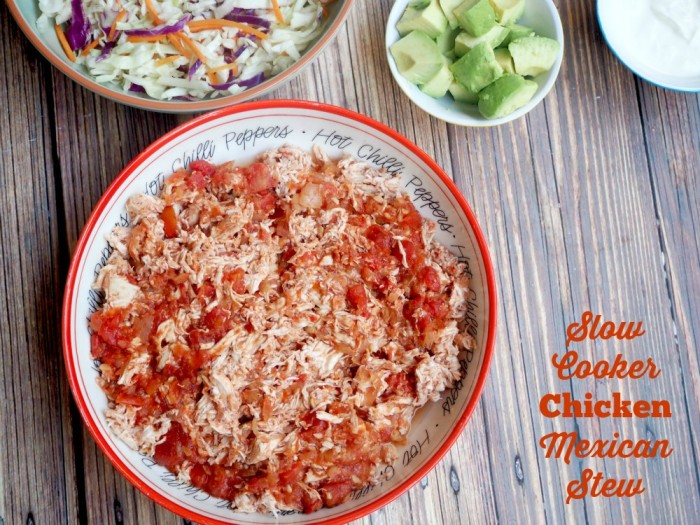 Serves 4
The secret to this delicious low-fat stew is the chipotle paste. And don't worry, if you haven't got a slow cooker, you can make Mexican magic on your stove top instead!
Ingredients
1 tablespoon olive oil
1 medium onion, finely chopped
3 garlic cloves, finely chopped
½ teaspoon dark brown sugar
1 teaspoon chipotle sauce (or more to taste)
400g can chopped tomatoes
4 skinless, boneless chicken breasts
tortillas or tacos, to serve
sour cream and avocado, to serve
How to
Heat slow cooker if necessary. Heat the oil in a medium pan. Add the onion and cook for 5 minutes or until softened and starting to turn golden, adding the garlic for the final minute.
Scrape into the slow cooker pot  and stir in the sugar, chipotle paste, tomatoes and chicken. Cover and cook on HIGH for 2 hours.
Remove the chicken from the pot and shred with 2 forks (or for 3 seconds on reverse speed 4 in the Thermomix)  then stir the meat back into the sauce-  add a splash of water if the sauce is a little thick. Season well and serve with avo, sour cream and tortillas.
 Other info
Prep and cooking time:  2 ½ hours
TIP! This recipe is just as easy without a slow cooker. If you're pushed for time or haven't got a slow cooker, at the end of Step 1 simply stir in the sugar, chipotle paste and tomatoes. Then put the chicken into the pan, spoon over the sauce, and simmer gently for 20 minutes until the chicken has cooked. Just add a splash of water if the sauce gets too dry. When the chicken is cooked, continue from Step 3.
Upcycle any  leftovers into a salad, pizza toppings, nachos, pot pies… the possibilites are endless!