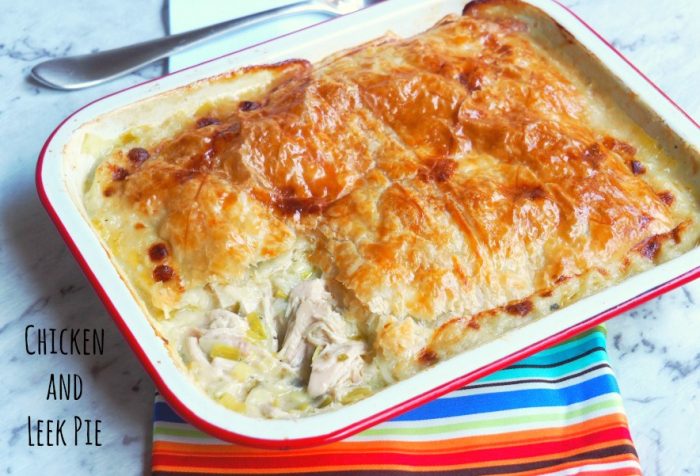 Serves 4-6
I always have my eyes on the pies and this one is a cracker. It takes a little bit more effort because it involves poaching the whole chicken, but it's totally worth it and totally easy in the slow cooker. Of course, if you don't have a slow cooker, you can poach it on the stove, just check out my notes below.
I recently made this pie for my overseas visitors, Joan and Beverley and my neighbour, Luce. A few days prior, Joan, Luce and I spent a rainy afternoon at the flicks and then completed the proceedings with a coffee and visit to Aldi. Joan and I are very similar,  because we both love the movies, we both love coffee and we both love sticky beaking around overseas supermarkets. Are we the only people that find foreign food halls fascinating?!
Anyhoo, I was hot footing it up and down the aisles but Luce said she just needed a chook. Joan looked so confused – she had no idea what Luce was looking for. Of course, chook is Australian for chicken so I gave Joan a crash course in some Aussie slang so she could be up with the lingo. So it just goes to show, you really can learn something new every day!
I love that this recipe is freezer friendly, I usually make the filling, let it cool and freeze, then I just defrost, top with pastry and bake and go. It's easy as pie!
Do you love overseas supermarkets too? Are you a fan of slang?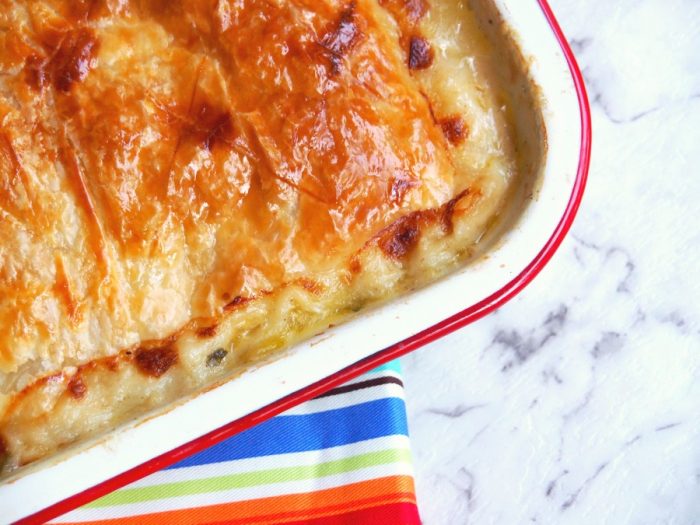 Ingredients
1.6kg whole chicken
1 large onion, roughly chopped
2 carrots, roughly chopped
1 bouquet garni
2 leeks, sliced
1 clove garlic, crushed
50g butter
Grated zest  1 lemon
Glug of white wine (optional)
small bunch parsley, chopped
3 tablespoons crème fraiche
2 tablespoons plain flour
1 sheet ready made puff pastry
A little beaten egg, to glaze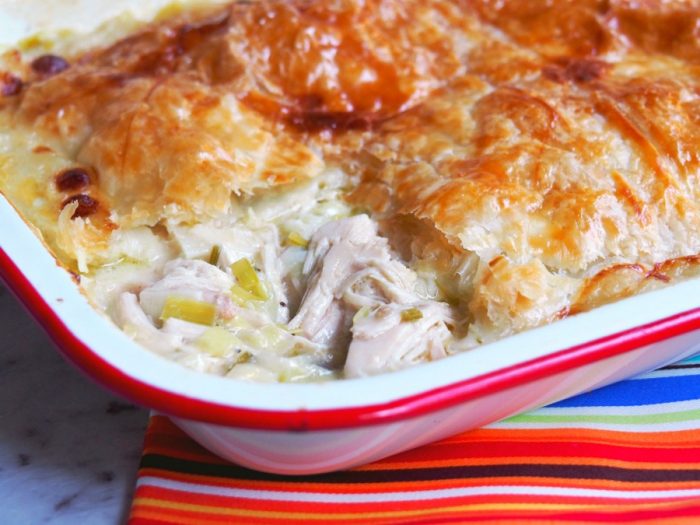 How to
Heat slow cooker if necessary. Put the chicken, carrot, onion and bouquet garni in the pot with enough boiling water to almost cover. Season well with salt and pepper. Cover and cook on HIGH for 5-6 hours until the chicken is cooked through.
Lift the chicken onto a plate.  Strain the stock, discarding the veggies, and measure 500ml into a jug – any extra you can cool and freeze for another time.
Heat the oven to 200C/180C fan-forced. Strip the meat from the chicken, discarding the skin and bones. Cut the meat into large chunks and put into a 1-litre pie dish.
Fry the garlic and leeks in the butter until the leeks are soft. Sift in the flour and cook for 1 minute. Gradually add the reserved stock and the wine, if using, and cook until the sauce is smooth and glossy. Take off the heat and add lemon, parsley and crème fraîche. Season. Pour the sauce over the chicken and leave to cool.
Brush the edge of the dish with water. Lay the pastry on the pie, tucking the edges under to make a double layer around the rim. Press the pastry edge to seal it.
Brush the pastry with milk or egg and bake for 30-35 minutes until the pastry is golden.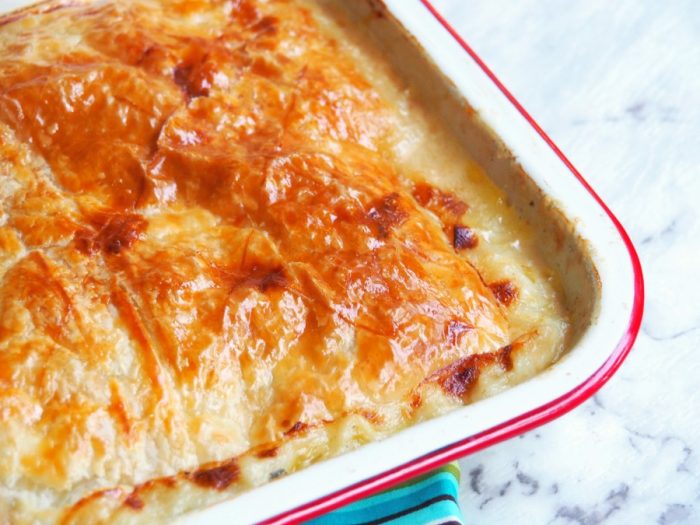 Other info
Prep and cooking time:  8 hours
TIP! This recipe is just as easy without a slow cooker. Simply place the chicken in a pot with a snug fit. Add the carrot, onion and bouquet garni and fill half way with water. Bring to the boil, then reduce the heat, cover tightly and simmer gently for 1-1¼ hrs, until the chicken is well cooked.Continue from step 2.
TO FREEZE Make the pie in a freezerproof dish. Complete to the end of Step 5. Cover   with 2 layers of plastic wrap and 1 of foil.  Label, date and freeze for up to 3 months. Thaw overnight in the fridge. Remove plastic wrap and foil. Bake as in step 6 or until filling is hot.