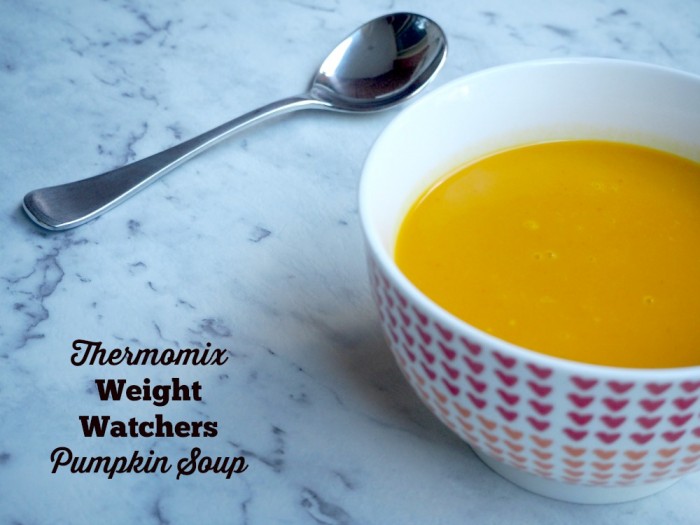 Serves 3 generously
I eat this soup when I'm back on the Weight Watchers train, and I eat it even when I'm not, because it's that easy and that delicious. In fact, it's one of my favourite and healthiest soup recipes of all time. Big call, I know!
I was  pretty excited to be able to adapt the recipe to make it Thermomix-friendly. Now I can make it in minutes with minimum mess! Best of all, if you're weight watching, it's only 1 ProPoint! If you don't have a Thermomix, don't worry, it's simple to make on the stove too, here's how. 
Oh and best of all, if you're counting Smart Points, this soup is just two!
Ingredients
1 onion, peeled and quartered
1 tablespoon olive oil
550g pumpkin, peeled and roughly cubed (if using soft skin pumpkin, there is no need to peel)
2 carrots, washed and roughly chopped
500g chicken stock (or water with 1 tablespoon Thermomix Vegetable Stock Concentrate)
1 teaspoon ground ginger
½ teaspoon chilli powder
Salt and freshly ground pepper
How to
Place onion into TM bowl and chop for 5 seconds on speed 7.
Add oil and sauté for 2 minutes  at 100C on speed 1.
Add spices to bowl and cook for 1 minute at 100C on speed 1 to release the flavours.
Add pumpkin and carrot. Chop for 10 seconds  on speed 7.
Add stock and salt and cook for 20 minutes at 100C on speed 1.
Blend for 20-30 seconds by slowly going from speed 1 to speed 9.
Other info
Prep time: 5 minutes   Cooking time: 24 minutes
TIP! You can adjust the amount of water to acquire your preferred consistency.