So yesterday we left the mountains, and today we're off to the valley; the Hunter Valley to be precise! Wine country, here we come! Once again, we're following in Beverley and Joan's footsteps on our wine tasting tour, the same great company, Hunter Valley Wine Tasting Tours , the same great guide, Max and the same trusty chariot, Vanessa the Mercedes Bus. (Max lets us into a secret and tells us he calls all his buses Vanessa, but it feels like we're travelling in an old and trusted friend all the same!)
Of course, lots of things are different including some of the wineries we visit and our fellow wine tasters. We're an international bunch today, with some honeymooners from NYC, a couple celebrating their 42nd wedding anniversary from South Carolina, a girl from Montreal, Canada, three friends on a girlie day out, including 2 from New Zealand and one from Perth, and a couple from Queensland. They're a very merry bunch and are very good value. I am sure there is a direct correlation between how much wine we drink and how well we all get along.
It's like Groundhog Day but in a good way when we visit the giant Tempus Two. It's a vast, modern building with awesome views and it's a great start to the day. Everything we taste is so delicious that we want to buy it all but we exercise some self restraint as this is only our first winery after all! We leave empty handed and pop next door to the Smelly Cheese Shop  for a taste of cheese heaven.
Next stop is Lambloch which is a relatively new winery in the valley, and the baby of the bunch, being only about 14 months old. We enjoy our tasting in what seems like a rather large living room with floor to ceiling windows across the vineyards. It's as pleasing to the eye as the wine is as pleasing to our taste buds.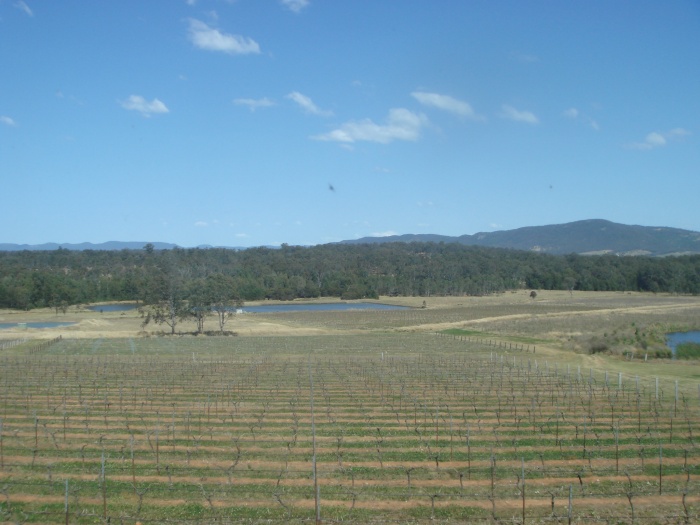 I can't leave without taking a bottle of Moscato with me!
I'm pretty excited because I have never ever visited winery number 3 Misty Glen and  it is home to two gorgeous winery dogs, Semillon and Chardonnay. I have a major case of dog envy and am pretty enamoured with the wines too. I'm seeing red and  splash out on some sparkling chambourcin and a stunning Cabernet Sauvignon.
All this tasting has worked up quite an appetite so we refuel at Bluetongue Brewery Cafe  and work our way through a paddle of beer, deciding that  the ginger beer is our firm favourite. I pop into the wine store for some more of  Polin and Polin wine – we met the winemakers in Orange – mighty fine people who make mighty fine wine – and this is the only place I know that sells it. It would be a crime not to stock up.
The wind has picked up in a major way and we are almost blown away at Ironbark Hill where we are captivated by Roz and our tastebuds are tickled by the wonderful selection of wines. After all the beer, the wine and the shopping we're a bit frazzled and are too tired to purchase.
Our fifth and final winery is another virgin visit for me, and I love it. Tintilla  is a beautiful place with wonderful wines.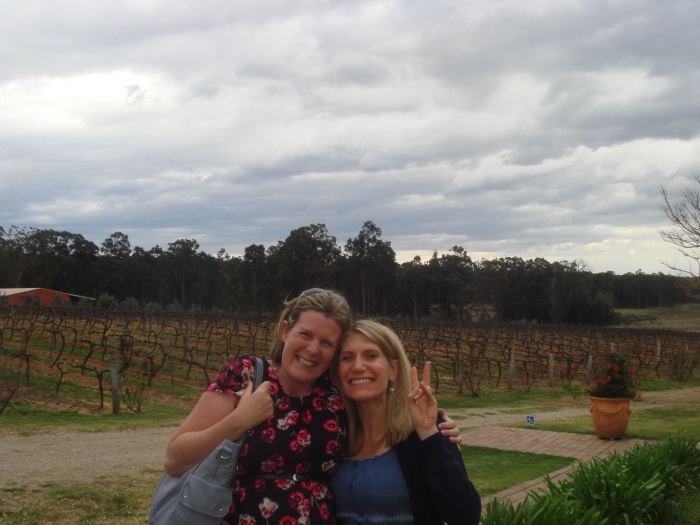 I want to buy them all. But I can't.  It's a toss up between the sparkling for me or the Sangiovese for David. Altruism wins the day and I grab a bottle of the beautiful red for my beloved before we head for home.
There's one last stop at the chocolate shop where we taste test some chilli chocolate (hot, hot, hot,) chocolate rocks and some delicious fudge before we head for home. We even see some wild kangaroos en route! Another fantastic day! Hooray for the Hunter!