It's Sarah's last night, and so we've saved the best till last! After we've been to work and Sarah's been for a blow dry, the clock strikes wine o'clock and we stop in for some liquid refreshment at Stitch Bar. It's turning out to be a must-see-must-drink-stop for all our visitors!
Dinner is no different. Tonight we head out to Leichardt, also known as Little Italy, to our numero uno ristorante, Cafe Moretti. I think we have taken anyone and everyone who has visited us to this pizza palace and I would hate for Sarah to miss out. You might think it's a bit of a trek, but eating here is such a treat, it's best to see it as an eating adventure.
I fell in love with this place when it first featured in a team challenge in the inaugural series of Australian Masterchef – and it's turning out to be an endless love.
The speciality a la maison is pizza, pizza and more pizza. Sarah goes for the popola  which is basically an uber delicious ham and mushroom pizza,  smothered in mushrooms and prosciutto.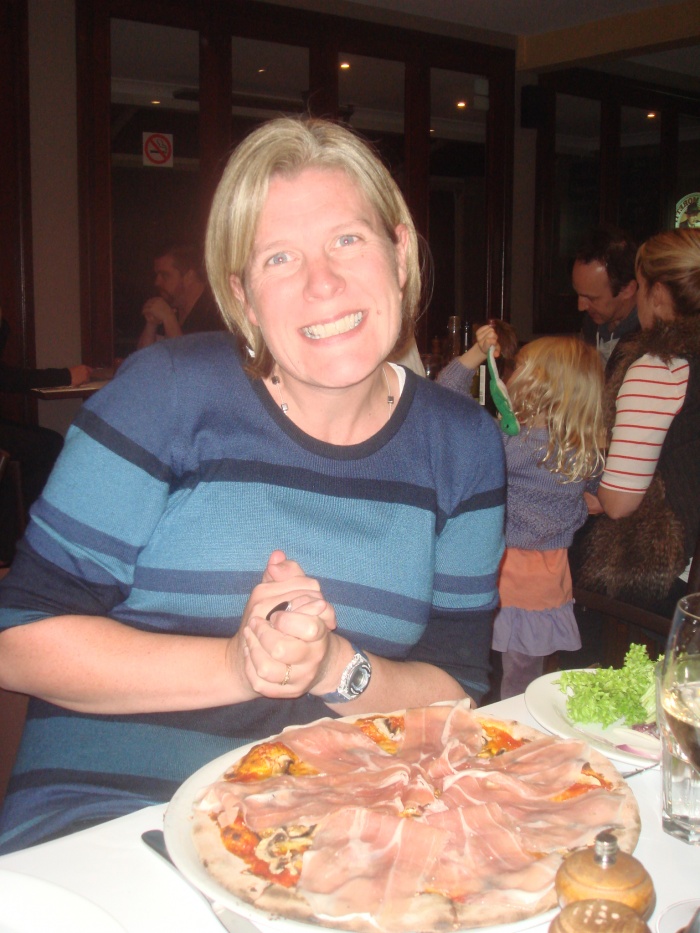 I can never go past the Spagna, which is topped with some of my all-time favourite ingredients, garlic, prawns, artichoke hearts, basil and chilli. I love it too much.
David breaks with tradition and tries the vegetarian Calzone Moretti which is a pizza pie/bread stuffed with fresh ricotta and spinach.
As always, everything hits the spot. Tonight our eyes are so much bigger than our bellies and we decide on dessert. It's only fair that Sarah experience the Nutella Pizza – it's a chocolate spread champ! I tuck in with gusto – isn't this what you call, carb loading?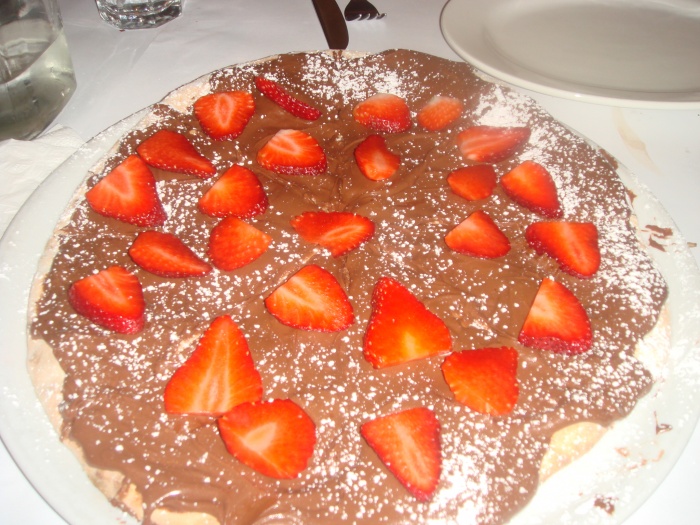 The last supper is always sad because, after the feed, there's always a farewell. However, you can't feel blue when you eat pizzas this perfect!