After all the running in the run up to the Half Marathon, Race Day is finally here! I am so excited I could crush a grape!
My 4.45am wake up call doesn't leave me feeling quite so enamoured but once I'm all done up in my threads and treads, I'm ready to go. The platform is so packed you could be fooled for thinking it is a weekday rush hour instead of a Sunday before sunrise! The train is rammed with runners and by the time we get to our destination station, it's packed with people.
The pre-race place is Bradfield park overlooking the harbour which is looking breathtakingly beautiful this morning. I drop my bag and kill some time waiting for the loo. The queue for the loo is always mind bogglingly long and seriously slow. Today, I wait in line for a personal best of 30 minutes.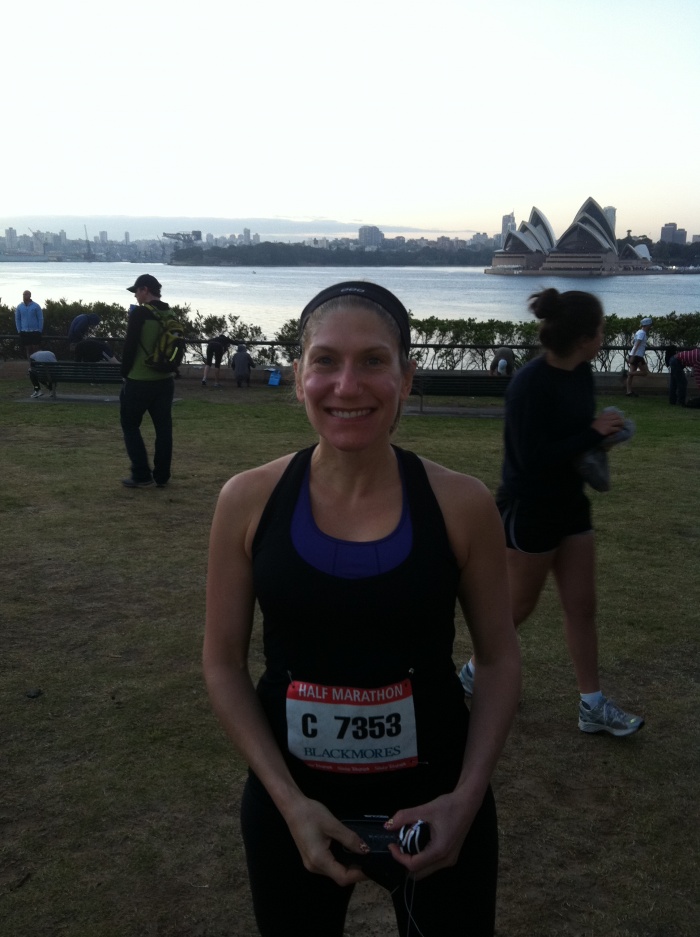 I make it to the start line with only minutes to spare where I bump into Trainer Kathy with a client. There are so many thousands of people here (almost 40,000 to be more precise,) you're lucky to find yourself, let alone a run buddy, so our meeting is quite miraculous. After a good luck hug and a few photos we're off on our merry way.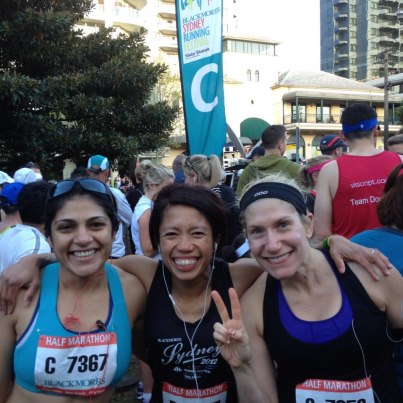 Conditions are perfect. Running over the Harbour Bridge has to be a highlight. It's so exhilarating running right along the middle of that giant coathanger and so refreshingly different from my regular runs over the bridge where I'm pushed to the side. My strategy today is just to relax, run the race and enjoy it. I know my legs will go the distance; my mind is sure to give up before my legs do!
As it is, all the hard yards I've put in pounding the pavement and with Kathy at the gym, have really paid off. I'm thoroughly content and really quite comfortable with my trusty little running app guiding the way. I am having the time of my life. I think this is right up there in the Happiest Days of My Life League, along with my wedding day and the day I had dinner at Cinderella's Castle! The feeling is awesome!
The good thing about running is that it gives you lots of time to think. Indeed I have had some of my best ideas and most enlightening epiphanies while running. Today, I think how lucky I am to be fit and well enough to do this, after two cancers, two surgeries and a long road to recovery all in one year. Running this half marathon feels great but running  this half marathon and raising money for a cause I believe in, feels totally awesome! I think of every single one of my fabulous friends and family who have backed me and helped raise funds for the Kolling Foundation. Giving feels great!
The last kilometre of the course hugs the harbour which is looking it's Sunday best.  David is waiting for me on the home strait and the Opera House welcomes me at the end. Crossing that finish line gives me such a rush, I feel relieved and exhilarated all at the same time! I did it and in a mere 2 hours, 3 minutes and 6 seconds! I'm reminded of one of my favourite quotes "Strength doesn't come from what you can do. It comes from overcoming the things you once thought you couldn't." (Rikki Rogers)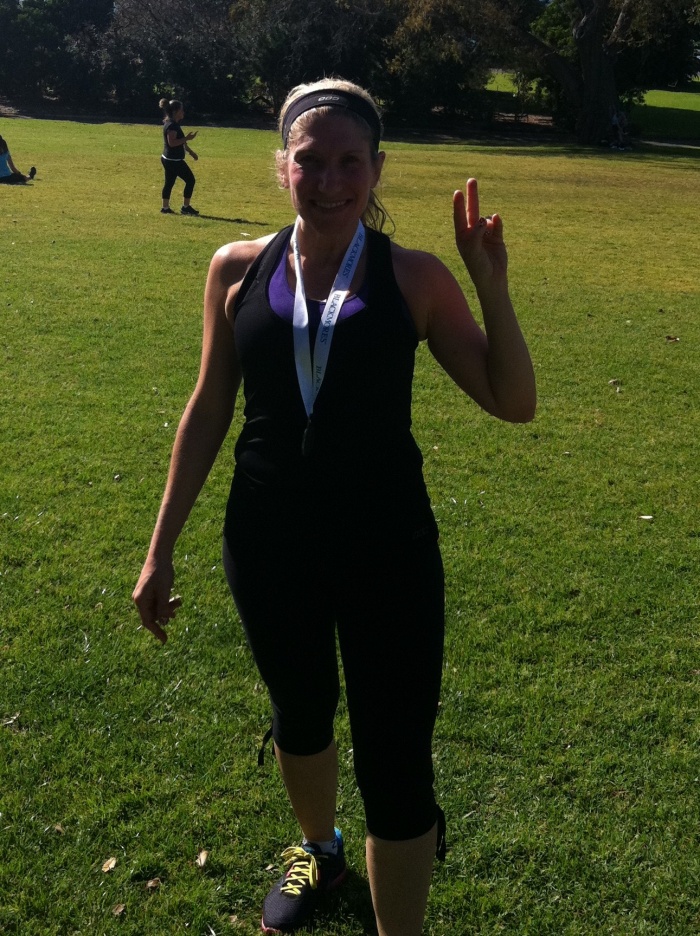 Today I  redefine my impossible. And I get a medal for it!