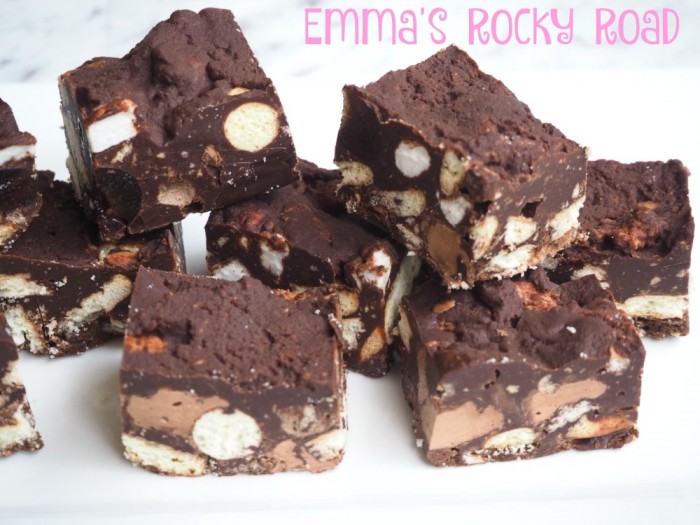 Makes 24 big-bite-sized bars
This recipe was from a feature about primary school children from an Olympic borough and their favourite recipes. If recipes, won medals, this would definitely get gold! Good job, Emma!
Ingredients
300g dark chocolate, cubed
100g soft butter, cubed
3 tablespoons golden syrup
135g Arrowroot biscuits, broken into pieces
150g  glace cherries
20g  mini marshmallows
140g chocolate bars of your choice,  chopped
How to
Put the butter, chocolate and syrup into a heavy based pan over a low heat. Melt them together, stirring until smooth. Cool for about 10 minutes.
Line a 20cm square cake tin with foil. Stir the biscuits and sweets into the chocolate until they are all covered. Pour and spoon  the mixture into the tin and spread the mixture out.
Put into the fridge until hard, then cut into squares or fingers.
Other info
Prep time: 15 minutes   Cooking time: 5 minutes
TIP! You can use your favourite chocolate bars in this recipe. I followed Emma's advice and used a combination of Maltesers and Mars Bars.