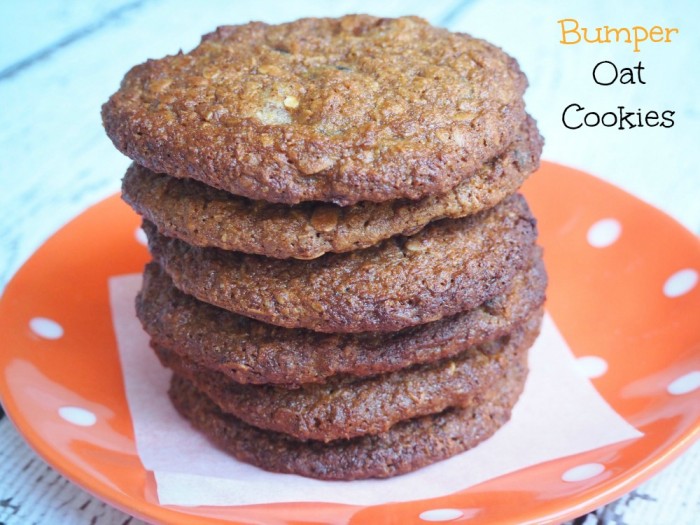 Makes 16 massive cookies
Sometimes, size does matter. Like, when it comes to cookies! You know that saying about more bang for you buck, well, this recipe is all about more biscuit for your bite!
All you need to make these cookies are a few pantry staples and away you go. These are jumbo by name and jumbo by nature – packed full of oats and dried fruit – and they're big on taste too!
The texture is the best bit, oats so good! These cookies are deliciously chewy, although if you like you cookies with a bit of crunch, just cook yours a little bit longer at lower temperature.
I first made these way back in 2012 and since then the post has had a bit of an extreme makeover and I got my Thermomix so now there's a Thermomix conversion too! Woot! But however you make these  cookies, you're in for a big treat!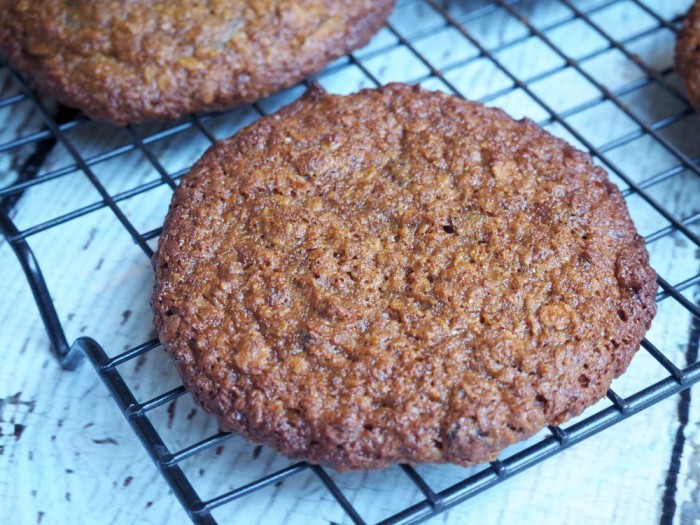 Ingredients
175g butter
130g raw sugar
100g golden syrup
85g plain flour
½ teaspoon bicarbonate of soda
250g rolled oats
1 teaspoon ground cinnamon
70gg  dried apricots, chopped
70g dried cranberries
2 tablespoons boiling water
1 medium egg, beaten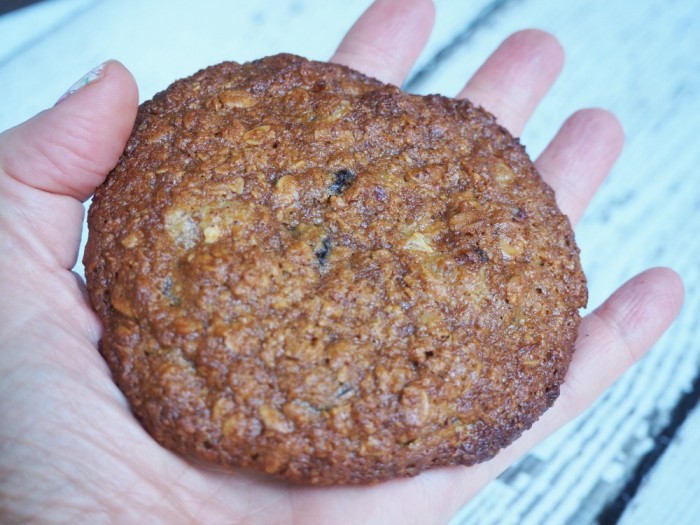 How to
Heat the oven to 180C/160C fan-forced. Line several baking sheets with baking paper.
Warm the butter, sugar and golden syrup in a large saucepan over a medium heat until the butter has melted. Stir in the flour, bicarbonate of soda, oats, cinnamon, dried apricots and cranberries, then the water and finally the egg.
Leave to cool for a few minutes until easy to handle.
The mixture will be quite wet and sloppy. With dampened hands, shape the mixture into 16 large balls, then gently flatten them onto the baking sheets – allowing plenty of space for spreading (4 to a sheet is just dandy) – and bake for 15-20 minutes until golden. This will give a soft, chewy cookie. For a crisper one, reduce the heat to 160C/140C fan-forced and bake for a further 5-10 minutes.
Allow the cookies to cool on the trays briefly, then lift onto to a cooling rack. T
Other info
Prep time: 15 minutes   Cooking time: 25 minutes
TIP! The cookies will keep in an airtight container, separated with baking paper for up to 1 week.