Roll up! Roll up! Tonight we are off to the Entertainment Quarter to see the latest Cirque production to come down under, OVO!
First we fill our bellies Bavarian style at the Bavarian Beer Cafe. I pig out  on a pork knuckle (after I've picked all the crackling off, of course.)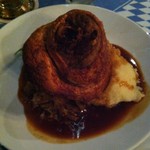 Who ever guessed that pigs had such big knuckles? Not me, that's for sure! I feel like a piggy and after the amount of pork I've consumed, I'm sure it won't be too long before I look like one too!
We head over to the Big Top and can't wait for the show to start. I think this is our 7th Cirque de Soleil show and it's turning out to be one of our all time favourites. It's bright, it's light and the acts are amazing. I nearly have a heart attack watching the death defying flying trapeze and as always, am awestruck at what these guys can do with their bodies, never mind, about their abs of steel! All the fun of the Cirque-us!