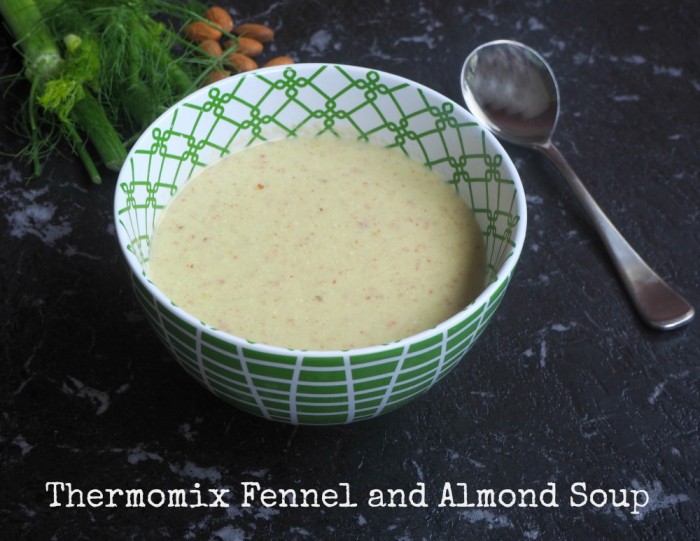 Serves 4
This is another delicious  recipe from the font of knowledge that is the Thermomix Recipe Community. The fennel and the almond complement each other perfectly making a tasty, thick and really delicious soup. The soup is great on it's own, but feel free to grate parmesan on top with wild abandon!
Ingredients
2 – 4 level teaspoons fennel seeds
1 tablespoon olive oil
1 large onion, quartered
3 cloves garlic
2 fennel bulbs, chopped into wedges
75g almond meal
700g water
2  tablespoons Thermomix Vegetable Stock Concentrate
Grated parmesan cheese (optional)
How to
Place fennel seeds  into TM bowl and roast for 10 minutes on speed 1.
Add onion, garlic and fennel. Chop for 3 seconds  on speed 5.
Add tablespoon of oil. Cook for 10 minutes  at 100C on  speed 1.
Add almond meal, stock and water  and cook for 15 minutes at 100C on speed 1.
Allow soup to cool for a few minutes
Blend for  1 minute by slowly going from speed 1  to speed 10.
Serve and sprinkle with grated parmesan, if desired.
Other info
Prep time: 3 minutes   Cooking time: 30 minutes