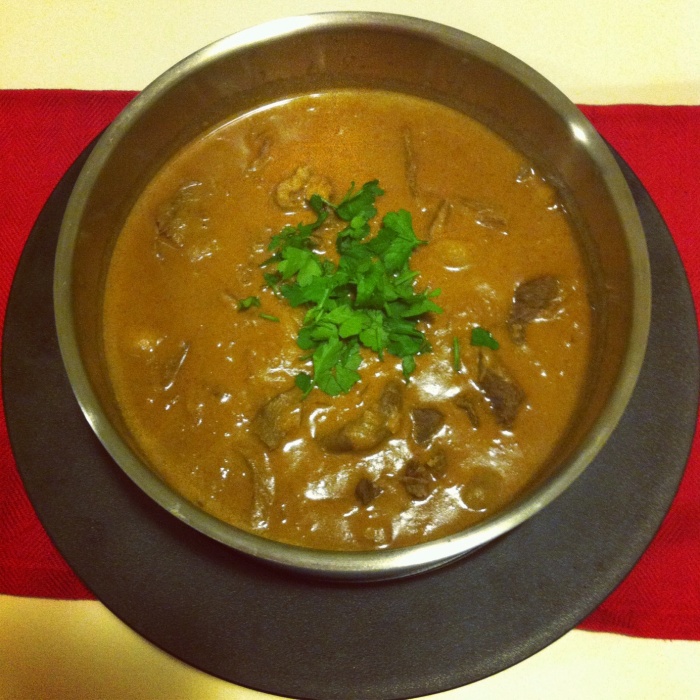 Serves 4
Yum! A taste ticket back to the 1970's and it still tastes as good as I remember!
Ingredients
1 onion, peeled and halved
30g butter
500g Tenderloin fillet cut into 2.5cm strips
120g mushrooms, washed and halved
2 tablespoons tomato paste
100g white wine
100g water plus 1 tablespoon TM Vegetable Stock Concentrate
1 tablespoon cornflour
1 teaspoon Dijon mustard
120g sour cream
1 tablespoon paprika
¼ teaspoon cayenne paper
1 teaspoon salt
Fresh parsley to garnish
How to
Place onion into TM bowl and chop for 5 seconds on speed 7..
Add butter and cook for 2 minutes at 100C on speed 1.
Place remaining ingredients, except parsley into TM bowl and  cook for 20 minutes at 100C on Reverse + speed soft.
Garnish with parsley and serve with mashed potatoes.
Other info
Prep time: 10 minutes   Cooking time: 22 minutes
Adapted from: Everyday Cooking… For Every Family Thermomix