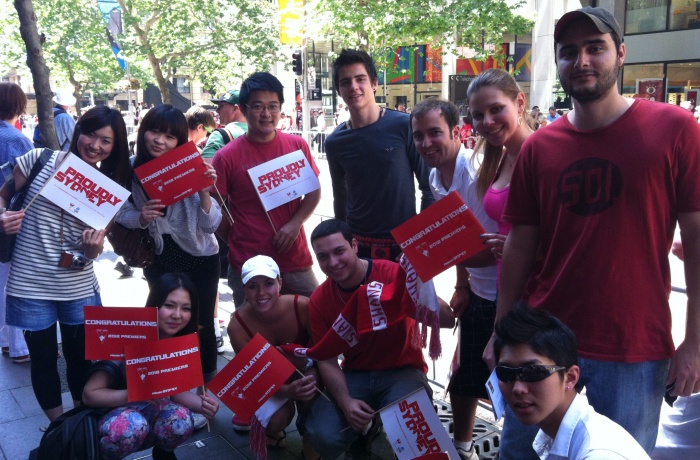 Today's the day the Sydney Swans bring their Grand Final trophy back to town. Winning  an Australian Football League final is no mean feat, you know! It really is something to shout (and cheer) about!
Not a city known for doing things by halves, Sydney goes the whole hog and welcomes those mighty Swans home in style. First, we turn on the sunshine… big time! Then we throw an almighty street party and parade the players and their entourage through the city streets.
The last time the Swans won a Grand Final was in 2005, so this victory has been a long time coming! Who knows how long we will have to wait for the next trophy?!
I'm taking my students to join the party so they can experience Sydney at it's best and enjoy a taste of Aussie culture. They're all jolly good sports and have rocked up to school in their finest red and white. Of course, it helps that the parade is almost passing our door, we just have to walk around the corner!
George Street is a mass of red and white and the free flags are a-flying! We enjoy the police band, the flag bearers, the adorable mascot Cyggy the Swan and finally we are passed by the players, who cruise in pairs,  in cool, convertible cars! The trophy travels in the last car with the manager and captain. It's a magical moment!
Hooray for parades!