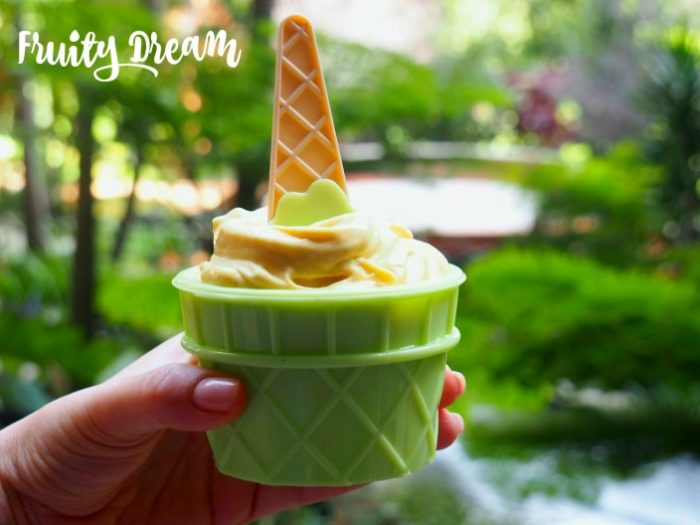 Serves 2-4
There's so much to love about fruity dream. It's fast, fabulous and very, very fruity! It's gluten free, dairy free and low iodine and you can make this soft serve in minutes!
When I was a kid, I lived in a tower block on the sixth floor. There were thirteen floors in the block and my best friend Jazz lived on the top floor. The lifts were a bit whiffy and a bit temperamental and I quickly developed a lift phobia. As a result, I would never take the lift on my own, and only grudgingly take the lift with my mum. Often, I would let her take the lift and run up or down the six flights of stairs accordingly.
The ice cream van would arrive with refreshing regularity in summer and there would always be a mad dash to find some cash and then make it down the six flights of stairs to get my iced delight. My ice cream of choice was a Popeye – a soft serve cone with a small ice lolly stuck in the top! So good! My other top treat to eat, was a screwball, two gumballs buried under soft serve – finding those gumballs was like finding a pot of gold at the end of a rainbow! Of course, on the days when I felt like being a purist, only a cone with a Flake would do! They don't make ice creams like they used to!
The ice cream man doesn't come down our street these days but I don't miss him because I can whip up a batch of this frozen delight in less time than I did my mad stair dash in the days of old. This dessert is not just quick, it's healthy too. Depending on the fruit you use, you can skip the sugar completely. I find if I use mango and/or banana, I neither need nor miss the sugar. If you're prefer your sweetners more natural,  swap the sugar for a tablespoon of honey or maple syrup.
I often buy pre chopped frozen fruit or  stock up on fresh fruit when it's plentiful, cheap and in season and stash it in the freezer so I can make fabulous fruity dreams whenever I fancy! Because when it comes to delicious desserts I always fancy!
Do you have fond memories of the ice cream van? What's your favourite frozen treat?  Are you a lift or stairs person?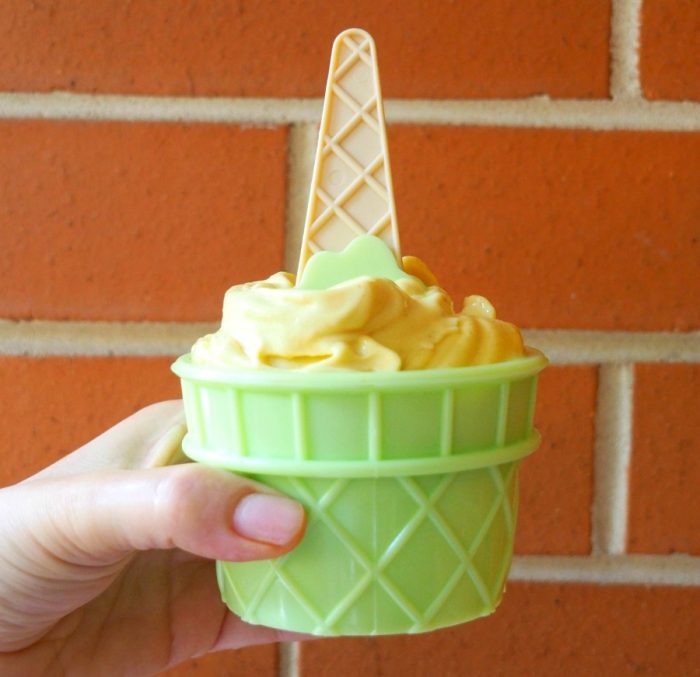 Ingredients
30g sugar (optional)
300g frozen fruit of your choice, chopped and separated before freezing
1 egg white
How to
Place sugar (if using) into TM bowl and pulverise for 20 seconds on speed 9.
Add fruit and chop for 15 seconds  on speed 9. Scrape down sides of bowl with spatula and repeat for another 15 seconds  on speed 9. Scrape down sides of bowl with spatula.
Add the egg white. Insert the butterfly and mix for 45 seconds on speed 4 or until you have a soft consistency.
This is a soft serve dessert and should be served and devoured immediately.
Other info
Prep time: 2 minutes   Cooking time: 3 minutes