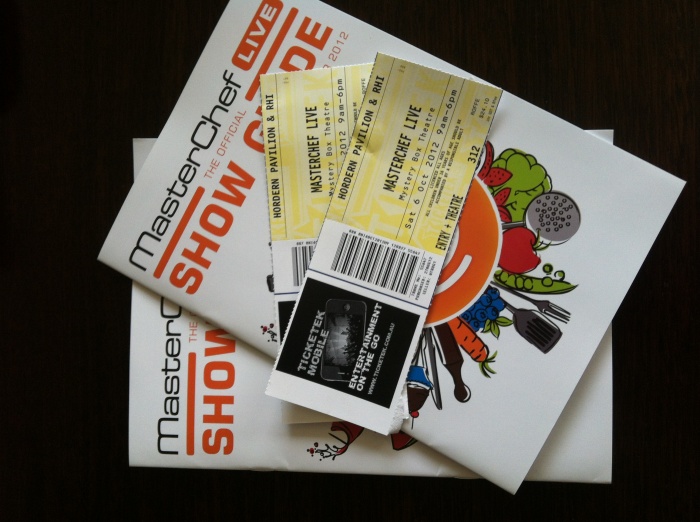 Despite there having been 4 series of Australian Masterchef, and although I have avidly followed them all, this is the first time I've got to experience Masterchef Live. I can't wait to have some fun with food.
It's a brilliantly organised event and we start our day with a visit to the Mystery Box Theatre where we see Masterchef  judge, George Colombaris create a mouth-wateringly good crab dish.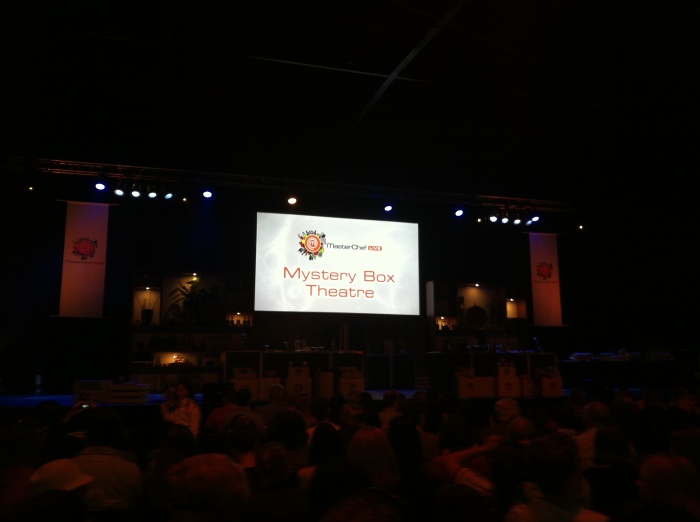 George is joined by acclaimed Sydney chef, Colin Fassnidge who makes an equally delicious dish of brisket in a rich source of port and licorice root! As if all that wasn't exciting enough, Audra, Masterchef 2012 finalist bursts onto the stage and Colin and Audra face off in a Mystery Box Challenge.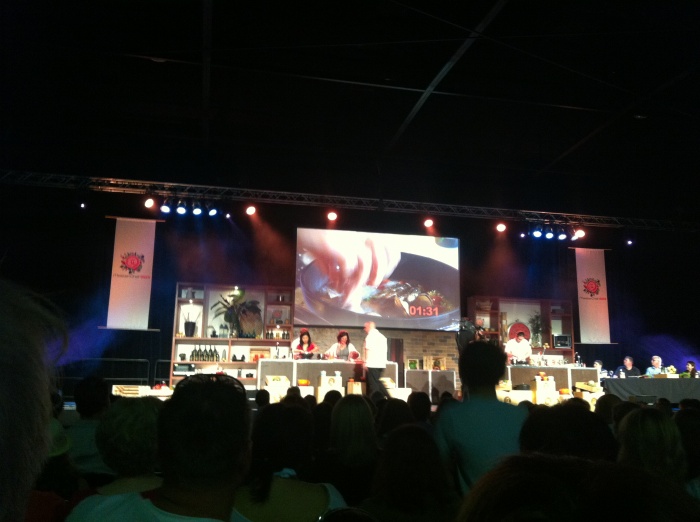 In the Mystery Box today, there's some barramundi, cherry tomatoes, spring onions, chilli  and baby clams. Colin and Audra only have about 7 minutes and one audience member each to create some Masterchef magic – what a pair of kitchen wizards! Colin produces an amazing fish stew and Audra serves up pan friend barramundi with a stir fry of tomatoes, pineapple and chilli. It all looks super yummy! Both dishes are so delicious that George and the audience declare it a draw!
We spend some time checking out some of the 15o foodie stalls and trying and testing everything with enthusiasm. We buy some delicious chutneys, sauces and curry pastes and even see the much loved 2009 contestant Alvin in action. It's all just too good to resist! We see Audra fresh from the Mystery Box Challenge on our travels and have a quick photo stop!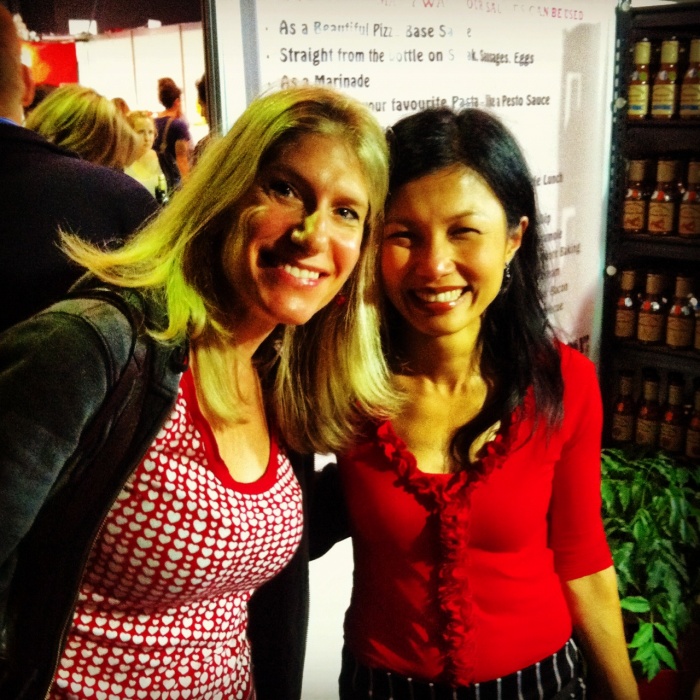 Then we go and save ourselves a seat for Ben and Andy's Contestant Cook Off.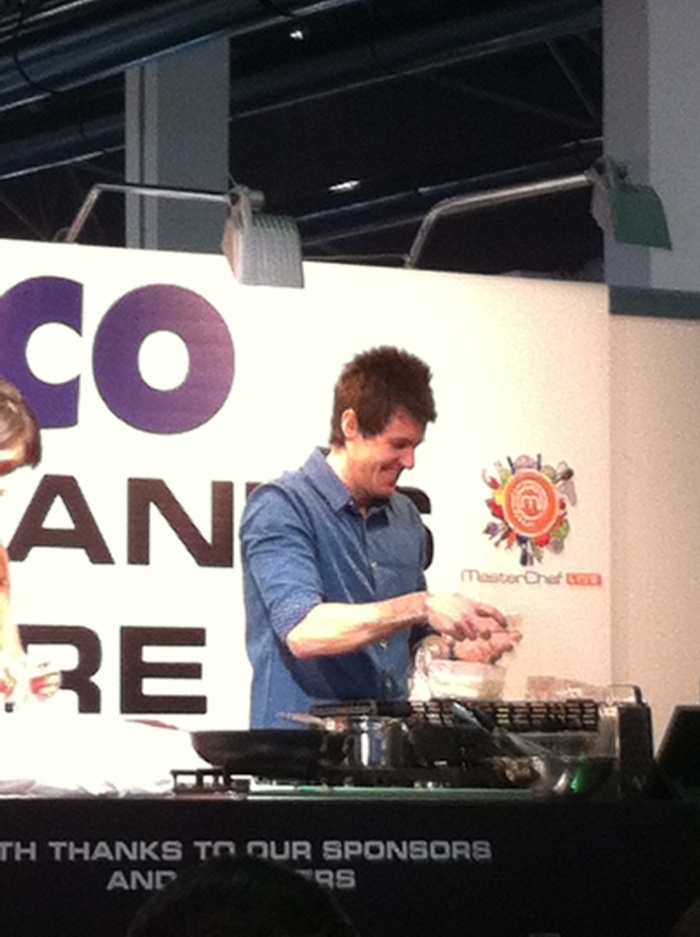 Lucky we get there early because this demo is mobbed. People are standing three deep so I'm grateful to rest my weary legs. Ben and Andy are making  magic magic with their Mexican  Sliders. I can't wait for them to put the recipe on their facebook page. The whole shebang is compered by Dani from series 3 and there are even some audience questions! I get to grips with the mike (the same one that the boys have touched with their own fair hands!) and ask the boys what they would eat for their last supper. Andy says he wouldn't eat because he wouldn't be able to choose just one thing and Ben said abalone. So now you know!
We grab a sandwich on the run and then head off for our Patisse cooking class. The "class" turns out to be a timed pressure challenge, the famous Vincent Gadan is our mentor, and we are the contestants! Our challenge today is to make our very own Parfum De Femme as made famous on this year's series of Masterchef! We have everything we need to make this delicate dessert; chocolate "dough", a chocolate ball, gold dust and up the front the famous red spray painting machine!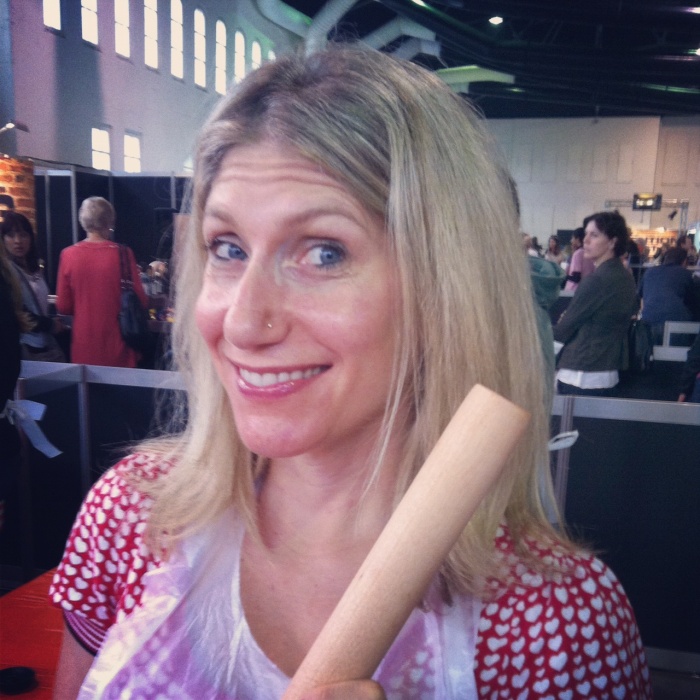 We have ten minutes to produce the Parfum De Femme and I seem to decimate my chocolate block with my hot hands in minutes. My dessert may look a little lacking but at least I can impress Vincent with my pigeon French…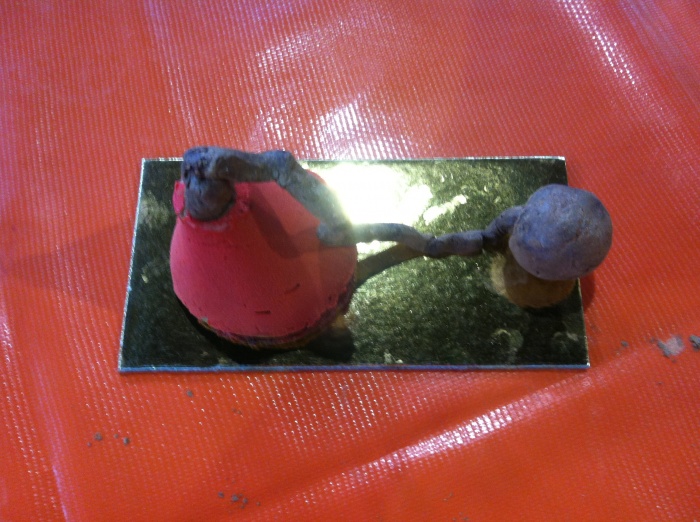 although, he seems a lot more impressed with David's attempt!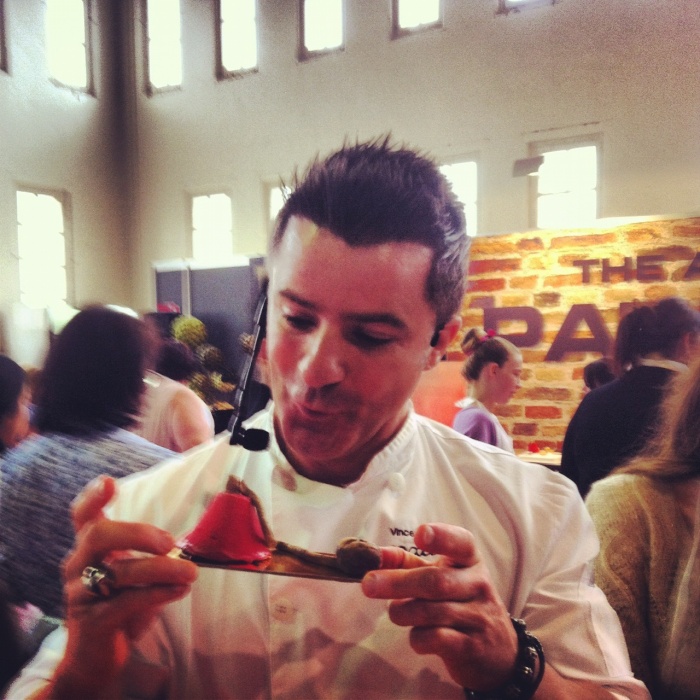 After class, I get to meet another one of this year's awesome contestants, Alice, and have a fast photo…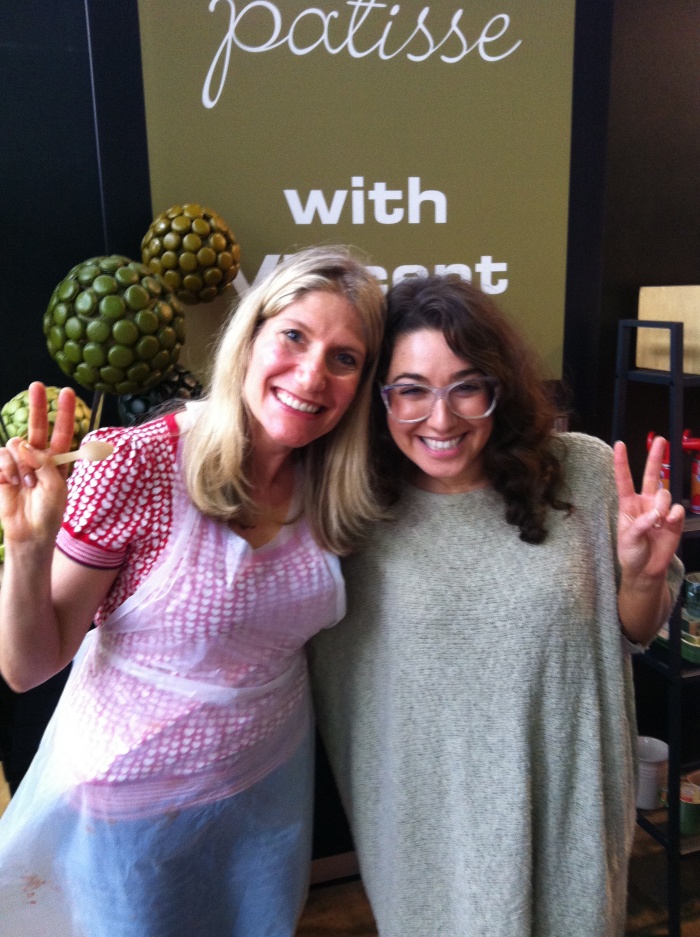 before we rush off to feast on the fruits of our labour. It's made in minutes and eaten in minutes too.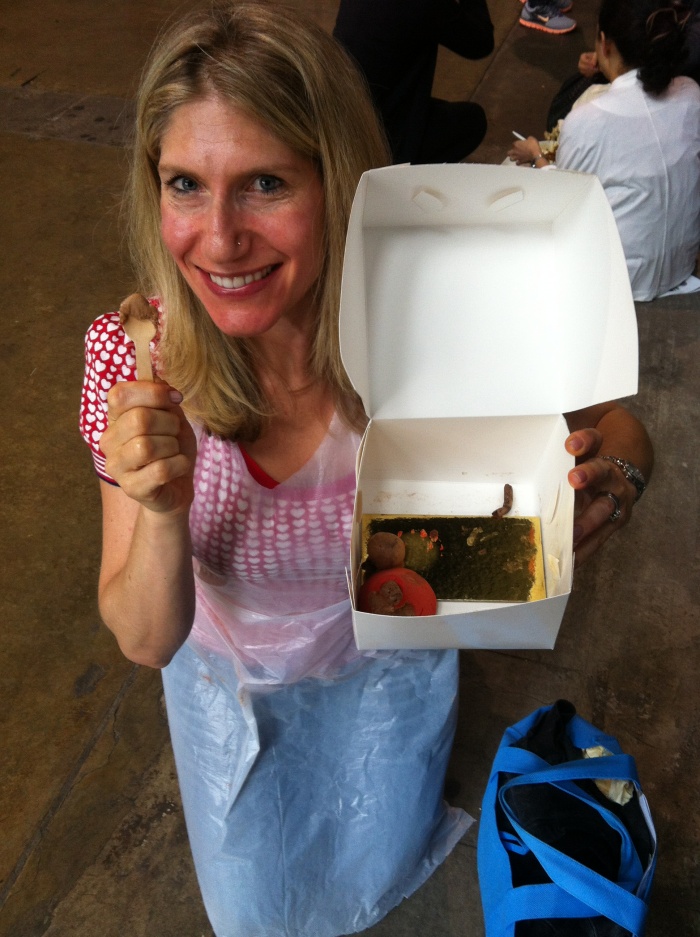 I love the crunchy crystallised violets hidden inside the "vial" and the acidity of the rhubarb puree in the "ball"  it really cuts through the richness of the chocolate.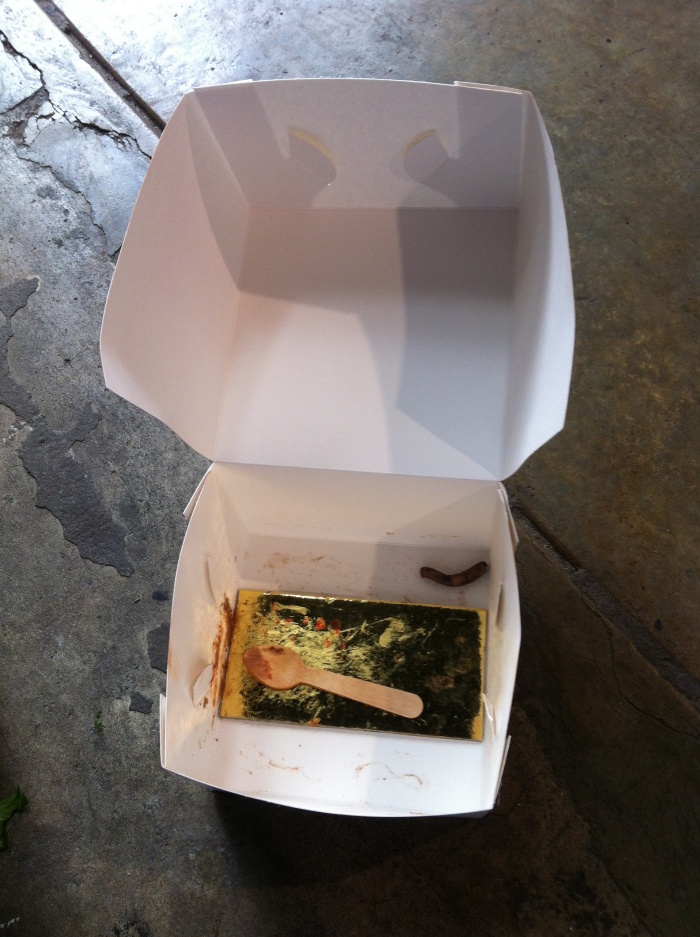 We walk off our excesses with another stroll around the stalls before we head for home. What a fun packed and food filled day!