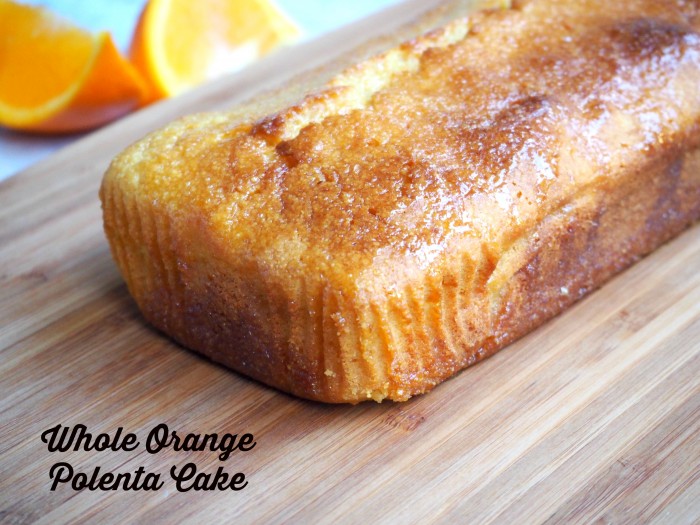 I love making cakes with polenta because it gives cakes such a wonderful texture. Citrus flavours go great with polenta and this orange cake is a real winner, perfect for dessert or a teatime treat. I made it a few years ago for Emily's birthday and everyone in the office thought that this was orangey BOOM!
I've since updated the recipe using whole oranges for a fuller flavour and a little more moist (sorry, not sorry!)
This recipe will make two loaf cakes but if you only want to make one, use a large 23cm round springform tin and cook the cake for a bit longer.
If you have a Thermomix, you can find the conversion here.
 Serves 10-12 (makes 2 small loaf cakes)
Ingredients
2 large oranges
250g unsalted butter
200g golden caster sugar
4 large eggs
160g polenta
180g plain flour
2 teaspoons baking powder
FOR THE ORANGE GLAZE
100ml orange juice (from 2 medium oranges)
100g golden caster sugar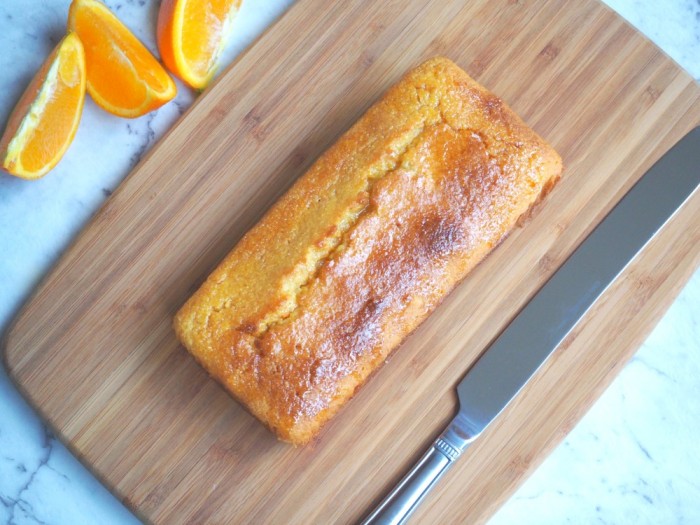 How to
Put the whole oranges in a pan with some cold water, bring to the boil and cook for 2 hours or until soft. Drain, and when cool, cut the oranges in quarters and remove any big pips. Then pulp everything – pith, peel and all – in a food processor. Set aside.
Pre-heat oven to 160C / 140C fan-forced. Grease and line 2 medium loaf tins (23cm x 11cm) with baking paper.
Cream the butter and sugar together until light and fluffy. Add the eggs one at a time and mix thoroughly.
Then fold in the dry ingredients and the orange pulp.
Divide the batter equally between the two prepared tins and spread evenly.
Bake for about 40 minutes or until a skewer inserted into the centre of the cakes comes out clean. If the cake browns too quickly, cover with foil.
Remove from the oven and turn out onto a wire rack to cool.
To make the syrup, put the juice and sugar in a small saucepan and bring to the boil. Let it simmer for about 5 minutes or until slightly thickened, then remove from the heat and allow to cool slightly.
Drizzle the orangesyrup over the top of the cooled cake. Serve with ice cream or citrus sorbet, or a nice cup of tea!
Other info
Prep time: 10 minutes   Cooking Time: 2 hours 45 minutes
TIP! This cake is freezer friendly.