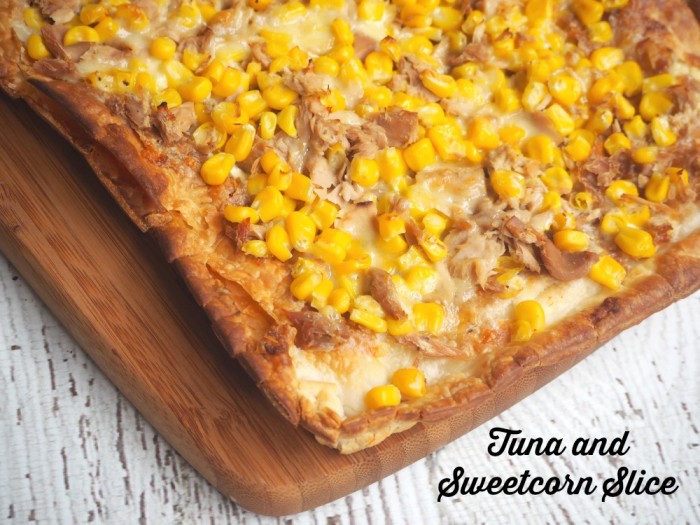 Serves  4
This tasty open topped pie is delicious hot or cold. It's quick, easy and  I always have the ingredients to hand. I think tuna and sweetcorn is a marriage made in food heaven but let your imagination run wild, and experiment with toppings.
Ingredients
2 sheets ready rolled  puff pastry
185g can tuna in spring water, drained and flaked
180g frozen sweetcorn, cooked
3 tablespoons  sour cream
1/3 cup (40g) grated tasty cheese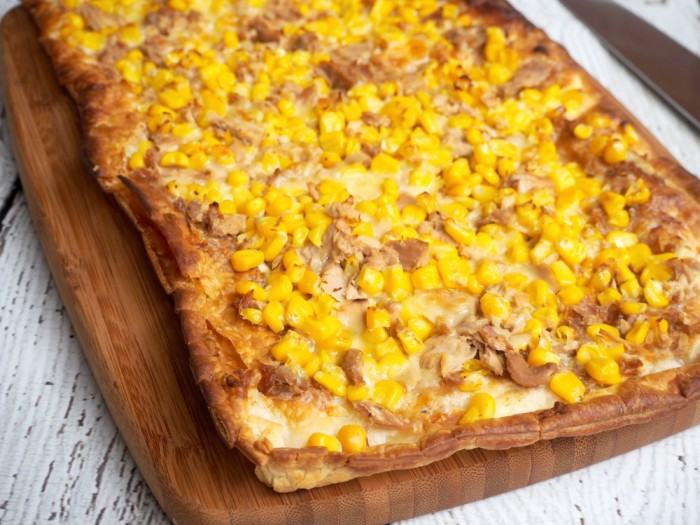 How to
 Heat oven to 220C/200C fan-forced. Line a baking tray with baking paper.
Lay the pastry out, covering the whole  baking sheet overlapping slightly in the middle. Pinch up the edges to form a border, pressing firmly into the corners. Prick the centre all over with a fork and pop into the oven for 10-15 minutes.
Meanwhile, mix the tuna and sweetcorn in a bowl and season well.
Remove the pastry from the oven, gently pressing the centre down with the back of a fork, as it will have puffed up a bit.
Spread the sour cream over the pastry, spoon the tuna mix on top, then sprinkle over the cheese.
Bake for 10-15 minutes more, until golden, puffed up and cooked though. Cut into quarters.
Other info
Prep time: 10 minutes   Cooking time: 25 minutes