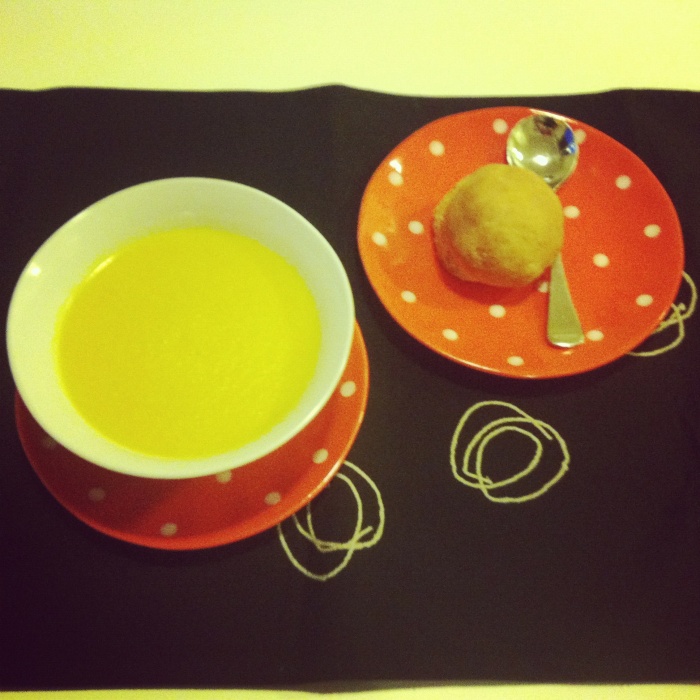 Serves 4
This tasted just as good as I remembered from my Varoma demo. You can view the original recipe here.
Ingredients
2 medium onions, peeled and quartered
20g olive oil
170g-200g carrots, cut into chunks
3 cloves of garlic
150g turnips, cut into chunks (you can also use parsnips or celeriac)
100g dried chick peas (pre milled for 1 minute on speed 10)
2  tablespoons Thermomix Vegetable Stock Concentrate
1100g water
Sea salt and pepper, to  taste
Grated parmesan cheese, to serve
How to
Place all ingredients except chickpea flour, water and seasoning   into TM bowl and chop for 4 seconds on speed 5.  Add chickpea flour and water.
Cook for 25 minutes  at Varoma temperature on speed 2.

Blend for  30 seconds by carefully bringing dial up to  speed 8-9. Adjust seasoning as needed.
 Other info
Prep time: 5 minutes   Cooking time: 28 minutes
TIP! If you set the Varoma over the soup as instructed in the Warm Chicken, Pumpkin and Couscous Salad recipe, you can make both meals at once, and you get a soup with twice as much flavour!