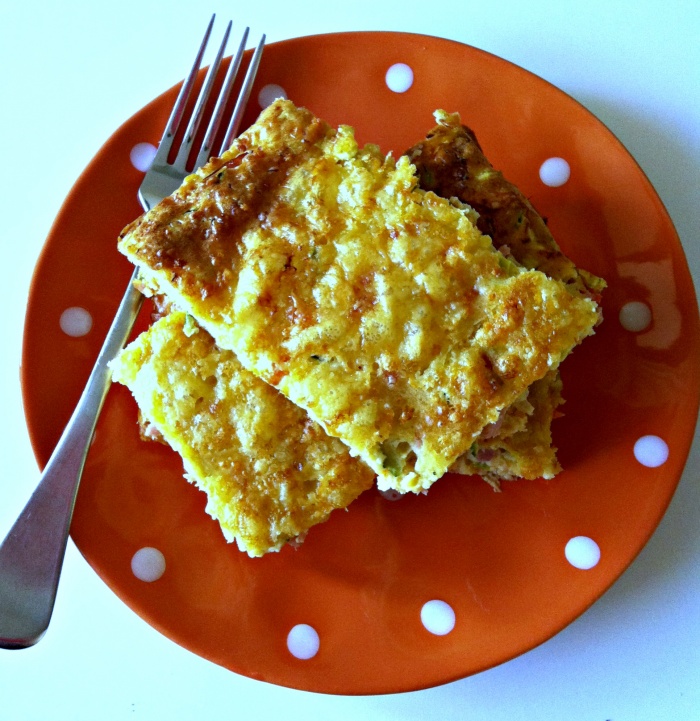 Serves 6
This recipe is from Maria at  Feisty Tapas, I couldn't wait to give it a try in my Thermie! I'm always looking for fast and fabulous things to throw together for work lunches and this scrumptious slice ticks all the boxes! I tweaked it a tad; substituted smoked ham for honey roast, red capsicum in place of green, Colby cheese instead of Emmental and I missed out the anchovies altogether!  Tailor this recipe to your tastebuds!
Ingredients
150 g Colby cheese
150 g double smoked wafer thin ham
200 g red capsicum
80 g onion
200 g zucchini
1 teaspoon salt (optional)
1 pinch of black pepper
4 large eggs
100 g extra virgin olive oil
160 g plain flour
1 teaspoon yeast
How to
Preheat the oven to 200C/180C fan. Line a shallow baking tray with baking paper. (I used a lamington pan.)
Chop the  cheese 8 seconds on speed 7. Remove and reserve in a bowl.
Chop the  ham 3 seconds on speed 4 and reserve in a large bowl.
Place the capsicum, onion, zucchini and seasoning and chop 4 seconds on speed 4. Use the spatula to make sure you remove every last bit put it in the same bowl as the ham.
Do not wash the bowl, crack the eggs and add them to the bowl, with the oil and whisk for 10 seconds on speed 5.
Add the flour and yeast and half of the cheese. Mix 10 seconds on speed 3.
Add all of the contents of the bowl where you had placed the ham and vegetables and mix 10 seconds on speed 3.
Lay the parchment paper on the baking tray and scrunch up the corners. Pour the mixture and spread well to even out the thickness across the tray. Sprinkle with the rest of the cheddar and place in the centre of the preheated oven for 25-30 minutes until golden brown.
Cool in the tray. Cut into slices.
Other info
Prep  and Cooking time: 30-35 minutes
TIP! Try giving the meat a miss for a veggie option. I think corn or peas would also work well in this dish. Maria over at Feisty Tapas suggests serving with a salad or between two slices of turkish bread for the ultimate pie sandwich! The slice will keep in an airtight container in the fridge for a few days.
Reference: http://www.feistytapas.com/