We were seriously salivating by the time we rocked up at Courgette.  It's earned the reputation of being one of Canberra's most gorgeous restaurants and has been awarded a hat by the Sydney Morning Herald  for three years in a row. We can't wait for our four course feast!
The restaurant has three, or is it four, dining rooms and each is beautifully decorated and plushly carpeted and it's all very elegant and thoroughly luxurious.
We don't waste any time getting started. Neither of us want to have a case of plate envy in a restaurant as lovely as this,  so we both choose the seared scallop and sugar cured ocean trout with hommus, white beans, baby coriander and balsamic reduction, and neither of us are disappointed. It's sublime!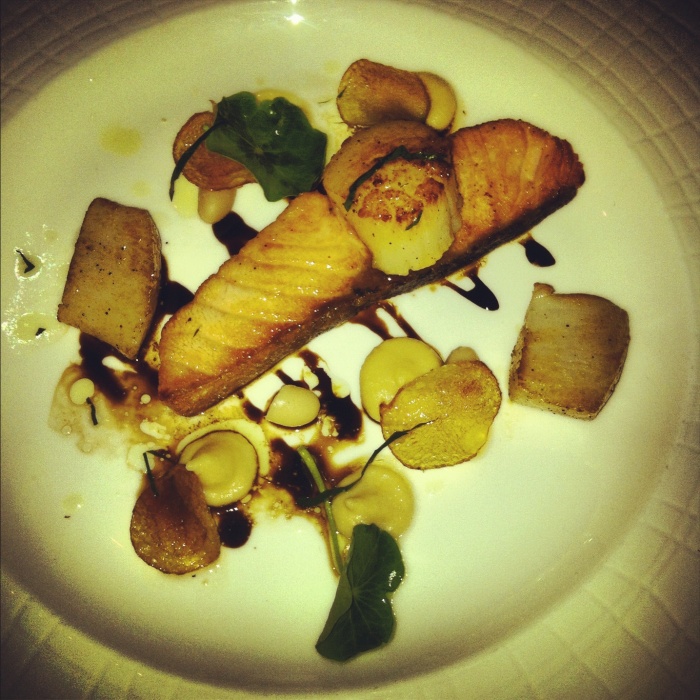 We do our own thing for the second course though. David is something of a pork belly conoisseur and he does declare that the Pork belly with sautéed garlic king prawn, apple and fennel puree, is probably the best he's had!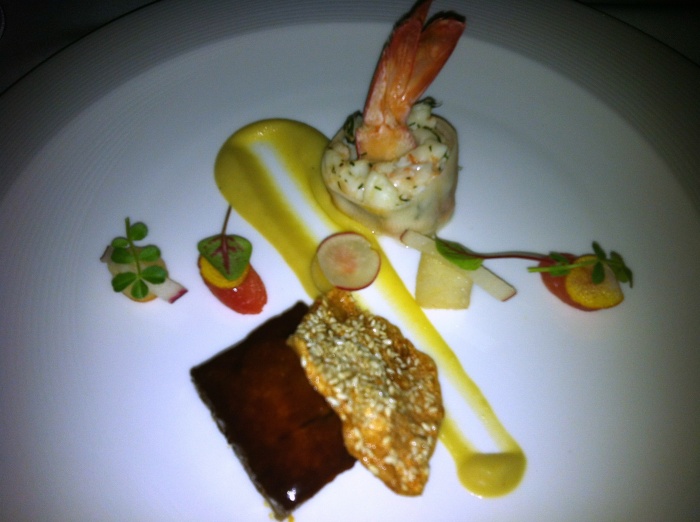 I plump for the pan seared quail breast, butter poached scampi tail on corn mousse, split peas, sesame seed wafer and shaved black truffle. The flavours work fabulously together and the quail is cooked to perfection.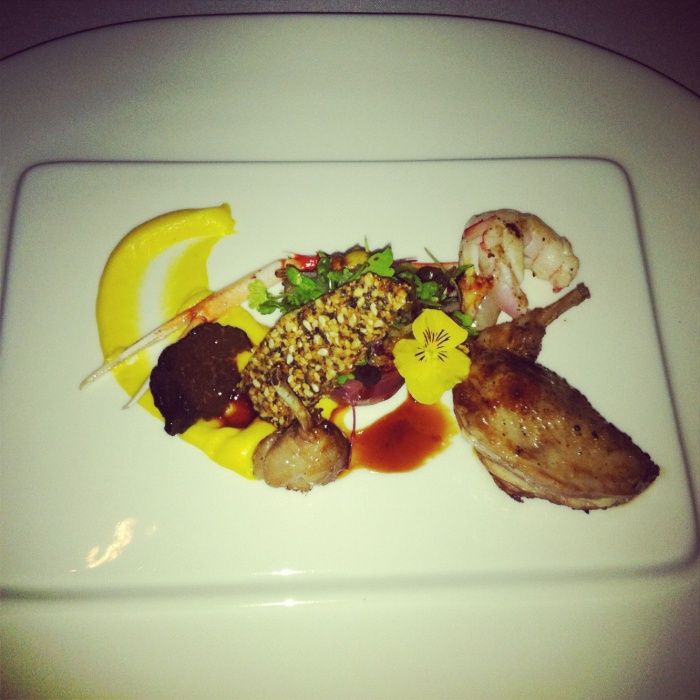 Course number three gives me a dinner dilemma. I can't decide whether to have the snapper  or the beef but in the end I decide to have neither and choose the rare roasted loin of venison with cauliflower, spiced beetroot, spinach pannacotta, broad beans and a shiraz wine glaze. As does David! The venison is delicious and so beautifully cooked. It's a little plate of food heaven.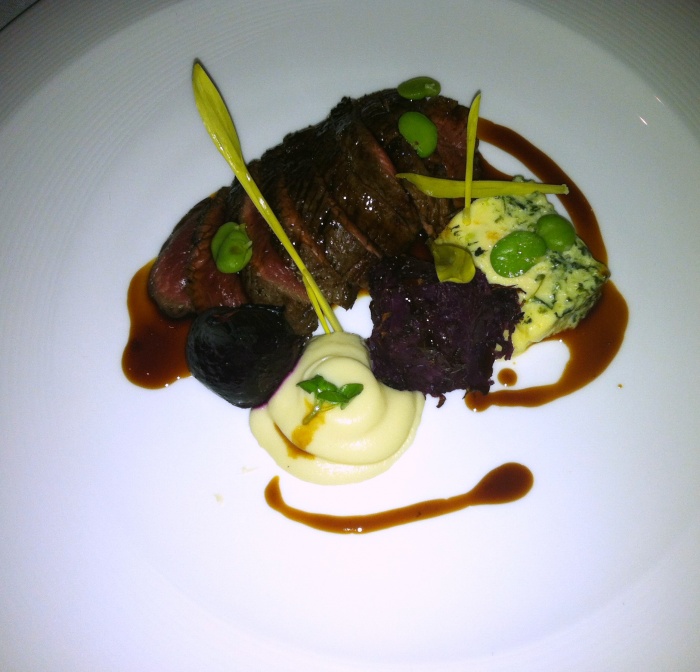 David orders the coffee soufflé with chocolate and hazelnut parfait, toasted marsmallow and espresso jelly but finds himself on the receiving end of  a plate of assorted textures of chocolate with fresh raspberries, salted pistachio nuts and popping candy. Ooopsie! The mistake is rectified in the kitchen while the chef comes out, and personally offers us the chocolate plate to taste for the 7 minutes, the souffle takes to make!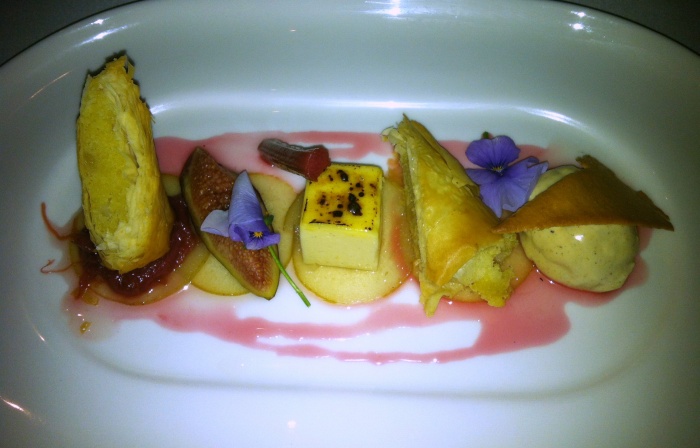 I'm double dipping into my own dessert; warmed almond and pear cigar with fresh fig, poached rhubarb, praline and fig ice cream and the chocolate plate at the same time. The chocolate is super rich and super smooth. However, try as we might we just can't finish it, although we do  hoover up the pop-tastic popping candy.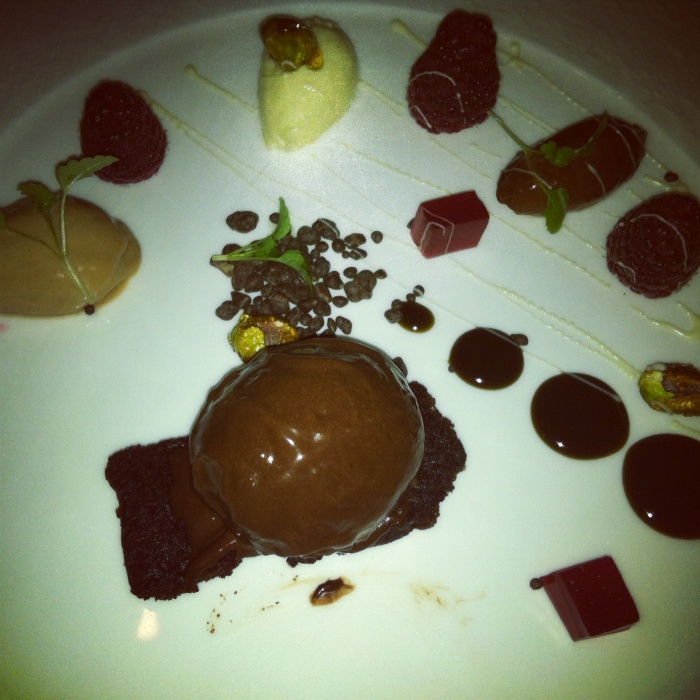 When David's dessert arrives, he says it's well worth waiting for. Check out the chocolate spoon!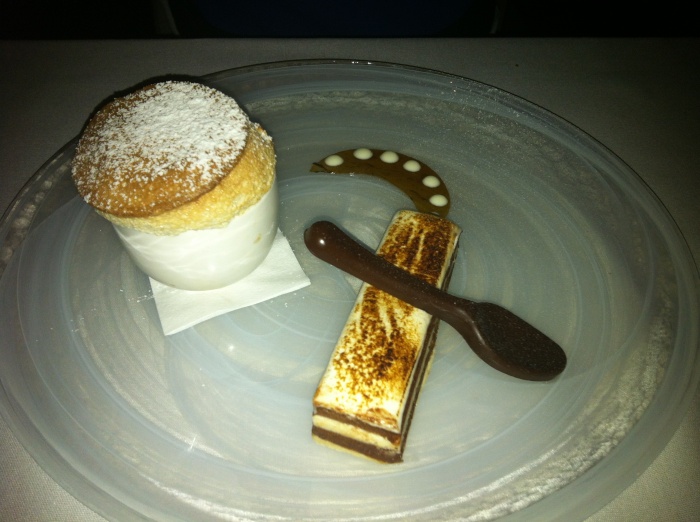 We've had four fantastic courses but there's still some space for coffee.
And the caramel filled petit fours!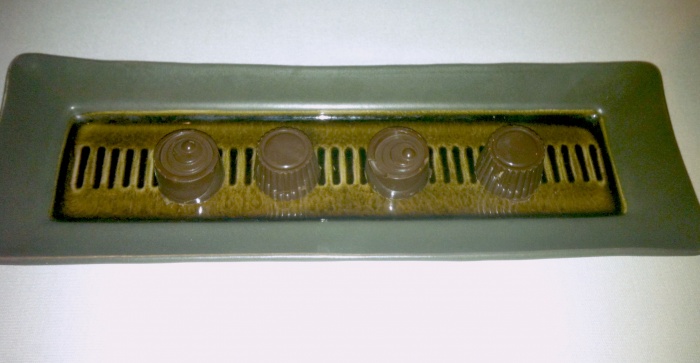 We love Canberra! We love Courgette!