There's been a plethora of pleasing post this week which has been a refreshing change from the usual pile of bills and boring bits.
First off there was the letter from the Prof, wrapping things up, which  gives me some sort of  closure on the surgical part of my journey.
Then, we receive notification that our new Thermomix bowl has arrived and is ready for collection. I don't want to be greedy with two bowls and all, but I just think with two bowls, I can easily prepare  two course dinners in,  and have twice as much fun with,  my thermie. Why, it will be twice as nice.!
To complete the hat trick of pleasing post, and perhaps best of all, I get gifts from home. From my mommy! There's no gift like a mother's love, and in the same way there's no gift like a mother's gift. David spoilt me with a wonderful weekend in Canberra to celebrate one year since surgery,  and my mom won't be outdone! She sends me Gordon Ramsey's Ultimate Cookery Course and a whole pack of chilli seeds. Something for my cookbook shelf and  my herb garden! I'm a lucky girl indeed!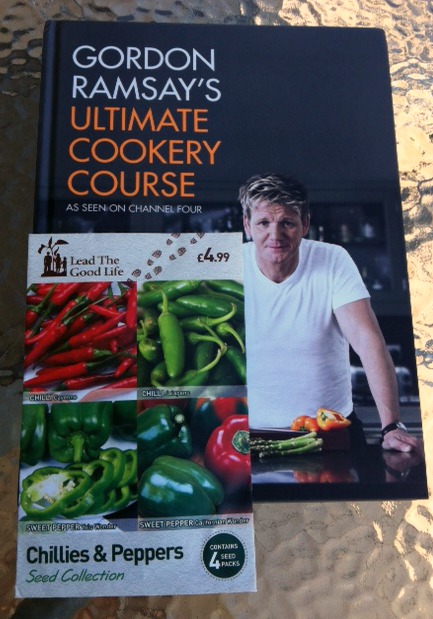 I'm not a big fan of Gordon's foul mouth, (I would love to wash it out with some of my mango scented soap, but that's by the by,) but I do think his food looks rather lovely. I don't think his new programme and new image has reached us in upside down land yet, but I hope it comes soon. Meanwhile, my mom has been raving about it, and if the book is anything to go by, the programme is going to be great. The recipes are really user friendly and it's got so many tips, it's as much a cooking manual as a recipe book.
The chilli seeds are the perfect gift for me and my penchant for hot food. There's a whole selection of chilis  in there; cayenne chilli, jalapeno chilli and two kinds of sweet pepper. I'm a bit nervous about planting  seeds as my fingers are not at all green. Actually, I'm a bit surprised the seeds arrived at all because I was wondering how  they would pass through the rigorous Australian quarantine proceedures. It turns out my mum has done her research and these here seeds are allowed in. Waiting for the seeds to grow will be a challenge as patience has never been one of my strong points. I'm not good at playing the waiting game!
So I would like to thank the prof, Yvonne, the  postman and especially my mum,  for bringing good tidings and good things from near and far!