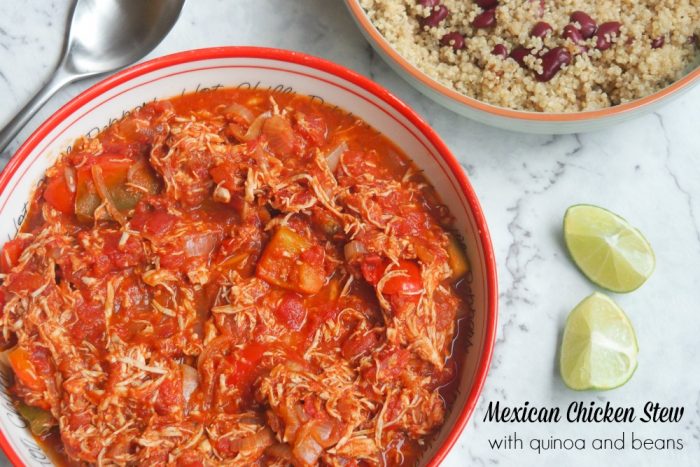 Serves 4-5
This stew is super simple, super healthy and super versatile. We think spicy is nicey but you can ramp up or tone down the heat to suit your tastebuds, but rest assured the dash of sugar, the zing of lime and the creaminess of the yoghurt really balances things out. This dish would probably look the business sprinkled with coriander but the caterpillars had a coriander feast in my balcony garden and I married someone who will never be friends with that herb, so that's why it's missing. If you're Team Coriander, knock yourself out. I used kidney beans because they mean Mexican to me, but pinto beans or cannellini beans would also go great.
It's been a long time since I made quinoa, mostly because I found it so fiddly. I've recently discovered the absorb and rest method and love it so. It's super easy and you get perfect results every time – the addition of chicken stock to the quinoa adds a real depth of flavour.
I've listed the stew and the quinoa steps separately, I suggest making starting off with quinoa and by the time it's done, the stew will be ready too.
So tell me, are you on Team Coriander too?
Ingredients
1 tablespoon olive oil
1 onion, sliced
2 garlic cloves, crushed
2 red capsicums, deseeded and chopped into largish chunks
3 tablespoon chipotle paste
2 x 400g cans chopped tomatoes
400g chicken breast
160g quinoa
2 chicken stock cubes
1 x 400g can red kidney beans , rinsed and drained
juice 1 lime
1 tablespoon brown sugar
coriander, to garnish (optional)
natural yogurt , to serve (optional)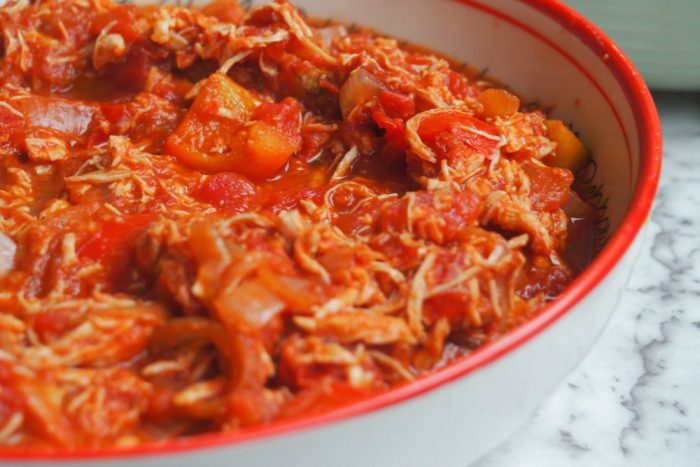 How to – Chicken Stew
Heat the oil in a deep frying pan and fry the onions, garlic and capsicums for a few minutes until softened. Stir in the chipotle paste for a minute, followed by the tomatoes. Add about half a tomato can-full of water, just enough to cover the chicken and bring to a gentle simmer. Add the chicken breasts and gently simmer, turning the chicken occasionally, for about 20 minutes until the chicken is cooked through.
Lift the chicken out onto a board and shred each breast using two forks (alternatively place in Thermomix and shred on 4 seconds reverse speed 4.)
Stir the shredded chicken back into the tomato sauce, add the brown sugar and season well.
Serve the stew with the quinoa. If you're Team Coriander, scatter some leaves over the stew just before you dish up, and add a dollop of yoghurt on the side.
How to – Quinoa and Beans
Rinse the quinoa well under running water. Add to a pan with 1.5 cups cold water (375ml) and crumble in the chicken stock cubes. Bring to the boil and simmer, covered,  for 15 minutes or until all the water has been absorbed.
When the quinoa has finished cooking, remove from the heat and allow to stand with the lid on, for another 10 minutes. Fluff up the quinoa with a fork and then stir through the beans.
Other info
Prep time: 25 minutes     Cooking time: 30  minutes
TIP!  Add some chopped fresh chilli or some chilli flakes for an extra kick! Be sure to test your chipotle sauce before you start, as they vary in strength.