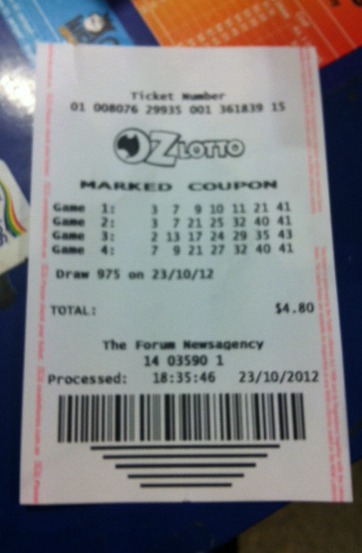 Last night Sydney was in the grip of lotto fever, with a 50 million dollar jackpot up for grabs. People were queuing out the doors of their local newsagents in the hope of scoring the first jackpot win since Augsut 28! The admin team at work had organised a syndicate that didn't include the teachers and, not one to miss out, I delegated that David score us a ticket "en famille"  on his way home.
I'm not especially pro-gambling but the lure of $50 million proved just too much to resist. My mum always tells me that there's as much chance of flushing my money down the toilet and for it to return, than there is of winning the lottery. She's probably right… as usual. But a little hope goes a long way!
We're not so loony about lotto that we feel compelled to watch the draw, but later we just can't help ourselves, we check the numbers online and guess what, we've won. Not the jackpot, of course! But every penny counts!
This morning I joyfully clutch my ticket and hotfoot it to the newsagents to collect my winnings, all 30 dollars and 20 cents! It's not much I grant you, but as my mother would say, it's better than a kick up the bum! Indeed it is. Moreover, the winnings should rightly be shared, just as the work was; I chose the numbers and collected the cash, while David did the hard yakka buying the lucky ticket! Now we can kick back, relax and  have fun we can have spending it together!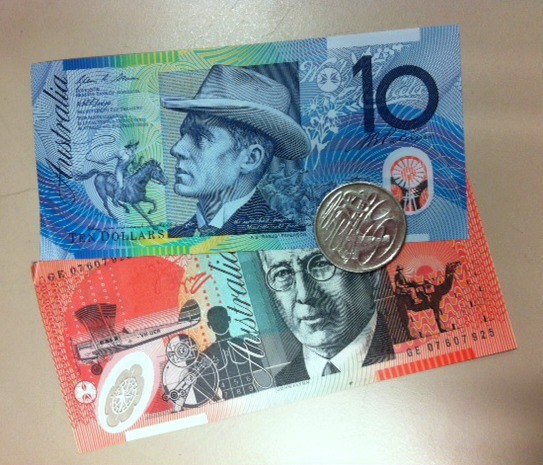 My latest lucky streak has inspired me to start a syndicate in the staffroom. Last night's jackpot rolls over which means next week there's bundles more booty to go round! I know the chances of winning are less than miniscule, but we live in hope!