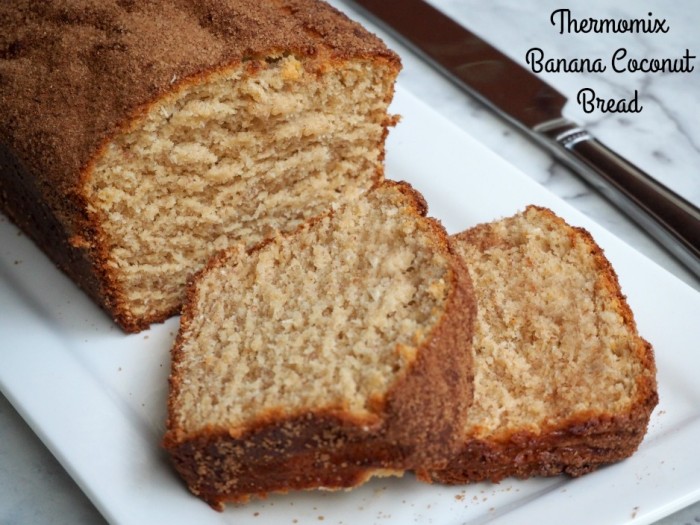 Makes 10 slices
It's no secret that I'm a bit obsessed with banana bread. Just enter "banana bread" in the search box and you'll find out why. If I remember rightly, I don't think I ever had eaten banana bread until I came down under in 2002 but I've been making up for lost time every since.
I have commitment issues so I obviously cannot stick to just one recipe, I am inclined to love them all! I found this on the Thermomix Recipe Community and it's one of my favourites, because value added coconut and not a lot of butter! And let's not forget that cinnmaon sugar topping! It's the tops!
Do you love banana bread too? Have you got a go-to recipe?
Ingredients
40g butter
160g brown sugar
230g ripe bananas (about 3 bananas or 1 cup)
1  egg
250g self raising flour
1 teaspoon baking powder
2 tablespoon milk
50g dessicated coconut
FOR THE TOPPING
1 tablespoon sugar
1 teaspoon ground cinnamon
How to
Preheat oven to 180cC/160C fan-forced. Grease and line base of a loaf tin.
Place butter, sugar, egg and banana in TM bowl and mix on speed 5 for 10 seconds then scrape down sides.
Add flour, baking powder, coconut and milk  and mix on speed 5 for 4 seconds or until combined. Pour mix into loaf tin.
 Mix topping ingredients and sprinkle over the top of the top.
Bake for 40-45 minutes or until golden brown
Other info
Prep time: 1  minute   Cooking time: 45 minutes