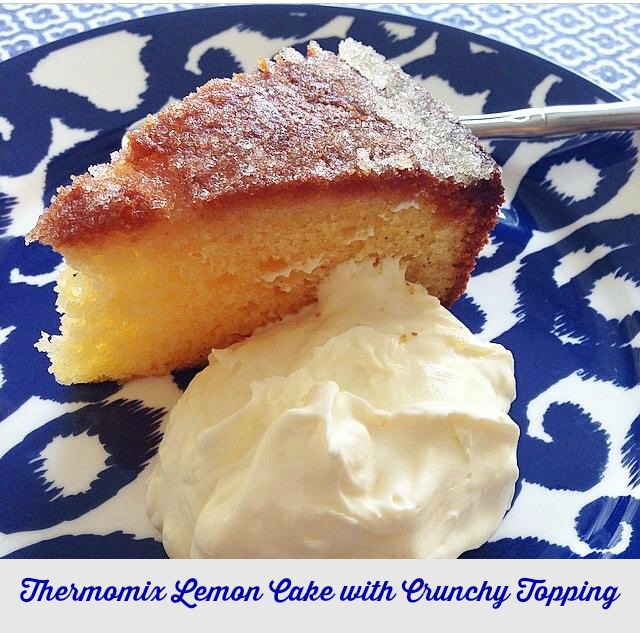 photo credit: Hayley
Serves 10
I love lemon cakes, especially from the Thermomix when they are this  fast AND fabulous! I  found the original recipe here and made this for Paula's birthday – it was a massive hit with everyone at work. It's a must make!
Ingredients
FOR THE LEMON CAKE
200 g raw sugar
1  lemon zest, peeled with a potato peeler
250 g butter, at room temperature
4  eggs
250 g self raising flour
1 teaspoon baking powder
40 g lemon juice
FOR THE CRUNCH TOPPING
60g lemon juice
110 g raw sugar
How to
FOR THE LEMON CAKE
1. Grease 22 cm cake tin and line base with baking paper.  Preheat oven to 170 C.
2. Place sugar and lemon rind in TM bowl and process for 20 seconds on speed 9.
3.  Add the butter and cream together for 20 seconds on speed 5.
4. Scrape down the sides and set blades going on speed 5 and add eggs one at a time through the hole in the lid.  This will take about 1 minute.
5. Add the flour, baking powder and lemon juice and mix for 10 seconds on speed 5.  If it's not quite mixed, scrape down and turn quickly up to speed 6 for a second.
6. Pour into prepared cake tin and bake for 1 hour until a skewer inserted, comes out clean.  Check after 40 minutes and cover with tin foil to stop browning. Allow to cool in tin for 10 minutes.
FOR THE CRUNCHY TOPPING
Place sugar and juice in bowl and  mixing for 1 second on speed 4. (Do not dissolve the sugar)
Remove cake from tin and pour over the crunchy topping.  The juice will sink into the cake and the sugar will form a crunchy topping.
Allow to cool before serving
Other info
Prep time: 10 minutes     Cooking time: 1 hour