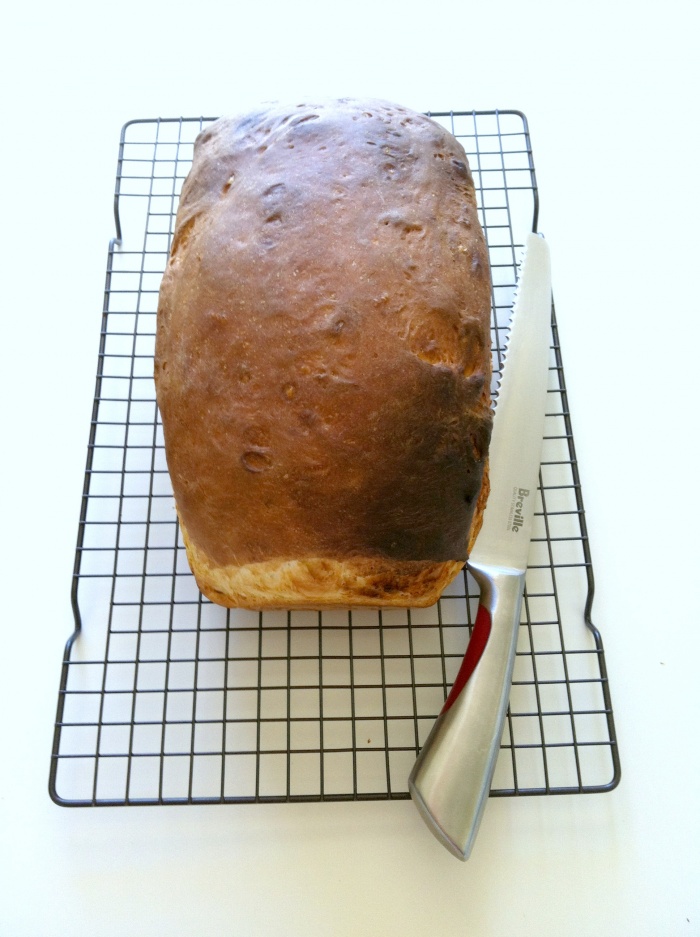 Cuts into 14-16 slices
This recipe is the brainchild of Tanya, a Thermomix consultant from WA. This lovely bread is light, fluffy and just like shop bought bread, only better! It takes a couple of hours for the dough to rise, but it's well worth the wait.
Ingredients
300g water
600g Bakers Flour or Bread Flour
2 teaspoons dried yeast
2 teaspoons salt
1 teaspoon sugar
2 teaspoons bread improver
15g oil
How to
1. Place water into mixing bowl and heat for  1 minute at 37C on speed 2
2. Add yeast, flour, salt, sugar, bread improver and oil mix for 5 seconds on speed 5
3. Knead for 6 minutes  in closed lid position
4. Either leave dough in warm mixing bowl, or place in an oiled bowl and cover with cling film.  Place bowl in a warm place and leave until doubled in size.  This could  take at least an hour depending on the weather.
5. Once risen, if  the is dough still in mixing bowl knead for 30 seconds on interval speed or knead it by hand.
6. Roll and shape dough to fit in tin.  Spray with water and leave to rise until dough reaches top of tin.
7. Place into a cold oven and set to 200C fan forced. (Placing  dough into a cold oven gives the dough a little bit more rise as the oven heats up.)
8. Bake 30 minutes, remove from tin and place back into oven for a few minutes for a crunchy crust.
Other info
Prep Time: 2 hours  Cooking time: 30 minutes
TIPS!
To assist with rising in colder weather, you can try one of these 3 nifty tricks: 1) Warm thermoserver with hot water, rinse and dry then  place dough in thermoserver to rise. 2) Heat a heatpack and sit bowl on warm heatpack. 3) Heat a cup of water in the microwave for 2 or 3 minutes, remove cup and place dough inside warm microwave.
Placing a dish of water into the bottom of the oven will also help to give a crisper crust.