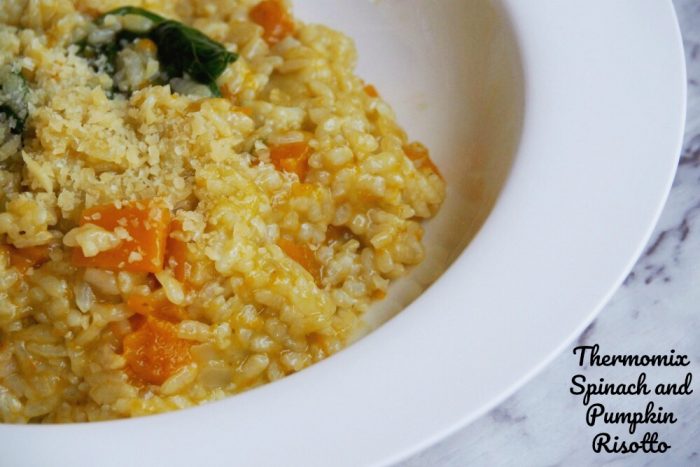 Serves 4
My neighbour Luce, was made for her role as OTT (Official Taste Tester) because she's (sometimes brutally) honest, she has a well defined palate, and best of all, she'll taste pretty much anything. David fulfils the first two criteria also, but he's much more discerning. Let's just say if I had a dollar for all the foods he "didn't care for," I'd probably be a millionaire by now!
Anyhoo, Luce isn't just my OTT, she's also my OGC (Official Garden Consultant) and after sharing her time, experience and green fingered expertise in my balcony garden, I offered to make her lunch. I wanted to make this risotto because I'd just bought (probably) the world's biggest pumpkin and I had a craving for carbs.
Of course, I'd conveniently forgotten that not only is Luce Italian, but risotto is her speciality a la maison or should I speciality a la casa. Whatevs! When I told her that I was having a crack at a risotto, and more to the point having a crack at a risotto in the Thermomix, she was very dubious and I was very nervous. Would the risotto pass the test?
Well, I'm pleased to report back that Luce ate her words and her risotto and gave it a big thumbs up and her OTT seal of approval. This risotto is packed full of flavour and all kinds of good stuff. Sometimes, the simplest food is the most delicious and this is one of those times.
Have you ever been dubious about a dish? What would you do with an outsize pumpkin?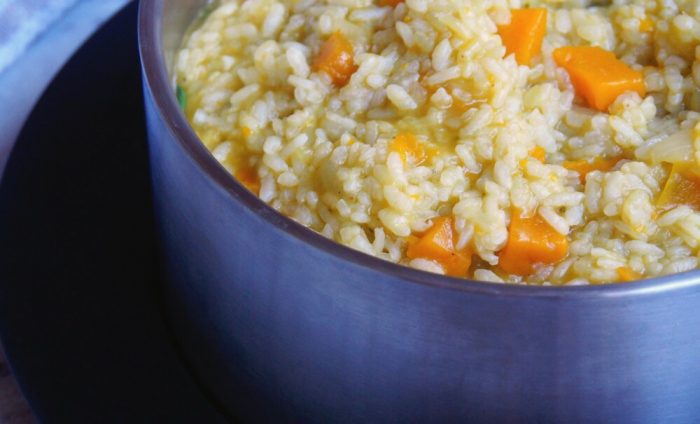 Serves 4 generously
Ingredients
1 large onion, peeled and quartered
1 clove garlic
20g olive oil
400g Arborio Rice
70 g white wine
3 tablespoons TM stock concentrate
150g pumpkin, diced
1100g water
2 handfuls spinach leaves
25g parmesan cheese, cubed (to serve)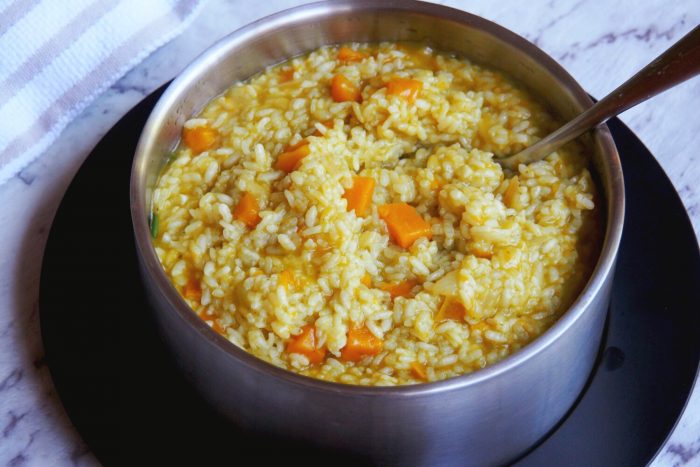 How to
1. Place cheese into TM bowl and grate for 20 seconds on speed 9. Set aside.
2. Place onion and garlic into the bowl and chop for 3 seconds and speed 4.
3. Add oil and saute on 100c for 2 minutes on speed soft.
4. Add rice and wine. Insert the butterfly. Cook for 2 minutes on speed soft.
5. Add stock, water and pumpkin and cook at 100C on reverse and speed soft for 18 minutes.
6. Meanwhile, line the thermoserver with spinach and let the risotto rest for 5- 10 minutes to reduce.
7. Serve with freshly grated parmesan cheese.
Other info
Prep Time: 3 minutes Cooking time: 30 minutes
TIPS! This recipe is freezer friendly.
If you like me, you like your rice a little softer, then cook for an extra 3-5 minutes.
Make this recipe with or without the butterfly.
You can bulk this out, with some sliced mushrooms, or frozen peas if you like.