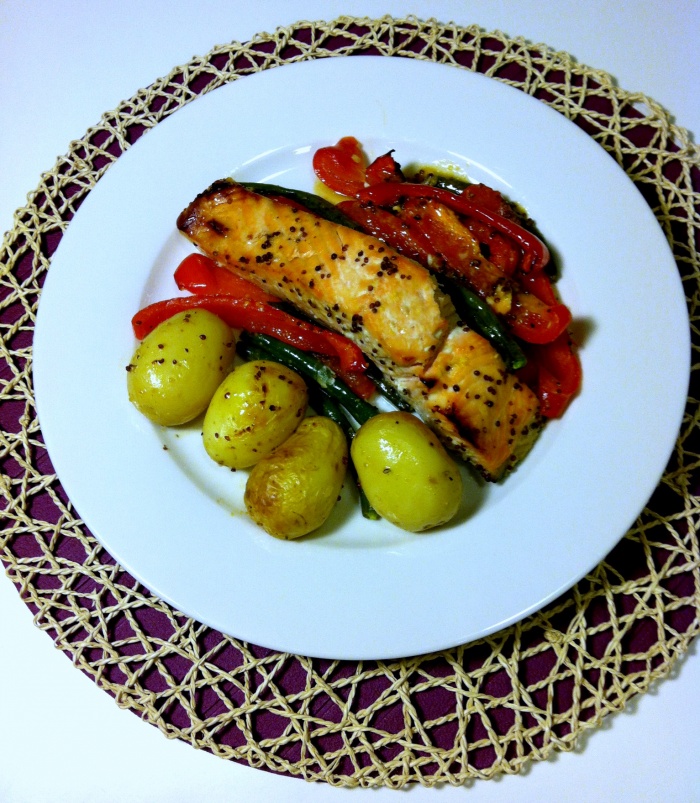 Serves 4
This colourful traybake is a healthy and delicious way to jazz up salmon.
I recently revamped this recipe after a very stressful day and I wanted something tasty, wholesome but very easy for dinner. You see, Teddy Roosevelt had consumed some of his favourite plastic ball under my supervision and we had to take him to the vet to see if he could eject it with a good old fashioned puppy vomit. My pawrent guilt was real. As it happened, he didn't puke out the plastic so I will leave you to work out how he managed to eject the plastic from his pint sized puppy body. It wasn't pretty, let me tell you. In fairness, the thing that hurt most was the hit on our wallet!
So after all that excitement, I didn't really feel like cooking but a girl's gotta eat right?! This traybake ticked all the boxes because it was healthy, delicious and required minimum effort, prep or washing up!
It's super quick to throw together and super versatile, you really can use whatever veggies you have to hand but don't pass on the potatoes because you know, carbs are everything! The marinade is really easy and the longer you can leave the salmon to absorb the flavours, the better!
There's a lot to love about this dish, not only is it as flavoursome as it is colourful, there's also only one dish to wash up which is always a bonus in my book because there's nothing worse than finishing a delicious meal and having to face a mountain of washing up… Especially after such a crap day (excuse the pun!)
What's your favourite tray bake? Are you a carb lover too?
Ingredients
750g baby new potatoes
1 tablespoon wholegrain mustard
juice 1 small orange
2 teaspoons honey
4 skinless, boneless, salmon fillets (about 150g each)
2 red capsicums, seeded and cut into thick strips
1 bunch asparagus
2 garlic cloves, thinly sliced
2 tablespoons olive oil
How to
Whisk the mustard, orange juice and honey together in a bowl to make a marinade. Turn the salmon fillets in the marinade until coated evenly, then set aside, the longer the better!
Preheat the oven to 200C. Boil the potatoes for 10 minutes until tender. 2. Drain the potatoes and tip into a shallow ovenproof dish or roasting tray. Add the asparagus, capsicum and scatter over the garlic slices.
Drizzle over the oil, season well with salt and pepper and then toss everything together. Put the salmon fillets on top of the vegetables and pour over the marinade.
Bake for 20-25 minutes until the salmon is cooked and just starting to brown.
Other info
Prep Time: 15-20 minutes Cooking time: 20- 25 minutes