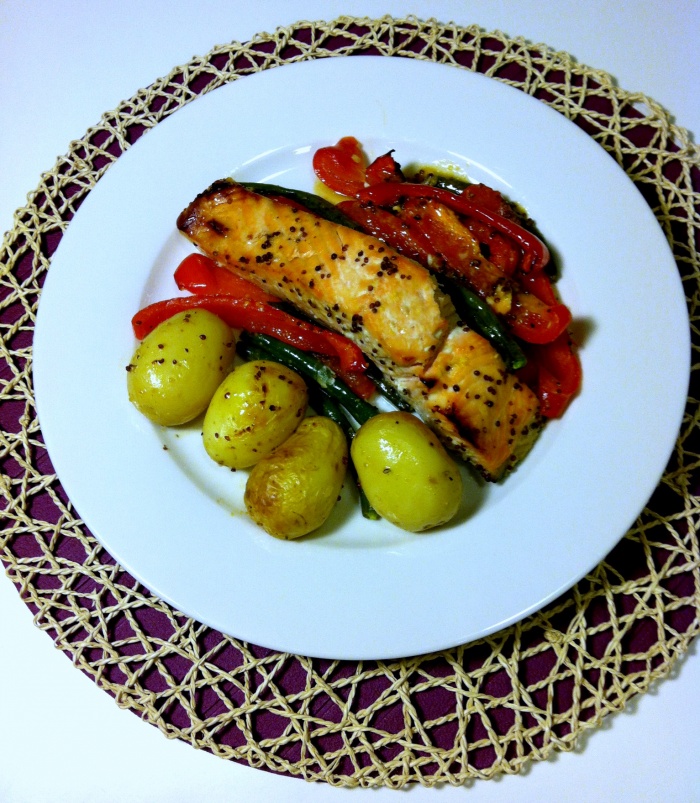 Serves 4
This dish is tasty, colourful and easy to make. It's perfect for a dinner party or a marvellous midweek meal!
Ingredients
750g baby new potatoes 
1 tablespoon wholegrain mustard
juice 1 small orange
2 teaspoons clear honey
4 skinless, boneless, salmon fillets (about 150g each)
2 red capsicums, seeded and cut into thick strips
250g green beans, trimmed
2 tablespoons garlic-infused olive oil
How to
1. Preheat the oven to 200c/180c fan-forced. Boil the potatoes for 10 minutes until tender. Meanwhile, whisk the mustard, orange juice and honey together in a bowl to make a marinade. Turn the salmon fillets in the marinade until coated evenly, then set aside.
2. Drain the potatoes and tip into a shallow ovenproof dish or roasting tray. Add the peppers and green beans. Drizzle over the oil, season with salt and pepper, then toss everything together. Put the salmon fillets on top of the vegetables and pour over the marinade. Bake for 20-25 minutes until the salmon is cooked and just starting to brown.
Other info
Prep Time: 15-20  minutes   Cooking time: 20- 25 minutes
TIP!  If you haven't got garlic-infused olive oil, regular olive oil will work just as well. Experiment with other veggies like snow peas or zucchini.
Reference:  http://www.bbcgoodfood.com/recipes/1889/sweet-mustard-salmon-with-garlicky-veg