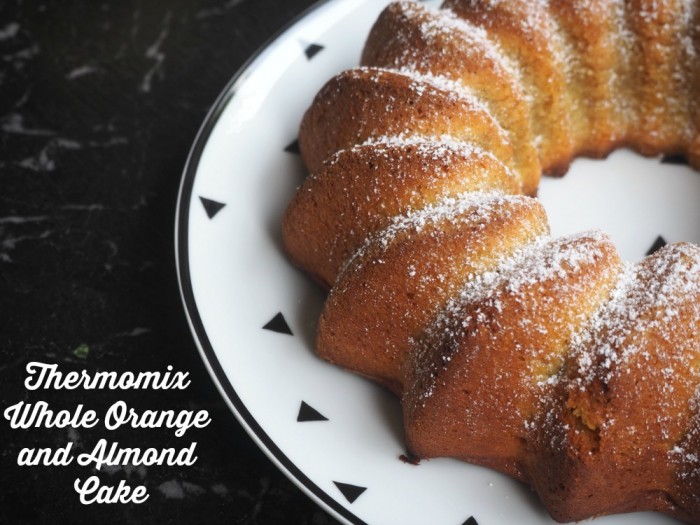 Serves 10-12
I love that this uses so many "raw" ingredients that are milled to perfection in the trusty thermie! The result is deliciously, dare I say it, moist and with a beautiful orange tang. It's not to be missed! 
Ingredients
2 oranges, unpeeled and quartered
3 eggs
110g raw almonds
150g self raising flour
220g raw sugar
125g butter, at room temperature
How to
Preheat oven to 180C / 160C fan-forced.
Grease a bundt tin liberally with oil or melted butter. Dust with flour and shake off the excess.
Put the almonds into the TM bowl and mill for 14 seconds on speed 9. Remove  the almonds and set aside.
 Grind the raw sugar into caster sugar for 5 seconds on speed 9. Remove and set aside with ground almonds.
 Wash oranges and cut them into quarters. Put the oranges in TM bowl and chop  for 8  seconds on speed 9.
 Add all the remaining ingredients –  sugar, butter, eggs, flour and almond meal. Mix for 8 – 12 seconds on speed 7.
Pour the mixture into prepared tin and bake for approximately 1 hour  or until a cake tester comes out clean.
Leave the cake to cool in the tin for at least 10 minutes. Transfer to a cooling rack.
Dust with icing sugar before serving.
Other info
Prep and cooking time:  1 hour 5 minutes
TIP! I leave the oranges unpeeled, but cut the knobbly, gnarly bits off the end.