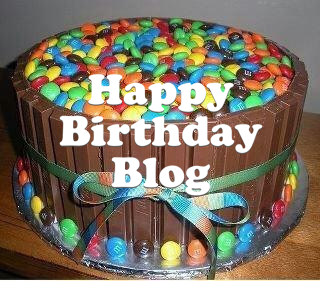 I can hardly believe it, but it's blog's birthday! Happy Birthday Blog! 1 year old today… well, kind of. I'm ashamed to say I can't remember the exact date that my ramblings first made it out into cyber space but I'm sure it was 18 November or thereabouts. What a year it's been; full of ups, downs, word tsunamis, doctors appointments and a whole lot of mess in the kitchen.
812 blog posts and almost 235 000 page views later – I'm still hanging in there… living life as large as I can, cooking up a storm, blogging with fervour and doing my best to stay  healthy and be positive.
The other day I had a spare but rare five free minutes, and I rummaged deep into the blog archives back to the time when I first got my second diagnosis. Reading those posts was like having an out of body experience but recording the events and feelings of that traumatic time, now help me remember a period that I seem to have forgotten.
That's why I love my blog. Writing and reflecting upon my time with Cancer kept me sane and gave me a wonderful sense of perspective. Maybe it will help other people who have to travel along some bumps in the road in the future. Maybe it won't.
Whatever, in the days that have followed, the blog has kept me focused, busy in the kitchen, loving life and out of mischief, and for that I am really thankful.
After my good results in June, my mum asked me what I would write about now that I don't have cancer. I had to think about that for a while, but you know, if one thing I've learned, it's that there is so much more to me than Cancer. So, as they say in show business, the blog must go on!