I am super excited because I finally get to go to my first ever Thermomix Cooking Class! And not any ordinary Thermomix Cooking Class either, this cooking class has  a festive flavour!
I am such a goody two shoes and a keen bean that I am the first to arrive, which means I get to bag three front row seats and my long-lusted after copy of the Fast and Easy Indian Cooking. This book  is where I've been getting all my yummy curry recipes from, and if the contents are anything to go by, I'll be cooking a whole lot more. The hard part is deciding what to cook first!
Kathy and Tracey arrive and we sit, like three Thermomix-loving ducks in a row! It's funny to think that 6 months ago, none of us even knew what a Thermomix was, let alone cooked with one. 6 months on, we all own a machine, love our machines and cook up a storm in our machines. We're like a three-way little recipe community!
The class is hosted by the lovely Lindy and her team of consultants from the local area. The "menu" is enough to make your mouth water!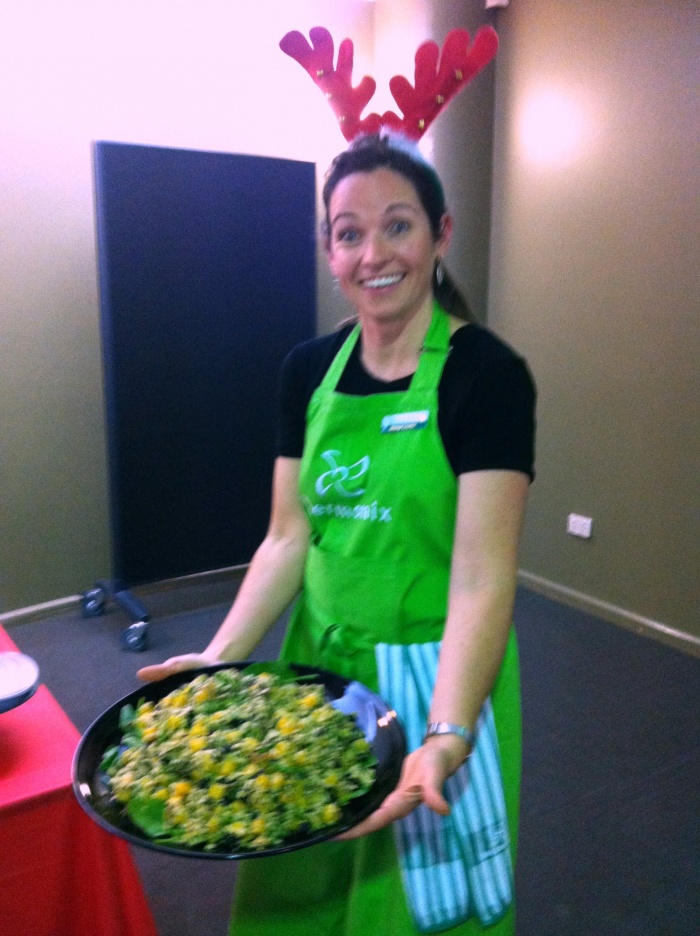 We start off with  Santa's Sorbet which is mulled wine flavour. The strawberries, oranges and the kick of one tiny clove are enough to even have Santa's tastebuds singing with delight!
We cool down with some delicious Strawberry Coolers. These delicious drinks are festive and  fruity, packed with strawberries, watermelon, orange and lemon juice and a little bit of ginger for some extra zing! Tracey and I are thinking how nicely these will go down on NYE, especially if we replace the sparkling water with some bubbly!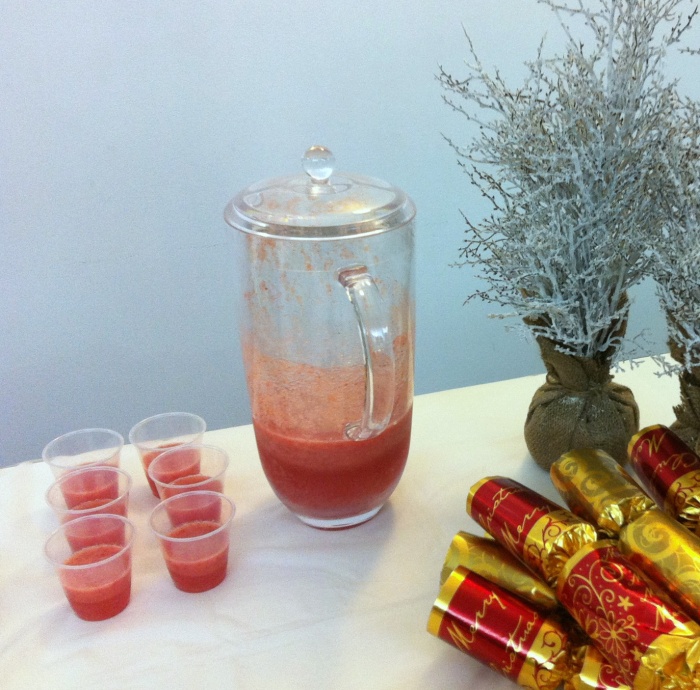 One of  the girls has made some melt in the mouth Brioche and Lindy whips up (literally,) some Honey Butter in minutes. I had no idea that it was that easy to make my own butter in the thermie, and the buttermilk it produces is a bit of a bonus!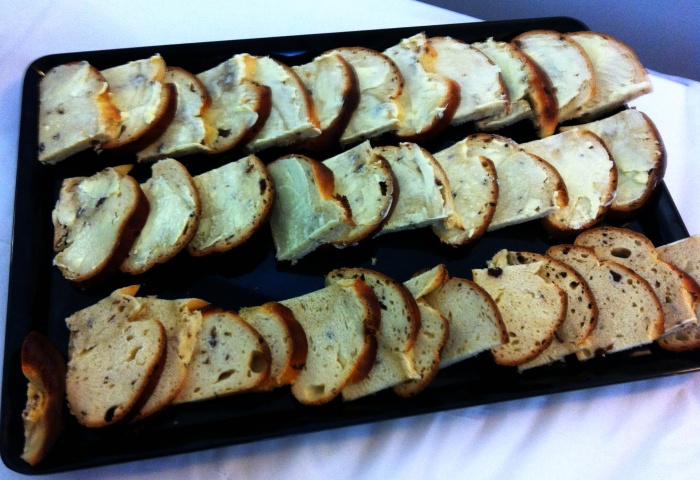 Victoria shows us how to make the dough for her Herb and Garlic Pull Apart bread which looks super impressive. She makes the dough in minutes and concertinas the dough with festive flair producing a lovely looking swirl.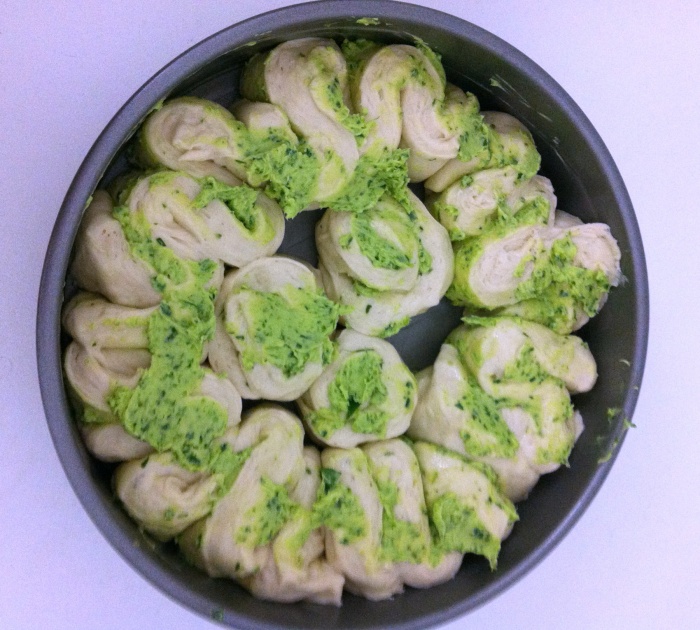 I'd love to try this with cinnamon and sugar for a really festive flavour. It's top of the list of my things-to-do.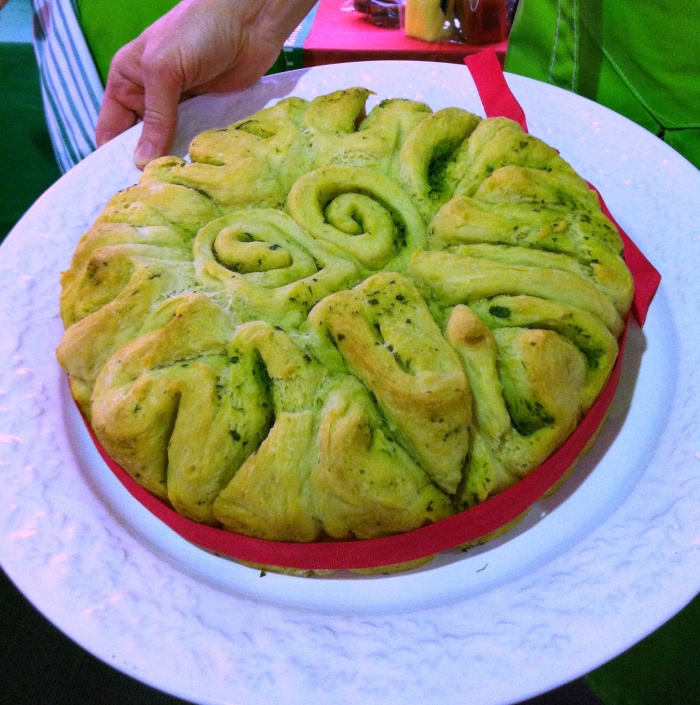 I especially love Lindy's CADA (coconut, almond, date and apple.) She blitzed these four magic ingredients together in the thermie, to make an awesome gluten free granola  type  dish. I think it's stand alone delicious but Lindy suggests serving it with yoghurt and fresh fruit, like mangoes or strawberries. I can't think of a healthier way to start the day! I must try this at home!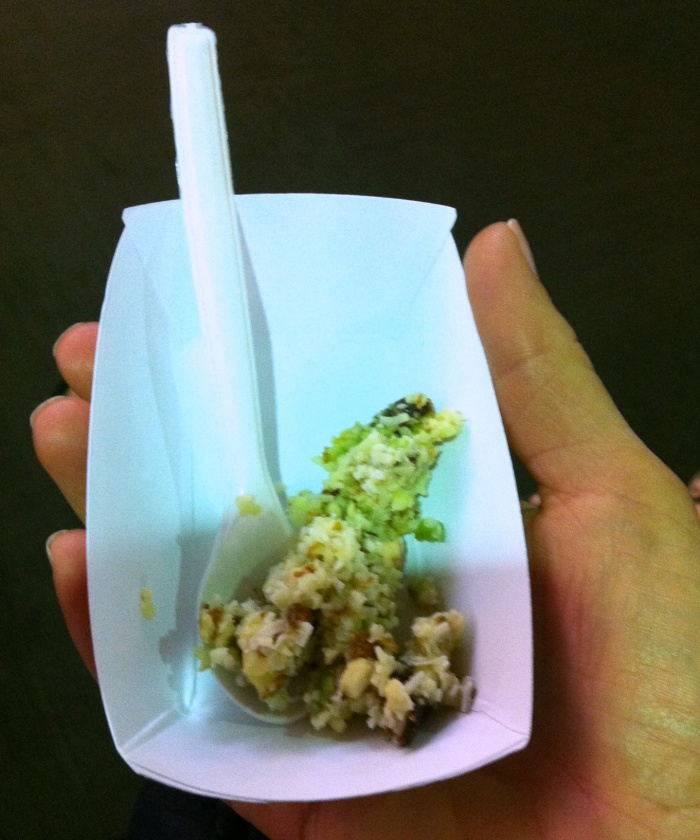 Yuyu throws an awesome Lettuce Soup together. It sounds so wrong, but it tastes so right! It's so simple to make and versatile too, as it can be served hot or cold, which is very handy if you're enjoying Christmas in Summer as we do down under!
As if all that isn't enough, there's also some Fruity Pear Mince Tarts which the girls whipped up earlier, that are served with some hot Brandy Custard (we made it in minutes!)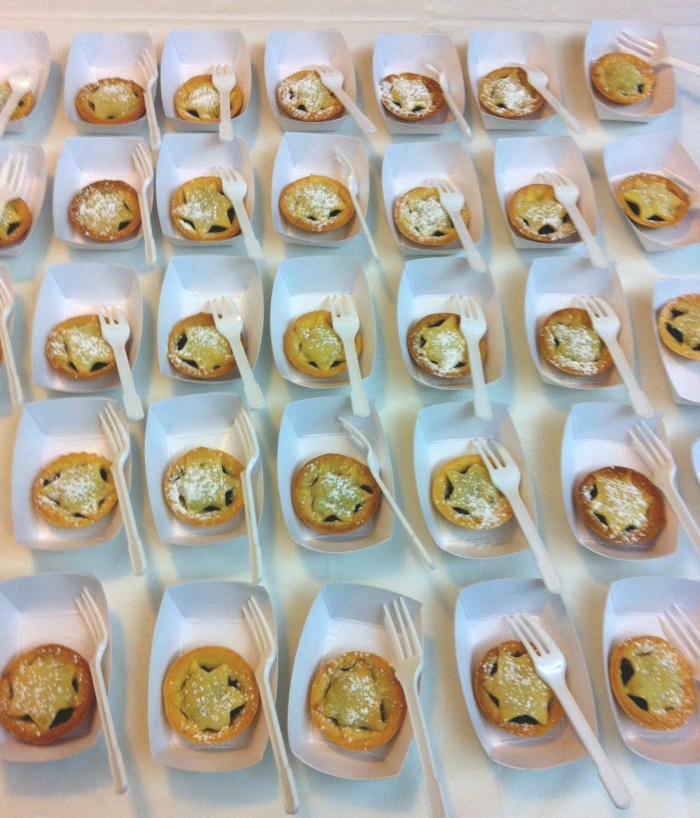 There's also some Red and Green Christmas Shortbread which are a must make. So delicious!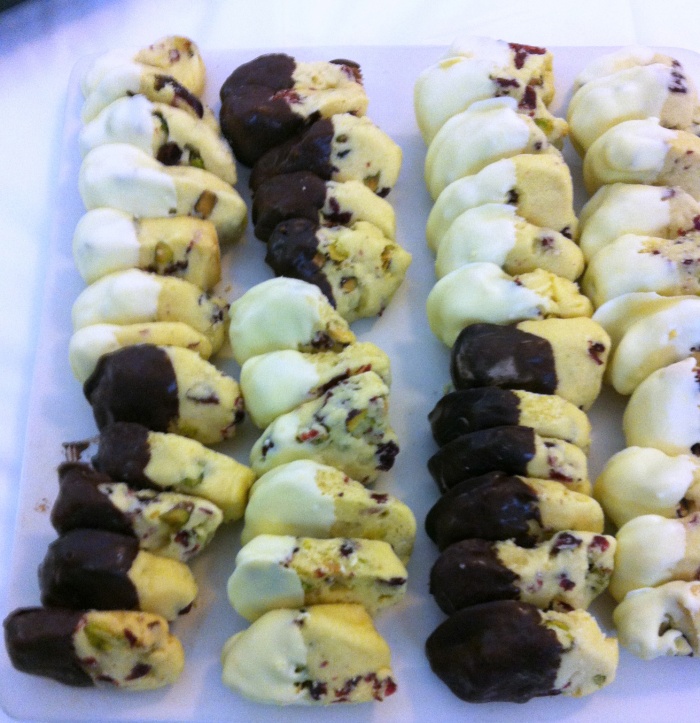 Oh and did I mention the delicious pesto dip. Very green and totally gorgeous…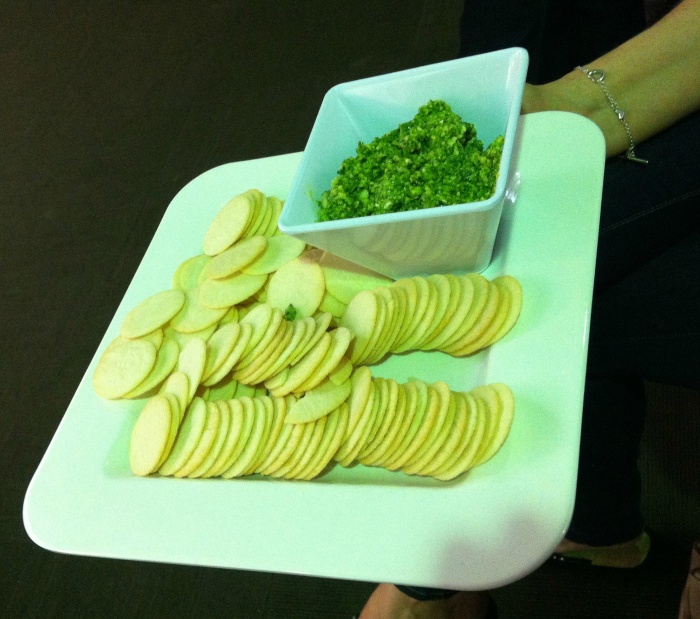 …and the beautiful brown rice salad which has to be one of the tastiest and healthiest way to use up any left over turkey from the festive feast!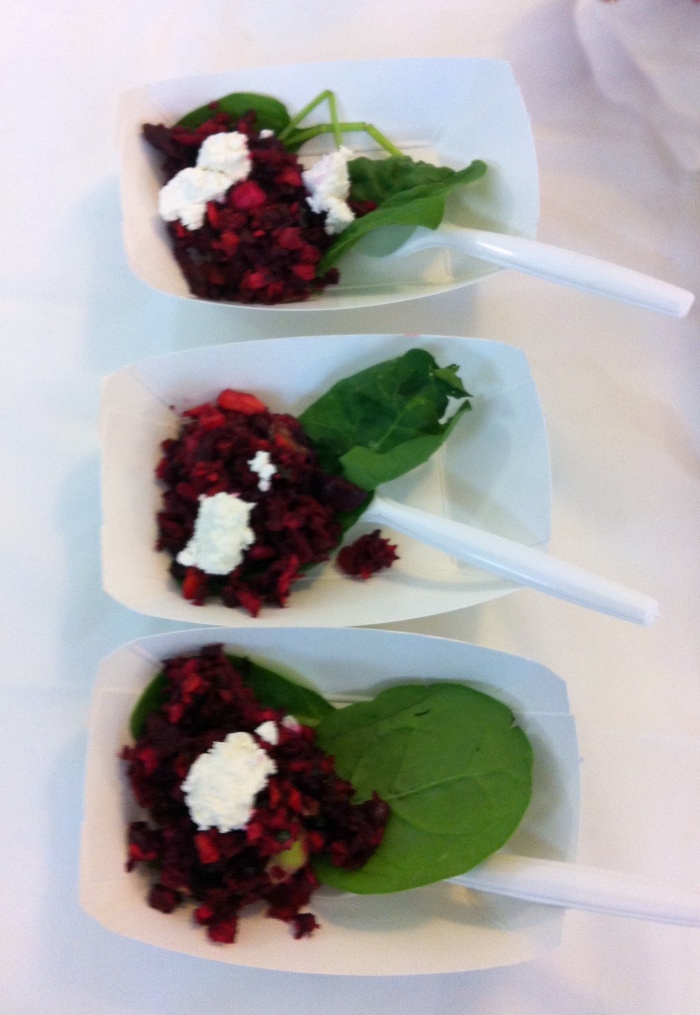 Watching the demo was great, but tasting the fruits of Lindy and friends' labour was amazing – a total treat for the tastebuds. It was all sublime. I promised myself, and David, that I wouldn't buy any other cookbooks, after all, you never know what Santa might have up his sleeve, or in his sack for me, but after this festive food fandango, I can't resist buying a copy of Festive Flavour in an attempt to try and recreate some of this Christmix magic at home.
So many awesome ideas, and so little time! I go home with a full tummy and a busy brain. As if a cooking class and a festive feast isn't thrilling enough, when I get home my prize winning copy of Tenina's new ebook Merry Christmix  has landed in my inbox, hot off the press. It too is packed with tasty treats for a cracking Christmas. It's all just too exciting!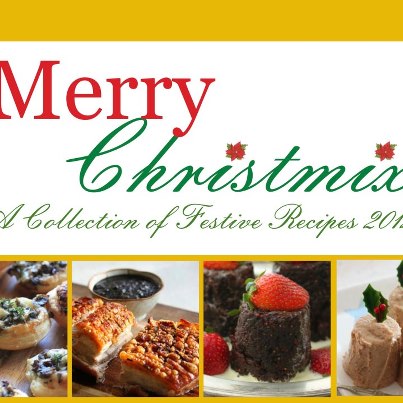 So many recipes and so little time in which to make them. The only problem I have now is to decide  what I am going to make first… watch this space!