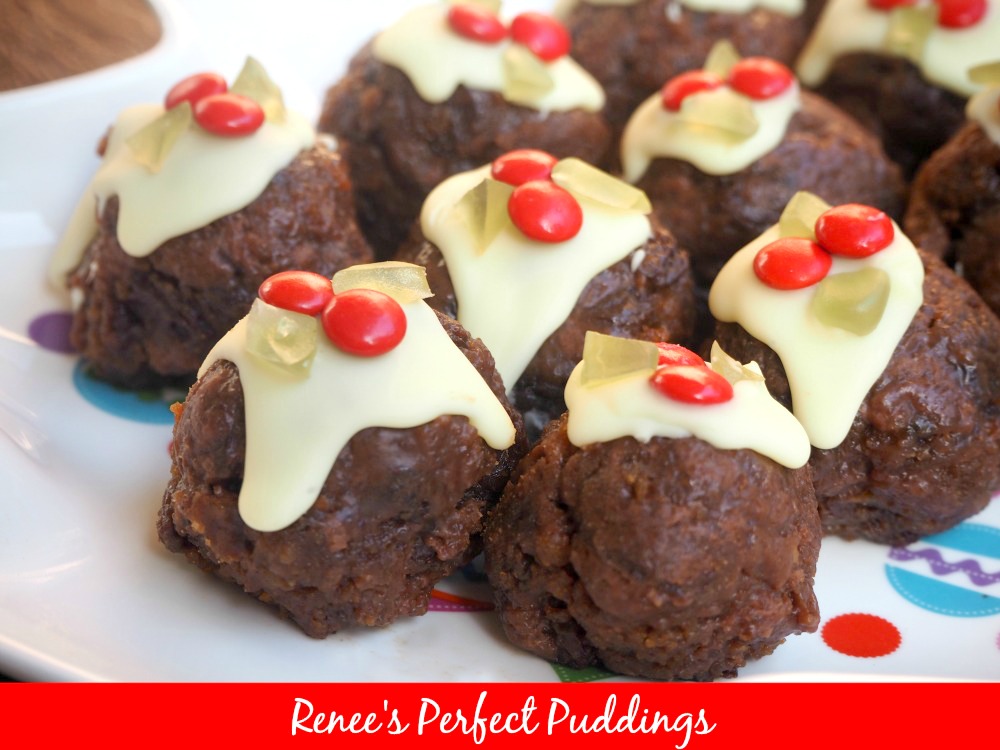 Makes 30
These Mini Christmas Puddings are one-bite wonderful!
It was love at first sight when I first saw Renee's little puds on Instagram. I'm so happy she shared the recipe. And… they taste as good, as they look. Actually I lie, they taste even better than they look. I don't know how that's possible but it is!
These are the perfect cheat treats to share with friends and family over the silly season. Best of all, they're simple to put together, keep well and can be prepared ahead! They make great gifts but be sure to save some for yourself because your FOMO will be real!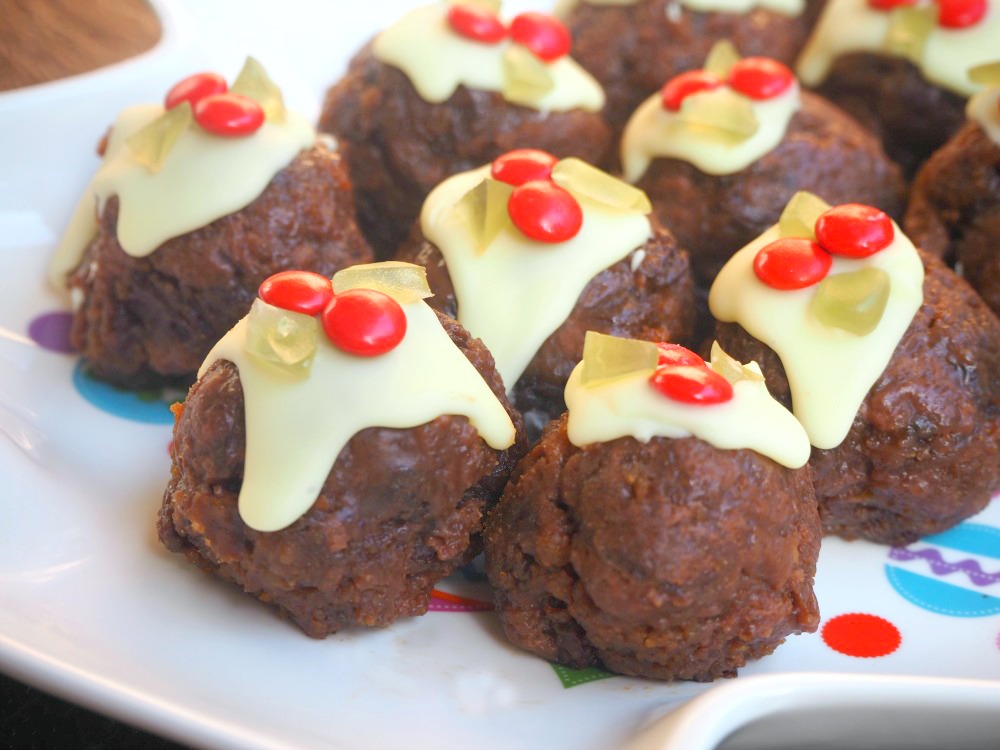 The funny thing is I don't really care for Christmas cake or Christmas pudding but these are one of my all time favourite Christmas treats. The melted chocolate and brandy change take the pudding to the next level and the white chocolate and decorations, well, they're just the tops! Now don't be tempted to be too generous and add more than a capful of brandy or juice, because the mixture will be too sticky, you will get messy, and worst of all, your puddings will look sloppy. And nobody wants a sloppy pudding, amirite or amirite?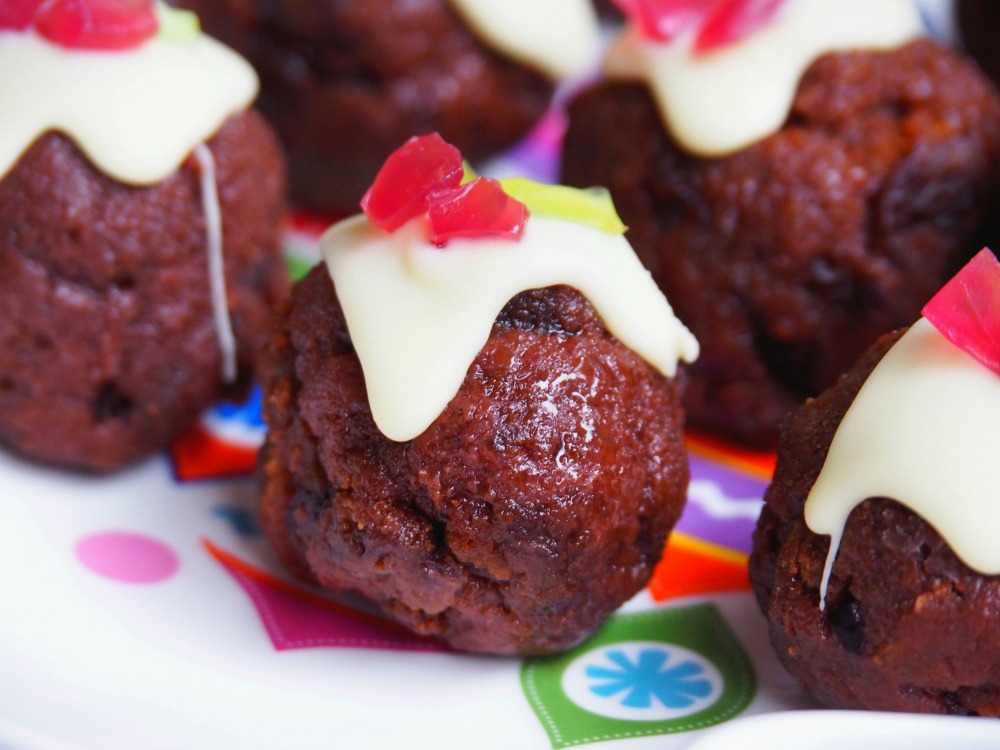 If you want to make these non alcoholic, add a tablespoon or two of orange juice and if you don't have any mini M&Ms to hand, use a red jelly snake for the berries. They don't look quite as perfect but they do have that homemade touch!
Best of all, these mini puddings keep for up to two weeks in the fridge and you can stagger the steps to fit in with your time schedule. How neat is that?!
Do you like to give edible gifts? Are you a Christmas pudding fan?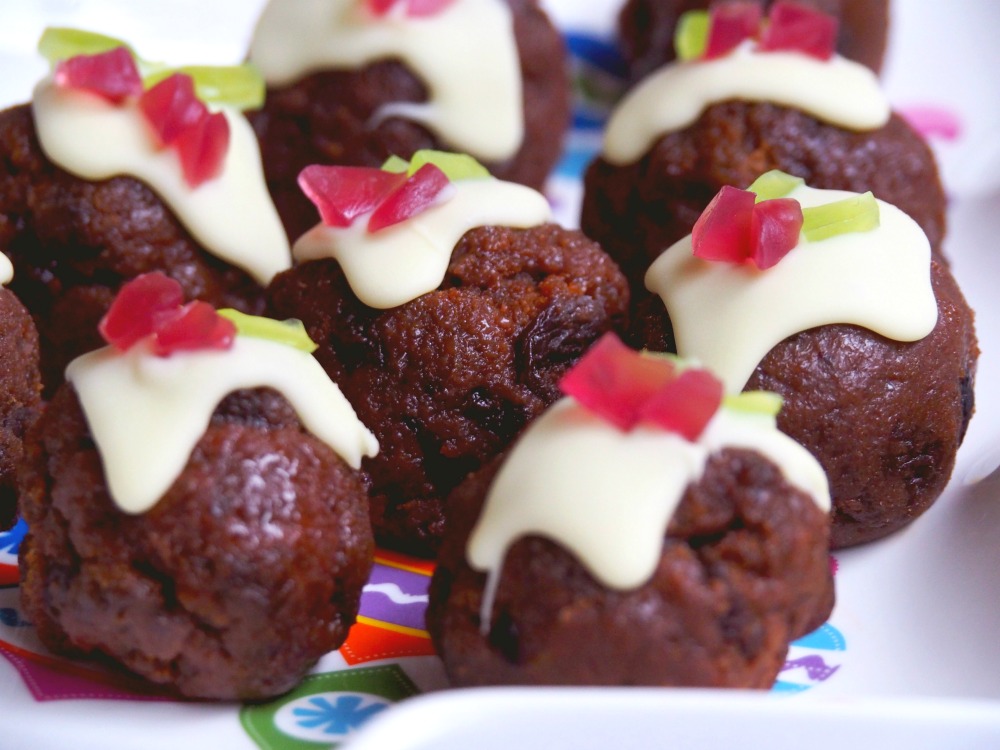 Ingredients
1 pre-made Christmas Pudding (if you're down under, Ren recommends the 750g Coles pudding – cheap and cheerful.)
1 x 200g block of Cadbury milk chocolate
A couple of sloshes of brandy
1 green jelly snake
1 large pack of mini M&Ms or 1 red jelly snake
1/2 block Cadbury "Dream" white chocolate or Milky Bar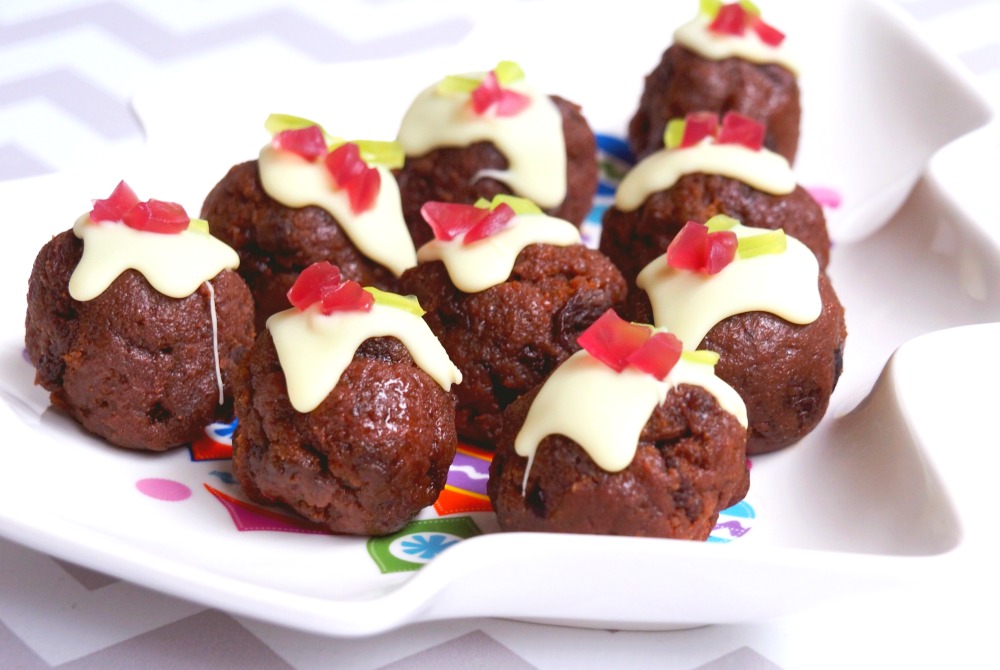 How to
FOR THE PUDDINGS
1. Using your hands, crush/breakup the pudding into a big mixing bowl and then set aside.
2. Melt the block of milk Chocolate (either on the stove, in the microwave or if you have one, in the thermomix) and add the melted milk chocolate to the pudding.Add a capful or two of brandy. Mix well.
3. Line a plastic container with baking paper. You can use a dinner plate if you don't have spare Tupperware. With clean hands – make your pudding mixture into little balls and place them on the baking paper. Seal your container and pop it in the fridge.
5. Leave to cool and set for at least 4 hours.
FOR THE TOPPING
1. Carefully chop the green snake up into tiny little pieces that resemble holly leaves – I find the easiest way is to use kitchen scissors.
3. Melt a couple of rows of white chocolate at a time (using the stove or the microwave.) Don't melt the entire block, as this part is a little bit fiddly and takes some time and if you melt too much, it will harden up before you get a chance to use it.
4. Dollop a small amount of white chocolate on one of your pre made mini puddings, and carefully place 2 holly leaves and a berry on top while the chocolate is still soft.
5. Repeat until all your puddings are topped.
6. Refrigerate for at least 2 hours, then enjoy!