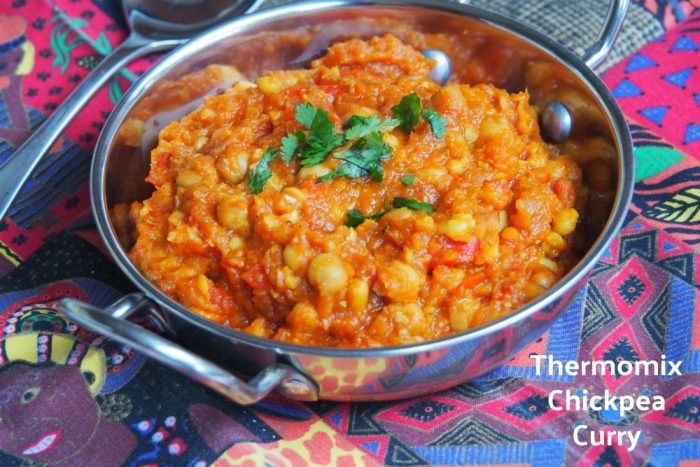 Serves 4-6
We love a curry in a hurry and this is one of our favourites. It's cheap, it's quick, it's easy and most of the ingredients are pantry staples. This curry is so vibrant, so authentic and so full of flavour, it's no wonder that it's on high rotation on our dinner menu. Whether you serve it with  rice or rotis, it's sure to be a winner dinner!
Ingredients
350g onions, peeled and quartered
4 cloves garlic, peeled
5- 7 cm piece of fresh ginger, cut into 4 chunks
1 red capsicum, quartered
20g oil
1 teaspoon cumin seeds
1/2 teaspoon ground chilli powder
1 teaspoon turmeric
1 tablespoon dried green mango powder
1 teaspoon garam masala
2 x 400g tins chopped tomatoes
2 x 400g tins chickpeas, rinsed and drained
1 teaspoon salt
Natural yoghurt, to serve, optional
Chopped coriander, to serve, optional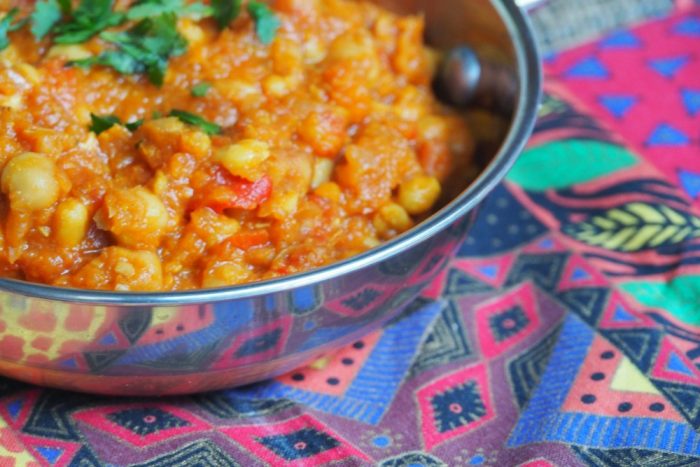 How to
Chop the onions, garlic and ginger for 5 seconds  on speed 7. Scrape down the sides of the bowl with the spatula.
Chop the capsicum for 2 seconds on speed 4. 
Add the oil and cumin seeds, and saute for 10 minutes at 100C on speed 2.
Add all the other ingredients, except the chickpeas. Cook for 10 minutes at 100C on speed 1.
Add the chickpeas and cook for 5 minutes at 100C on Reverse Speed 1. Remove the MC, cover the hole in the lid with the steaming basket and cook for a further 5 minutes at 100C on Reverse Speed 1.
Serve garnished with yoghurt and chopped fresh coriander.
Other info
Prep and cooking time: 35 minutes
TIP! This freezes really well, so pop the leftovers in the freezer to enjoy another day.